Description

The Bay Area's top pastry chefs will be at Bluestem Brasserie on Thursday, Sept. 12th from 5-7pm to Bake the World a Better Place! Gather your sweet-toothed friends and colleagues for Bluestem's second annual Bake Sale benefitting CUESA's Foodwise Teens, a program in which students build skills to sustain healthy lives and a healthy planet.
The whole restaurant - including the open air mezzanine and outdoor terrace - will be dedicated to showcasing the creations of 15 incredible bakers and pastry chefs. Guests will fill their pink pastry boxes, meet the renowned pastry chefs, and mingle with friends while enjoying delicious drinks. You'll be treating not only yourself but also your community as the proceeds from the evening help teens gain critical job skills, learn about sustainable food, and gain hands-on experience in their school garden, the kitchen, and at the farmers market. We hope you'll join us to #baketheworldbetter!

EARLY BIRD TICKET PRICING AVAILABLE THROUGH AUG. 31st!
---
TICKET DETAILS:
General Admission tickets include tokens to choose your seven favorite baked goods prepared by this stellar line up of pastry chefs, three drink tickets, and other event surprises to sweeten the pot.
$60 Early Bird GA / $65 GA
VIP tickets include all of the above plus early entrance at 5:00pm to get first dibs on the incredible selection of baked goods!
$80 Early Bird VIP / $85 VIP
The Whole World tickets (only 100 tickets available!) are for a true sweet-tooth or those looking to be the office hero*! This ticket includes pastries from all 15 pastry chefs pre-boxed for easy pick up. Arrive anytime between 5pm-7pm to pick up your box - yes it will be large + pink - and utilize the three drink tickets also included.
$125 for The Whole World

*Office Hero: someone who arrives to the office on Friday morning with a box(es) full of baked goods to share from SF's best pastry chefs. Friday the 13th seems like a great day for that.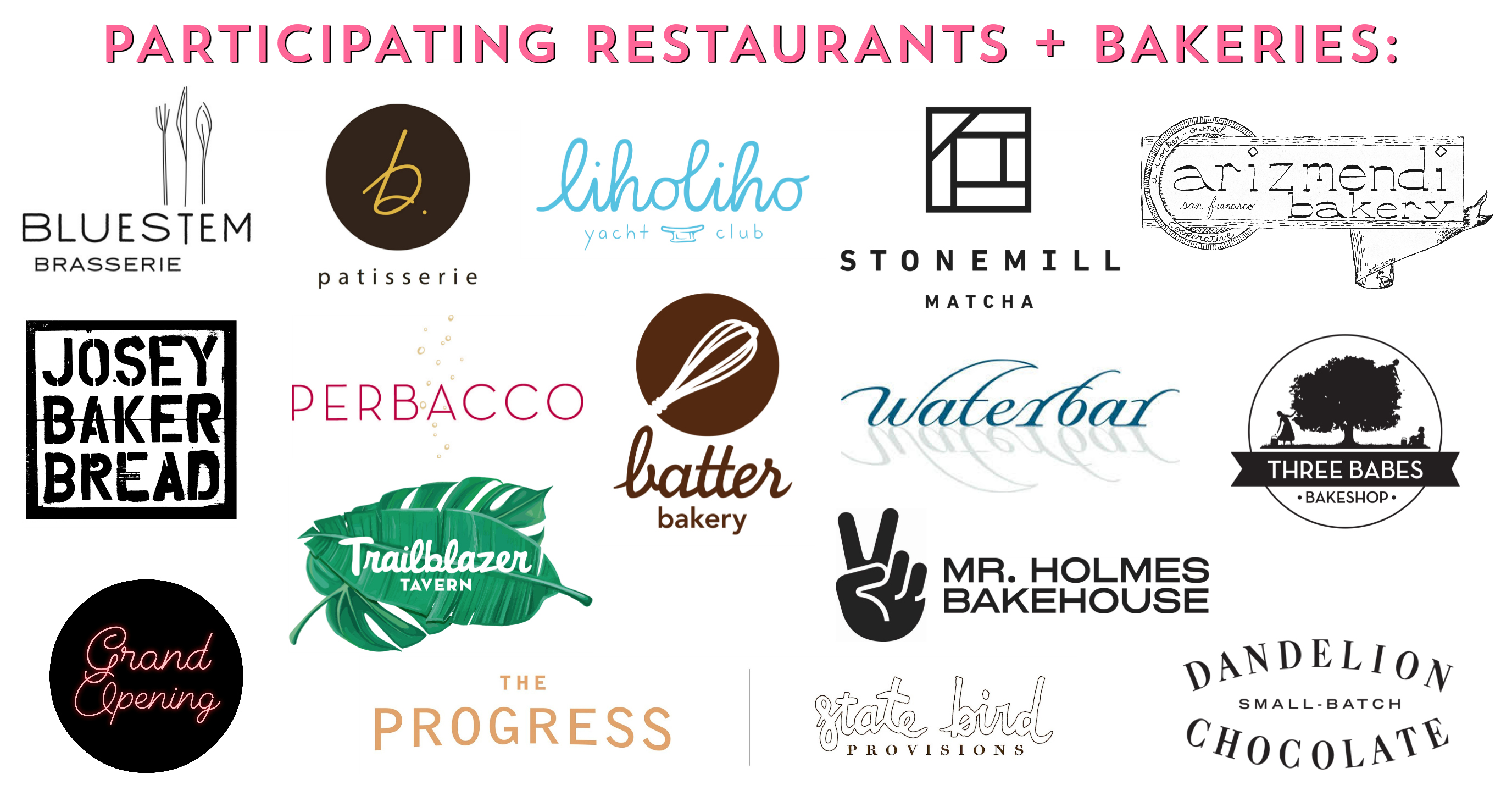 Arizmendi Bakery - 9th Avenue: Owners + Bakers AeRi Swendson & Irene Contreras
b. patisserie: Owner + Pastry Chef Belinda Leong
Batter Bakery: Owner + Pastry Chef Jen Musty
Bluestem Brasserie: Pastry Consultant Lori Baker
Dandelion Chocolate: Pastry Chef Lisa Vega
Grand Opening: Pastry Chef Melissa Chou
Josey Baker Bread: Owner Josey Baker
Liholiho Yacht Club: Pastry Chef Penelope Lao
Mr. Holmes Bakehouse: Corporate Chef Randy Sebastian
Perbacco: Pastry Chef Allison Gill
Three Babes Bakeshop: Owner Lenore Estrada
Trailblazer Tavern: Pastry Chef Michelle Kar-Ueoka
State Bird Provisions + The Progress: Co-pastry Chefs Nicole Kasinski + Kathleen Kwuan
Stonemill Matcha: Pastry Chef Mikiko Yui
Waterbar: Pastry Chefs Erica Land + Brittany Greenbaum
BENEFITING CUESA's FOODWISE TEENS

ABOUT CUESA
CUESA (Center for Urban Education about Sustainable Agriculture) is a tax-exempt 501(c)(3) nonprofit organization that grows thriving communities through the power and joy of local food. They have managed the Ferry Plaza Farmers Market in San Francisco since 1999, the Jack London Square Farmers Market in Oakland since 2016, and the Mission Community Market in San Francisco since 2017. Proceeds from Bake a Better World benefits CUESA's Foodwise Teens program, in which students build skills to sustain healthy lives and a healthy planet. Teens learn about sustainable food jobs and get hands-on experience in the garden, in the kitchen, and at the farmers market, while getting paid for their work.
Illustration by local artist Nigel Sussman