Description
A betekintő alkalmak után élesben is kezdetét veszi a Bajnokok Reggelije programsorozat.
Az első eseményen Szilágyi Balázsé lesz a főszerep, aki az internet világában segít majd még jobban eligazodni.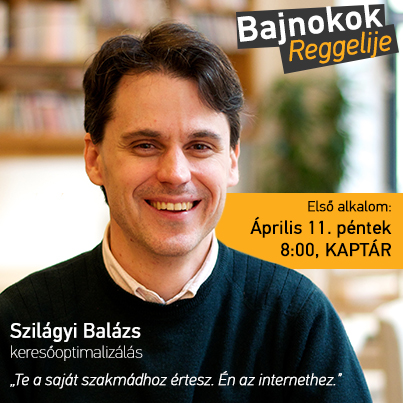 Balázs már 18 éve vállalkozó, azon belül pedig a marketinggel foglalkozik. A 2000-es évek elején máfél évig Amerikában élt, ahol az online világ is közel került hozzá. Ezt követően határozta el, hogy segít a magyar vállalkozásoknak azzal, hogy a keresőoptimalizálásról szóló angolul megszerezhető tudást széles körben eljuttatja azokhoz, akik szeretnének fejlődni ezen a téren.

Mottója: "Te a saját szakmádhoz értesz. Én az internethez"
Viszont ha részt vesztek április 11-én a KAPTÁRban a Bajnokok Reggelijén, akkor talán ti is jobban ki tudjátok majd használni ez utóbbit a vállalkozásotok érdekében.

Mi mindenesetre finom falatokkal és sok szeretettel várunk!
Organizer of Bajnokok Reggelije #1 - Szilágyi Balázs, keresőoptimalizálás
A KAPTÁR közösségi iroda a szabad és vállalkozó szellemű emberek coworking helye, fejlődő cégek és csapatok otthona Budapest szívében. Közel mindenhez és mindenkihez.
KAPTÁR coworking space Budapest is the hub of free spirited and innovative people, the home of developing businesses and teams, right in the very heart of the city. Close to everything and everyone.