Bajio Mini Maker Faire 2018

Friday, September 7, 2018 from 9:00 AM to 6:00 PM (CDT)
Event Details
El festival que celebra la creatividad, ingenio, diseño y habilidad humana para crear cosas.
buscamos ser parte para la cultura creativa, espontánea, informal e interdisciplinaria de crear.
Ser un escaparate para leoneses, Guanajuatenses y Mexicanos más que nunca y compartamos nuestros proyectos, para colaborar, para crear juntos y para motivar a nuevas generaciones en el mundo del diseño, creatividad, ingenieria , programación y arte. No como disciplinas aisladas si no como la única forma de crear proyectos trascendentes.
¡La asistencia es gratis!
¿Por qué inscribirse en un boleto?
Registrarse en un boleto Nos ayudan a tener en cuenta que las personas nos ayudan y nos ayudan a mejorar nuestras exhibiciones y pantallas interactivas para que tengan suficientes materiales para que todos puedan disfrutar y disfrutar.
Mini Maker Faire estará abierto al público
El evento es gratuito
¿Qué pasa si llueve? ¡El espectáculo va a seguir! Trae ropa de lluvia para mantenerte seco al caminar al aire libre. Afortunadamente, tendremos muchas exhibiciones bajo techo para mantener a la familia seca. 

¿Qué puedo esperar?
Para pasar un tiempo fantástico! Te sorprenderá e intrigarás con cada esquina que gane.
Lluvia o sol. Sin reembolsos / intercambios. Los boletos no pueden ser reemplazados.
______ Mini Maker Faire se organiza y opera de forma independiente bajo licencia de  Maker Media, Inc.  
Entiendo que al registrarse aquí, Maker Media puede actualizar e información sobre Maker Faires, otros eventos y productos de interés para la comunidad de fabricantes. Entiendo que puedo optar por no recibir estas comunicaciones en cualquier momento.
 
Política de privacidad de Maker Media
When & Where

Explora León
Blvrd Francisco Villa 202, La Martinica,
León, Guanajuato 37500
Mexico

Friday, September 7, 2018 from 9:00 AM to 6:00 PM (CDT)
Add to my calendar
Organizer
About YOUR CITY'S Mini Maker Faire:
About Maker Faire:
Maker Faire is the Greatest Show (and Tell) on Earth—a family-friendly showcase of invention, creativity and resourcefulness, and a celebration of the Maker Movement. It's a place where people show what they are making, and share what they are learning.
Makers range from tech enthusiasts to crafters to homesteaders to scientists to garage tinkerers. They are of all ages and backgrounds. The aim of Maker Faire is to entertain, inform, connect and grow this community.

The original Maker Faire event was held in San Mateo, CA and in 2016 celebrated its eleventh annual show with some 1300 makers and 150,000 people in attendance. World Maker Faire New York, the other flagship event, has grown in five years to 900+ makers and 90,000 attendees. Thirty-one larger scale Maker Faires occur in cities around the world—Detroit, Atlanta, Berlin, Paris, Rome, Tokyo, and Shenzhen to name a few— and over 150 community-driven, independently organized Mini Maker Faires are now being produced in the United States and in 34 other countries around the world.
About Make: Magazine: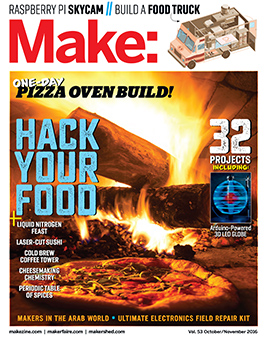 Make: is the first magazine devoted entirely to Do-It-Yourself (DIY) technology projects. Make: unites, inspires, informs, and entertains a growing community of resourceful people who undertake amazing projects in their backyards, basements, and garages. Make: celebrates your right to tweak, hack, and bend any technology to your will. Download a free issue here.
Besides the magazine and the faire, Make: is:
a vital online stream of news and projects, blog.makezine.com;
a retail outlet for kits and books, the Maker Shed;
a steady stream of fun and instruction via our YouTube channel;
Make: Projects, a library of projects with step-by-step instruction;
a publisher of best-in-category titles via Make: Books, including introductions to electronics, Raspberry Pi, 3D printing, Arduino and more.