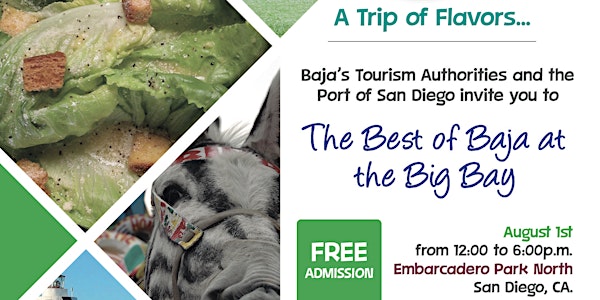 Baja By The Sea
When and where
Location
Embarcadero Marina Park North 400 Kettner Boulevard San Diego, CA 92101
Description
You will receive 4 gastronomic samples and 4 samples of beverages!
https://www.youtube.com/watch?v=M4C4ax6TBm0
Baja by the Sea, is an event that will display the culinary and cultural heritage of Baja California, as well as its tourism attractions and infrastructure. The event will exhibit nine aisles, five of them will be represented by each city of Baja California: Tijuana, Tecate, Ensenada, Rosarito and Mexicali; each city will promote its main cuisine, hotels, travel agencies, museums, and recreational spaces. Meanwhile, the sixth aisle will display Baja's product variety such as wine, vineyards and beer; the seventh aisle will be medical; the eighth aisle will contain sports and last but not least will be cultural.

During this event, our visitors will enjoy a variety of artistic and musical programs that represent this region. They just have to register at the entrance so they can receive free Food and drink tickets.