Book Talk: Baghdad Underground Railroad, San Clemente Author, Steve Miska tells why he wrote the story.
About this event
Bring your book copy of Baghdad Underground Railroad to be signed or buy on site!
In 2007, Iraq was in the midst of violent sectarian cleansing. Col. Steve Miska led a team within the 2nd Brigade, 1st Infantry Division (known as Dagger Brigade) that established an underground railroad from Baghdad to Amman to the U.S. for dozens of Iraqi interpreters facing near-certain death at the hands of the "death squads" that hunted down and slaughtered interpreters and their families.
The mostly young men and women who embraced American idealism risked their lives to support U.S. service members in countries where understanding the language, the people, and the contours of the culture are often a matter of life and death. Yet, according to recent estimates, more than 100,000 interpreters and at-risk family members remain in Iraq and 70,000 remain in Afghanistan, each in grave danger.
The plight of Iraqi and Afghan interpreters left behind by the United States remains one of the most significant human rights issues of the Global War on Terrorism, America's longest, and ongoing, military conflict.
Proceeds support the U.S. Veterans Artists Alliance, a 501c3 educational nonprofit helping veterans and family members tell their stories.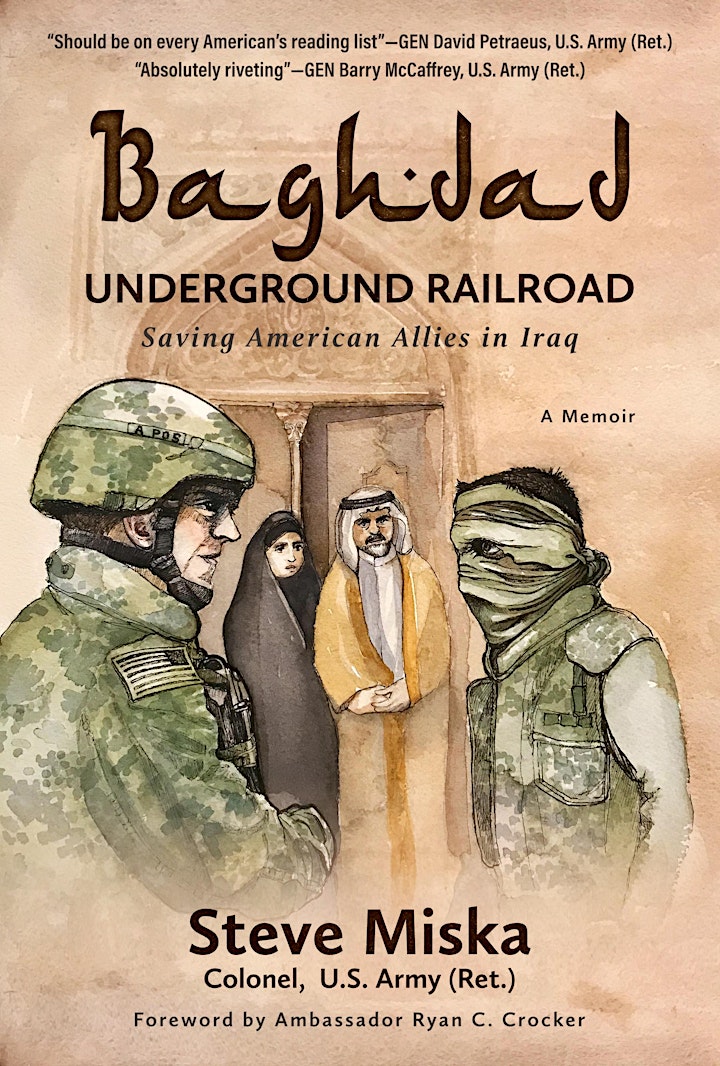 Organizer of Baghdad Underground Railroad Book Talk @ Jadore
Steve Miska addresses the issues that caused him to write Baghdad Underground Railroad. Virtual and in-person book discussions happening through the summer of 2021. Proceeds from the book support the United States Veteran Artists Alliance, a nonprofit dedicated to helping veteran writers and artists.