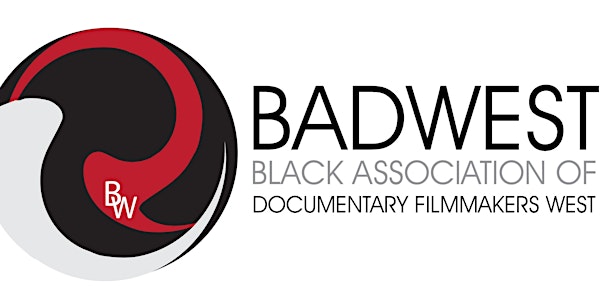 BADWest Zoom Monthly Membership Meeting
BADWest Zoom Monthly Membership Meetings. Zoom links/information will be emailed to confirmed participants the day before the Zoom meeting.
Refund Policy
Contact the organizer to request a refund.
Eventbrite's fee is nonrefundable.
About this event
"HOW TO PUT TOGETHER A PRODUCTION CREW"
Join BADWest for its April presentation: How to Put Together a Production Crew. Producer/Director D. Channsin Berry will share his experience and process of putting together a production crew for a documentary project; selecting a producer, DP, a sound person, music supervisor, an editor, etc. This presentation is designed for the first-time filmmaker to the experienced.
D. Channsin Berry is an artist. His love for filmmaking and music is intricately woven throughout his thirty-year career. Berry has distinguished himself as an award-winning documentary filmmaker by tackling topics that uncover and celebrate the nuances of the African diaspora. Drawn to the bare bones, unstructured nature of documentary filmmaking he relishes in the development process, pulling out the story during the interview, and finding new talent.
Berry graduated from Rutgers University with a degree in Broadcast Journalism and started his career in radio at WBLS FM New York under the leadership of mentor and friend Frankie Crocker. After a brief stint pursuing acting on Broadway, the New Jersey native headed west to California. For the next five years he could be heard on the airwaves in Oakland while working at KBLX and KTIM. It was inevitable that his first documentary would blend his love for filmmaking and music. My Father's Music...Jazz features interviews and live performances by Nancy Wilson, Ella Fitzgerald, Dizzy Gillespie, Stanley Turrentine, Max Roach, Miles Davis, Carlos Santana, Chaka Khan, and more. He also wrote and directed music videos for Chaka Khan, Dionne Warwick and many others.
Intent on immersing himself in filmmaking, he moved to Los Angeles where he worked at The Walt Disney studios. His songwriting is often showcased in his films. Berry has written songs for Chaka Khan, Jazz vocalist Mary Stallings, Prince/Rosie Gaines, and Jazz Legend Nancy Wilson (2006 Grammy Award-Winning CD "Turned to Blue").
Berry's television experience as an Executive Producer/Director and sometimes host includes NY/LA Entertainment magazine (BET), All The People (talk show Fox-Bay Area), Shaq Jam Hip Hop concert (Direct TV/Fox), Remix (BET), and Poker Dome (Fox). OWN aired the award-winning film Dark Girls and Berry's follow-up, Dark Girls 2. Upcoming documentary projects include: The Covered Mind…Mental Health in The Black Community, Cut From a Different Cloth…(The History of Black Fashion Designers), The Whispers Story, and Ask Rufus…The Story of Rufus and Chaka Khan. Berry is currently developing two feature films which he will direct and produce.
__________________________________
Thursday, April 7, 2022
6:30 - 8:00 pm PST
$10 for all non-BADWest members.
Free for Paid BADWest members.
To participate in the Zoom Monthly Membership Meetings, non-members pay $10 and Paid BADWest members must RSVP.
Sign up by going to: www.badwest.org. At the Home Page go to the Zoom Monthly Membership Meeting box.
Members RSVP at badwestla2@gmail.com.
Everyone, including members must pay or RSVP by Wednesday, March 2, 2022 by 5pm.
The Zoom link/information will be emailed to all confirmed participants the day before the meeting.
______________________________
JOIN BADWest TODAY!
Join BADWest for $45, and reap all the benefits of being a member, including free monthly meetings, screenings and other special events.
Membership in the Black Association of Documentary Filmmakers West is open to people of African descent working in documentary film, video or other media. While BAD Filmmakers West is a Southern California based organization, focusing primarily on the issues and concerns relevant to Southern California documentary filmmakers, there is no geographical limitation on membership. Members are encouraged to participate by lending their experience and sharing opinions.
Standard Membership $45
Group Membership (4-5) $200
Business Membership (6-10) $350
Corporate Membership $500