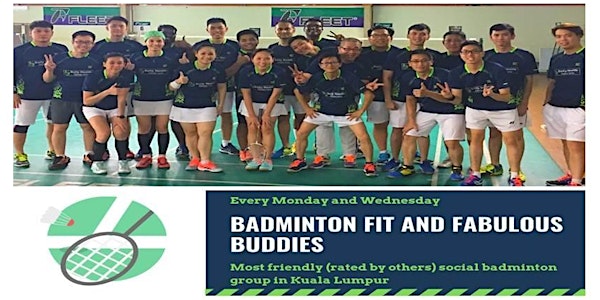 Badminton Fit and Fabulous Buddies In Kuala Lumpur (Monday, Wednesday)
JOIN US. SATISFACTION GUARANTEED! ---- Hi. Welcome to our social Badminton Fit & Fabulous Buddies group in Kuala Lumpur.
When and where
Location
Desa Petaling Sport Complex Jalan 6/125d Kuala Lumpur, Wilayah Persekutuan Kuala Lumpur 57100 Malaysia
About this event
Join Us to play more number of games with good players and good quality shuttles.
In our team, we have both male and female players, so we can play Men's, Women's & Mixed doubles. This session is for intermediate and advance players.
IMPORTANT: (MKN SOP) All Players must FULLY VACCINATED with 2 doses (at least after 14 days period) are allow to play at court.
*If you are not well, please stay at home.
------------------------------------
Event Details:
ABSOLUTELY NO BEGINNERS (Monday & Wednesday only) We will distribute the court based on the skill. So, please read the notes below.
Date: Every Monday & Wednesday 8.30 pm to 11.00 pm (Two and Half Hour)
Venue: Desa Petaling Sports Complex. (https://goo.gl/maps/np4Tz71KG6RkvfqM6) in Google Maps
Court number:
7 & 8 (Monday) 
8, 9 & 10 (Wednesday)
Expected number of players:
10 - 14 (Monday)
18 - 21 (Wednesday)
We have a pool of 90++ players in our Whatsapp group. We keep a few spots open from social media so that we can make friends and enjoy different styles of games. So, strictly NO WALK-IN since we will be full)
Fee: RM 25
Brands of Shuttles use: RSL
We don't limit shuttles
NO BEGINNERS
Regards,
Shawni 012-548 8052 (Whatsapp only)
Stacey 012-772 7976 (Whatsapp only)
**Please Take Note:
• Below 3.5 rating will be put in one court. Our criteria for 3.5 rating is: Ability to clear base to base with forehand 100% time AND Ability to clear base to base with backhand at least 50% time
• We are not the powerful team but we have some good and strong players. So, players must be up to par or try your best to get in with others. If you are not strong enough, please seek the similar level to play together.
• Please take one game break after each game you play so that everyone has equal chance to play. 
• Please provide your real name and have a good attitude on court.
• Please don't change to new shuttles in each game unless reasonably unusable.
• Please use old shuttle for warm up (will be provided)
• Please pay upon arrival or by 9.00 pm latest Shawni/Stacey
• If you wish to have group/private badminton training, please directly whatsapp our badminton coach (Shawni at 012-548 8052)
Thank you for your kind co-operation.