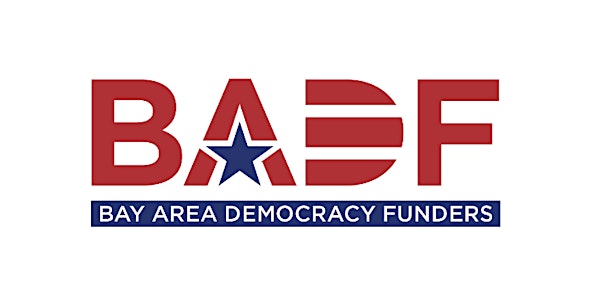 BADF Happy Hour: Youth Voting & Engagement
Please join BADF and NextGen Education Fund to discuss the state of youth civic engagement.
By Bay Area Democracy Funders
Date and time
Thursday, March 23 · 5 - 6:30pm PDT
Location
NIDO's BackYard 104 Oak Street Oakland, CA 94607
About this event
The 2022 midterm elections saw the second highest ever turnout of young voters, with 27% of eligible voters between the ages of 18-29 casting a ballot. Research has also shown that not only was this a banner year for youth participation in our civic process, but that young people were especially motivated to participate in key states like Georgia, Michigan and North Carolina, where youth turnout reached 31%.
While these recent gains in 2022 are well worth celebrating, there are still inequities in youth political engagement. Addressing these gaps and finding ways to bring young people to the table is a critical piece of strengthening our democracy, now and in the future - and BADF's guest for this happy hour, NextGen Education Fund, is dedicated to empowering and motivating young people to engage with our democracy.
NextGen Education Fund reaches youth across the country using innovative digital, field, and distributed organizing strategies, and will share key takeaways from their work in 2022. Victoria Yang, Vice President of Development at NextGen, will lead us in discussion of some key questions around youth civic engagement, including: What are some of the biggest wins and ongoing challenges around youth engagement in democratic processes? What messages, messengers, and strategies are most successful in reaching young voters? What are effective models for partnership between national organizations like NextGen and state and local organizers?
As with all BADF happy hours, there will be plenty of time for conversation with both our speakers and with your fellow funders. We hope to see you there!
Covid Safety:
This event will be hosted outdoors. We request that all attendees be fully vaccinated against COVID-19.
About NextGen Education Fund:
NextGen Education Fund (NextGen) is one of the nation's largest youth civic engagement organizations, educating and empowering millions of young people to elevate their voices in our country's democratic process. They are a multi-issue and multi-racial organization that educates and empowers young people to transform our country and solve the challenges earlier generations have failed to address, including our historical failings around equity and racial justice.
In 2022, NextGen targeted 17.3 million youth in eight key states: Arizona, Nevada, Texas, Michigan, Wisconsin, Pennsylvania, New Hampshire, and North Carolina. They ran the largest youth vote program in the country. Their work ensured young people were a major headline of the 2022 midterms, and has largely been acknowledged as the key ingredient to upholding our democracy.
About the organizer
Bay Area Democracy Funders is a local group of funders interested in the most critical challenges to democracy and philanthropic opportunities to support a more functional and representative democracy.