About this Event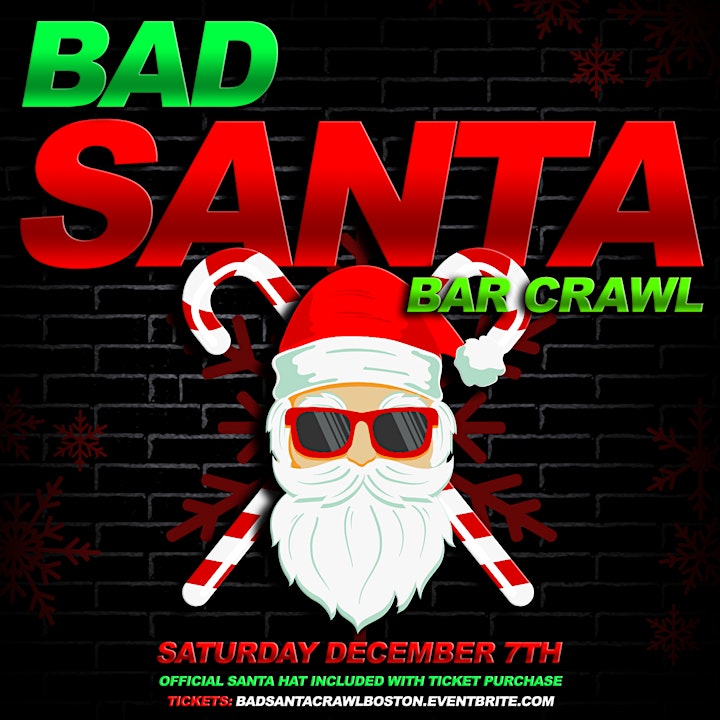 The biggest Bar Santa pub crawl Is back! 2000+ bad crawlers hit some of Boston's most historic bars.
**All ticket purchases come with a santa hat**
Participating Bars:
Finn McCools** (Check-in)
Tiki Rock*
Sons of Boston**
More to be announced later!
Causeway**
**these bars are 100% exclusive for our crawlers only! You must get a ticket to get in.
You will get your schedule upon check in! Bars will be open to all crawlers from 12pm-8pm, followed by a very exclusive after party from 8-10pm!
All ticket purchases include:
Exclusive access for Bar Santa Crawlers into several bars
Cover-free access to 10+ of Boston's best bars
Afterparty access with live DJs
Santa hats!
Sweepsteaks and giveaways!
More to TBA
Last year, over 3000 crawlers came out, making us the city's biggest bar crawl. This year we'll expand to more bars! Grab your tix now before prices go up!
21+
Bars subject to change.
Disclaimer: The "Pub Crawl" portion of this event is recommended from 7PM-11PM. During these times, most participating venues will have plenty of availability for all guests to enjoy the crawling aspect of New Year's Eve. We strongly encourage all guests to find a venue no later than 10PM that they wish to spend their midnight countdown in. We do not guarantee line-skip privileges. If a certain venue is at capacity, we ask that you move on to another venue or simply wait in line. Therefore, securing your spot at the venue of your choice by 10:15PM is highly recommended. Faneuil Hall and the West End will experience large crowds shortly after 10PM in anticipation of the midnight countdown, therefore we kindly ask for all party goers to choose a destination well in advance of 12AM for the midnight festivities.
ALL TICKET SALES ARE FINAL. NO WRISTBAND OR TICKET PURCHASED FOR THIS EVENT IS GUARANTEED AT ANY VENUE AFTER 10PM. IF YOU ARE PLANNING TO ATTEND ONE OF THESE VENUES AND WANT GUARANTEED ENTRY TO A CERTAIN VENUE WE SUGGEST YOU CRAWL WITH YOUR TICKET AND PURCHASE A TICKET TO THE VENUE OF YOUR CHOOSING SO YOU CAN MAKE SURE TO BE IN THE VENUE FOR THE BALL DROP.