Bad Guys... Good Eats: A Movie Villains Pop-Up Dinner
When and where
Location
Restaurant IPO 421 Third St. Baton Rouge, LA 70802
Refund Policy
Contact the organizer to request a refund.
Description
Bad Guys... Good Eats! A Movie Villains Pop-Up Dinner
Wednesday, May 8, 2013, 6:30 PM, Restaurant IPO
Chef Jay Ducote from Bite and Booze and Chef Chris Wadsworth from Restaurant IPO invite you to an evening of edible evil. The 6+ course feast will feature dishes themed around some of the most vile villains in cinematic history. Book your spot to join us for the special evening!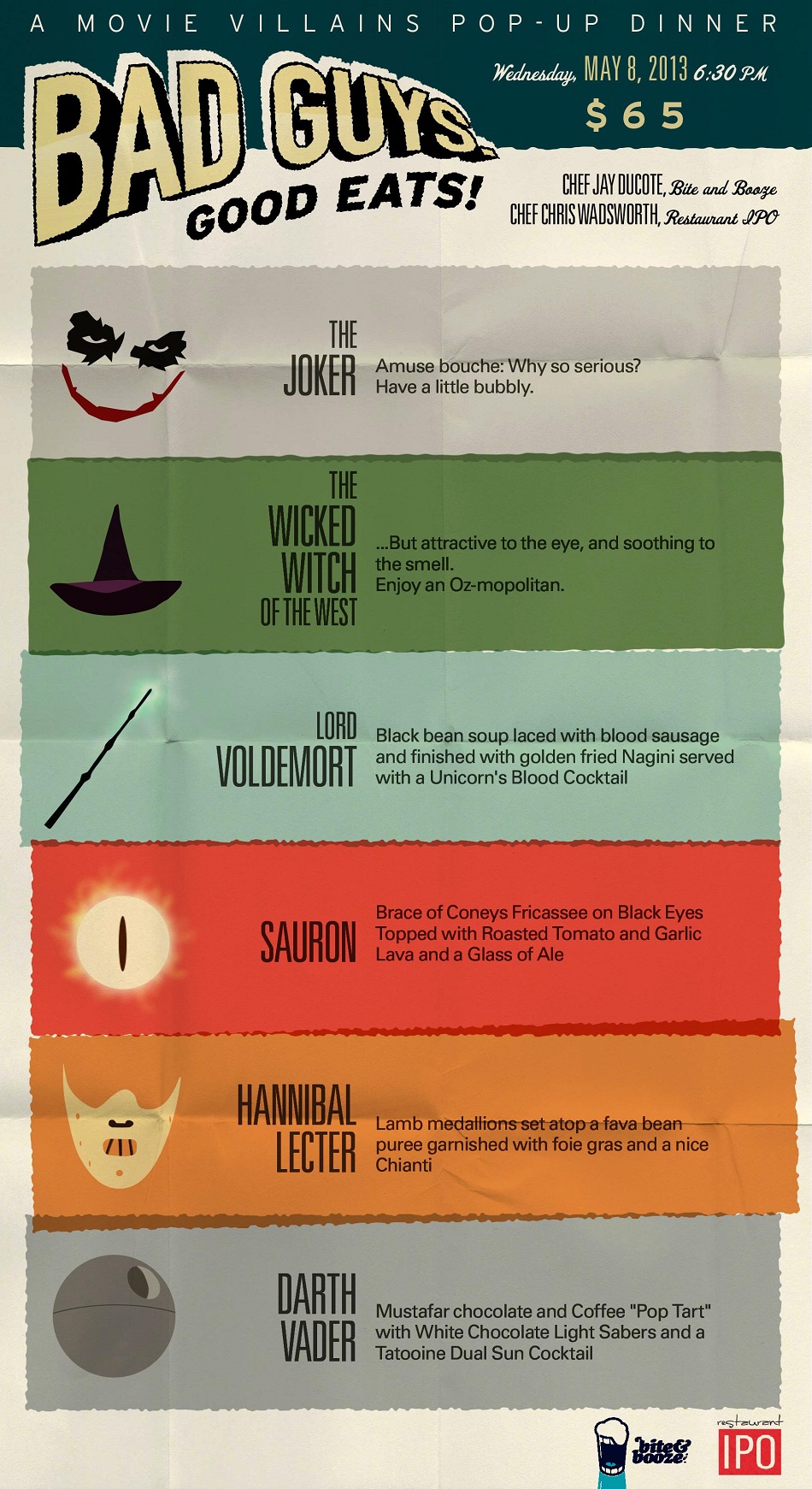 The Joker:
Amuse Bouche: Why so serious?
Have a little bubbly.
The Wicked Witch of the West:
...but attractive to the eye, and soothing to the smell.
Enjoy an Oz-mopolitan.
Lord Voldemort:
Black bean soup laced with blood sausage and finished with golden fried Nagini served with a Unicorn's Blood Cocktail
Sauron:
Brace of coneys fricassee on black eyes topped with roasted tomato and garlic lava and a glass of ale
Hannibal Lecter:
Lamb medallions set atop a fava bean puree garnished with foie gras and a nice Chianti
Darth Vader:
Mustafar Chocolate and Coffee "Pop Tart" with White Chocolate Light Sabers and a Tatooine Dual Sun Cocktail