About this Event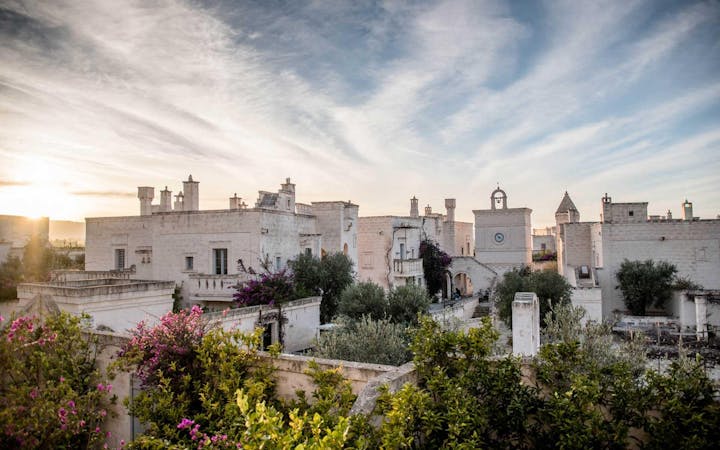 Ciao BAD DANCERS -
We're getting the gang together July 25th-29th in Puglia, Italy.
1) Puglia in the summer is one of the most enchanting places on planet Earth, full stop. The region is an untouched Mediterranean wonderland. Puglia features a stunning landscape, simple yet breathtaking cuisine, and an incredibly warm culture that will immediately put you at ease. NYT just put Puglia on it's Top Travel Destinations list! A quick Google re: Puglia will charm you far more than our words will be able to.
2) We're taking over a beautiful boutique hotel, Masseria Le Carrube. The structure was an ancient limestone olive oil production mill in a past life. It lies at the foot of the magical white city of Ostuni and feels super remote yet is a short drive from everything we need to do. The hotel will be exclusively BAD DANCERS ONLY Members so everyone will be able to let their hair down. We're also partnering with Le Carrube's sister property, Borgo Egnazia, which is one the preeminent hotels in the world. It's essentially a modern day castle (with surrounding village and all!) masquerading as a 5 star hotel. We just stayed there in February and it felt like we were living in a fairytale. It's significantly more expensive than Le Carrube but is truly the high watermark for hotels in Italy. Well worth the money if you can afford it.
3) Polifonic is an electronic music festival held on the rooftops of ancient limestone masserias (farmhouse/castle hybrid) overlooking the Adriatic Sea. To get an idea of the scenery watch the 2018 recap video. The lineup is a collection of international headliners + a bunch of up and coming Italian DJs. The sound is unlike anything we've heard at other festivals and leans heavily into disco. Beyond the insane location and eclectic lineup, the people are what make Polifonic so special. Everyone treats you like family. It feels much more akin to dancing in your PJs w/ your childhood best friend than being at Coachella.
Per usual, the vibe of this gathering will be super unbuttoned.
~50 spots are open. See you this summer. ✌️
--
What's Included In Each Pass:
* Welcome Feast: If you're reading this you know how much we love food. This means you can trust us when we say we're throwing a once in a lifetime Southern Italian Welcome Feast. Our previous journeys to Puglia have left us completely infatuated with their cuisine and we can't wait to share it with you. It goes without saying that fantastic food must be paired with fantastic wine and we have that covered as well. Be ready. There's also going to be a "surprise" champagne tasting courtesy of one of the world's top champagne producers.
* 24/7 Access to the BAD DANCERS ONLY Masseria: formerly known as Masseria Le Carrube, this is the main rendezvous point for the BAD DANCERS ONLY x Polifonic experience. It will serve as a chill spot for the whole crew in addition to having a world class snack and champagne bar. Every day from 4pm to 8pm-ish we'll be doing a DJ'd cocktail hour/pregame of sort before heading to Polifonic. Starting during Fourth Meal hours (let's say 2:30am) there will be a S'Mores and Cognac bar.
* VIP Access at Polifonic Music Festival: Wristbands. Tables. Backstage Access. So on and so forth.
* Transportation: We'll chauffeur you to and from the Bari or Brindisi airport. We'll additionally have a shuttle service each night running between our hotel and the festival.
* BAD DANCERS ONLY Concierge: From the moment you book to the moment you return safely home we'll have a dedicated Concierge to help you navigate everything.
* BAD DANCERS ONLY Concierge @ Polifonic: Music festivals can get...out of hand. We'll have a designated Concierge on site who will help you get around, answer any questions, and get you out of bind should anything go wrong as you're having the some of the most fun nights of your life.
For folks staying with us at Masseria Le Carrube or the Borgo Egnazia, you'll have access to the Borgo's awesome beach club, Cala Masciola.
--
Package Details:
FIND YOUR OWN PLAC - €1,500
Puglia is full of awesome places to stay. We've picked out two options that we love but understand if you want to do your own thing. Feel free to reach out and get our opinion on different spots.
If you do Find Your Own Place you'll receive 1 BAD DANCERS ONLY x Polifonic pass.
THE OBVIOUS CHOICE - €4,200
For most people, this is going to make the most sense. We're taking over the whole hotel so the vibe here is going to be 110% BAD DANCERS which is special. Masseria Le Carrube is going to feel like you're staying in a large Italian estate with all of your pals. All of the BAD DANCERS ONLY activities will also take place here.
P.S. all of your food is included in this.
If you do The Obvious Choice you'll receive 2 BAD DANCERS ONLY x Polifonic passes.
BABY BALLER - €7,000
At this level you're staying at the Borgo Egnazia hotel. If you're looking for pure unabashed luxury you'll be satisfied and then some. The Borgo also has a laundry list of things that hotels of this caliber have: world class spa, PGA golf course, 1 Michelin star restaurant, complimentary breakfast, lots of orgasm-level IG content opportunities, etc.
We'll shuttle you to Masseria Le Carrube for activities taking place there.
If you do Baby Baller you'll receive 2 BAD DANCERS ONLY x Polifonic passes.
WDWD (What Drake Would Do) - €24,500
If you:
1) when asked about money begin your answer with a sigh and start into "It's not really about money..."
2) when asked about your budget you shrug and say "I'm flexible"
3) are terminally ill
4) are going through a midlife crisis
5) want to come with a group
6) are Drake
you should book this option.
You get a villa at the Borgo Egnazia hotel. This is the high watermark inside of the high watermark. The limestone villas are three stories with three bedrooms. The have their own pools, courtyards, kitchens, etc. On the roof you have 360 views of the Apulian landscape and the Adriatic Sea.
We'll shuttle you to Masseria Le Carrube for activities taking place there.
If you do What Would Drake Do you'll receive 6 BAD DANCERS ONLY x Polifonic passes.