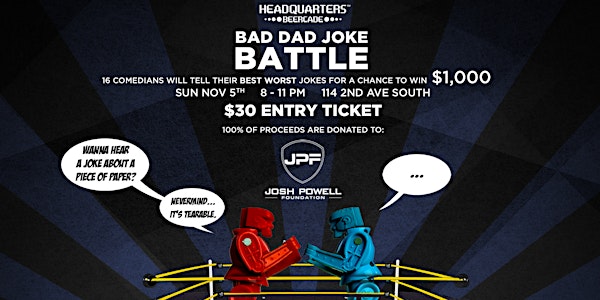 Bad Dad Joke Battle to benefit the Josh Powell Foundation
When and where
Location
HQ Beercade Nashville 114 2nd Avenue South Nashville, TN 37201
Description
Join us for the Kickoff Event for the Josh Powell Foundation* as 16 contestants compete in a single elimination Bad Dad Joke Battle for a chance to win a $1,000 grand prize. All ticket sales go directly to the Josh Powell Foundation, a nonprofit created with the purpose of bringing hope and awareness to children and young adults battling sarcoma cancer. Who will hold out the longest without laughing at the corniest dad jokes to win $1,000? Come find out at HQ Beercade Nashville at the Bad Dad Joke Battle!
*To learn more, visit https://www.joshpowellfoundation.org
What is a bad dad joke? OH, let us show you... https://youtu.be/Qdi_yp9FA-I
ATTIRE: Dress to impress. -> Think date night with your significant other at a steak house on a Friday night.
TICKET COST:
Entry Fee: $30 (Guaranteed standing room only)
VIP Table with Entry: $220 (Table for 4 and 4 entry passes included)
*Food and Beverages available for purchase (1 drink minimum per person)

ABOUT US: The Josh Powell Foundation was founded in honor of 1LT William Joshua Powell by his loving wife, Fabi. At 25 years old, Josh was diagnosed with a rare form of cancer called Synovial Sarcoma in his lower abdomen/pelvis. This cancer took his life two years and 25 days later.
Fabi has made it her mission to create a legacy in honor of her late husband. This legacy was built on the powerful Keep Going statement he wrote and the wristbands he designed while battling cancer.
Josh's wristbands and statement are sent out weekly to sarcoma patients, loved ones, caretakers, and surviving family members needing hope, strength, and encouragement to Keep Going. When you encourage people battling adversity to Keep Going and fight their fight, you create a ripple effect, allowing them to encourage even more people.
OUR MISSION: To inspire those battling adversity to KEEP GOING and to encourage others to do the same.
WHERE IS MY MONEY GOING? 100% of the proceeds from ticket sales will go directly to the Josh Powell Foundation to fund project costs, Keep Going packages that are gifted to sarcoma patients, loved ones, and surviving family members, and sarcoma awareness.