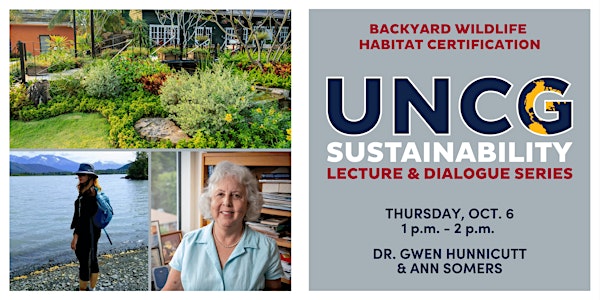 Backyard Wildlife Habitat Cetification
Learn how to turn your backyard into a certified wildlife habitat by the Nation Wildlife Federation.
About this event
The Sustainability Lecture and Dialogue Series features UNCG employees and students who are addressing issues integral to transforming our knowledge of and connections to the environment in order for us to build vibrant and thriving communities.
Dr. Gwen Hunnicutt is an Associate Professor of Sociology and Cross-Appointed Faculty in the Women's and Gender Studies Program at UNCG. Professor Hunnicutt's research is located at the intersections of critical criminology, interdisciplinary violence studies, green criminology, feminist criminology, gender, peace and security studies and ecofeminism. Her recent book, Gender Violence in Ecofeminist Perspective: Intersections of Animal Oppression, Patriarchy and Domination of the Earth, aims to begin an eco-centered, eco-feminist, informed discussion about the ways in which gender, patriarchy and violence are bound up with our relationship to the environment. She's a dedicated vegan and will walk us through the process she followed to turn her backyard into a certified wildlife habitat.
Ann Somers is a Senior Lecturer Emeritus in the Department of Geography, Environment & Sustainability. Ann's work centers on the biology and conservation of some small turtles found in North Carolina. Box Turtles (Terrapene Carolina) are NC's only fully terrestrial turtle and are believed to be in serious decline due to habitat fragmentation (roads, railroads, etc.) and destruction (residential and industrial development). I chair a citizen scientist effort called The Box Turtle Connection that is gathering data on these turtles, once common throughout our state, in hopes guiding conservation efforts. Ann will provide her expertise on native plants and habitats in the Piedmont region.