Backyard of Life - Farm2Table Fundraiser and Boardgame Unveiling!

Saturday, September 28, 2013 from 5:00 PM to 10:30 PM (HST)
Event Details
Backyard of Life in collaboration with Waihuena Farm is hosting a Farm2Table Dinner Fundraiser and Boardgame Unveiling for the Game that is gonna Revolutionize the way we get our Food!!!
Schedule of Events for the Evening:
5:00 - Yoga in the Field with Cab Spates

6:40 - 'Backyard of Life' Boardgame Unveiling!

7:00 - Farm Fresh Dinner prepared by Chef Daniela Perez-Reyes Zagazeta

8:00 - Game Discussion
8:30-10:30 - Music n Fire

3 Options:

Enjoy the full evening's festivities for $50
or you can enjoy the evening's festivities without Yoga for $40 - if you choose this option please arrive by 6:30.
Make it a Family Campout North Shore Adventure!  Mauka n Makai Sunday - guided hike back into Waihuena Valley and beach day with Pipeline across the Street!  Camping is $5 extra per adult and includes includes a delicious banana pancake breakfast the next morning!
Ages 10 and under Free!  Ages 11-18 only $25!  
Seats are limited and filling up so make sure to reserve your spot!
*Advanced Registration is required by Sept. 26 - make sure to reserve your spot as space is limited*
**The menu is going to be vegetarian, completely dairy free and gluten free and most of the vegetables and fruits come straight from the Land or the surrounding area - our goal is to use as much locally sourced live foods as we possibly can!**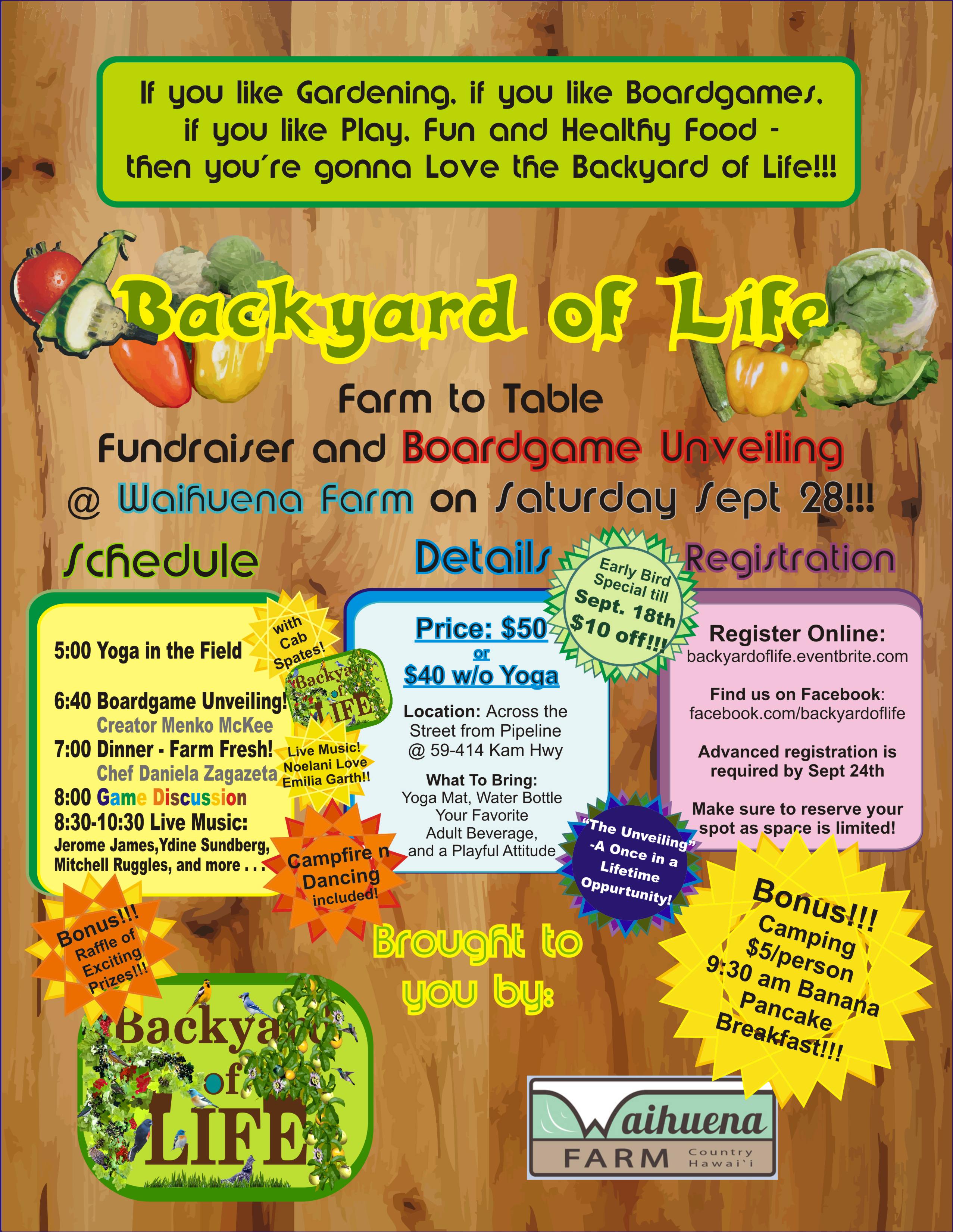 Here is some more info:
Wouldn't it be great if there was a fun, informal and educational way to get people into their Backyards and connected with their food source again? Well, there is, and that's why we're throwing this Event!
I've designed a boardgame to get us 'growing our own', living organically, and reframing our whole relationship to food. It's called the 'Backyard of Life' – think Trivial Pursuit, but with gardening knowledge instead of trivia, and seeds not plastic tokens. A game where the aim is to learn fast, grow smart, and out-produce your family and friends while having fun. A game where knowing your brassicas from your chenopods will be worth its weight in gold!
We think 'Backyard of Life' would be a Great Addition to your Life for these reasons:


Innovative and unique game that involves the whole group/family in growing food – Monopoly was the boardgame that defined the last economic paradigm - 'Backyard of Life' could define the next - one based on sustainability and community.

 

The first consumer product that reconnects people to the Land and creates a virtuous cycle of food production and stewardship.
Heralds a change in our relationship to food by radically reducing the energy inputs used in our current food supply - doing this all while having fun!
A window into the past and a glimpse of a real future - the Board is a representation of a Healthy Balanced North American Ecosystem - one which no longer exists today, but a Vision of what our Back

yards c

ould be!!
Not only looks good, plays nice, also a Great Value!  The most relevant gardening info from 20+ Books, seeds included of 30+ varieties of vegetables, and starts saving you money within 90 days!!!
Are you ready for the unveiling of Backyard of Life?
The only Boardgame that puts Food on Your Table!
A Game so Real you can Taste it!!
Come see it for yourself - the First Time Ever Unveiling of the Backyard of Life @ 5:00 pm - Saturday Sept. 28th at Waihuena Farm!!!
Wanna bit of a Laugh :)) check out this comic strip entitled:
"Backyard of Life and the Modern Dating Game Circa 2013"
Here is a Picture of the Venue!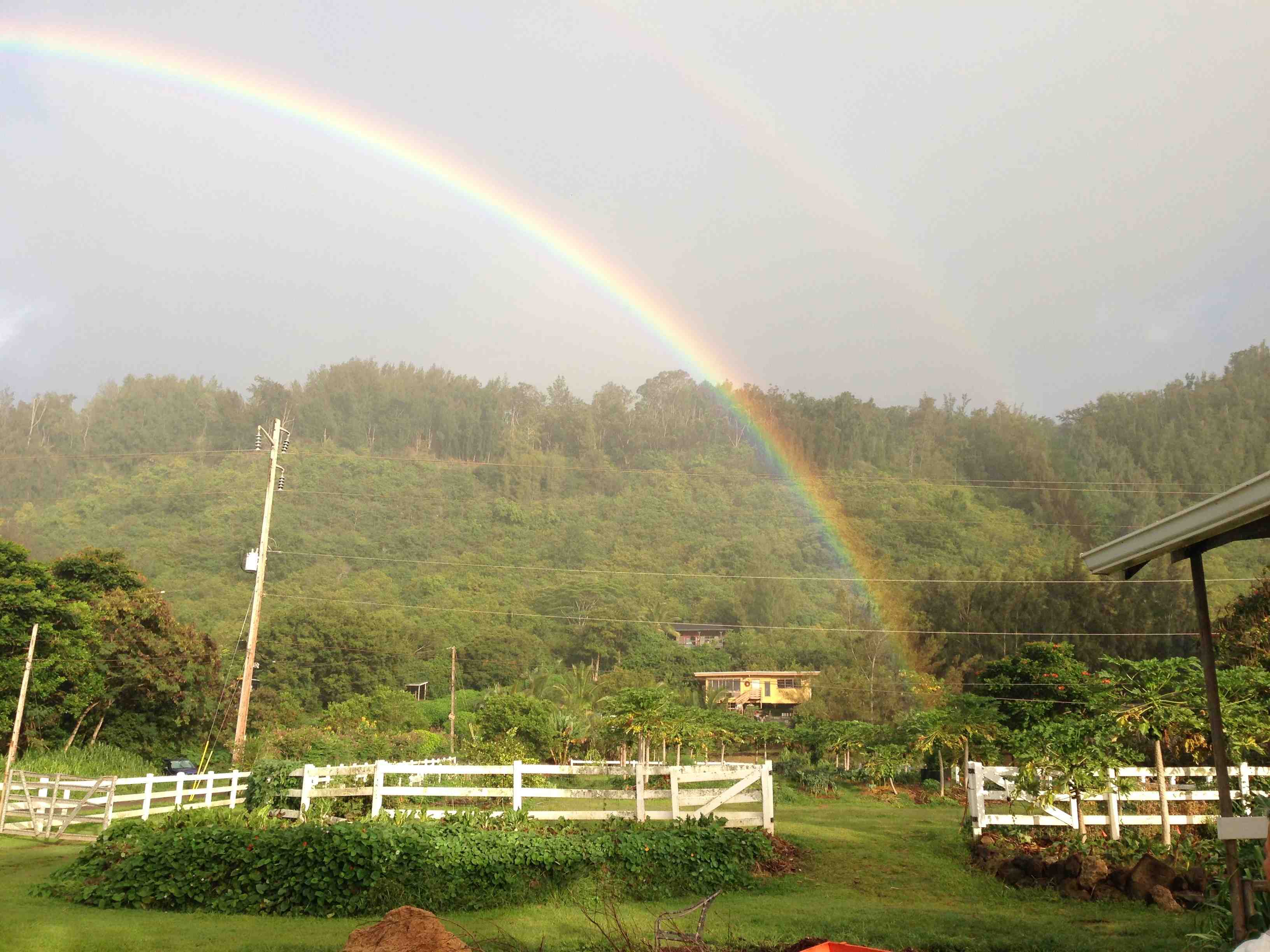 Have questions about Backyard of Life - Farm2Table Fundraiser and Boardgame Unveiling!?
Contact Menko McKee
When & Where

Waihuena Farm
59-414 Kamehameha Highway
Haleiwa, HI 96712


Saturday, September 28, 2013 from 5:00 PM to 10:30 PM (HST)
Add to my calendar
Organizer
Menko developed the concept for the Backyard of Life while rehabbing an injury at his Parents house and wants to bring the boardgame to people who enjoy Food, Gardening, Family, Friends, and Fun!
Backyard of Life - Farm2Table Fundraiser and Boardgame Unveiling!