Backyard Fruit Simplified, With Lee Reich

Saturday, May 11, 2013 from 11:00 AM to 12:00 PM (EDT)
Event Details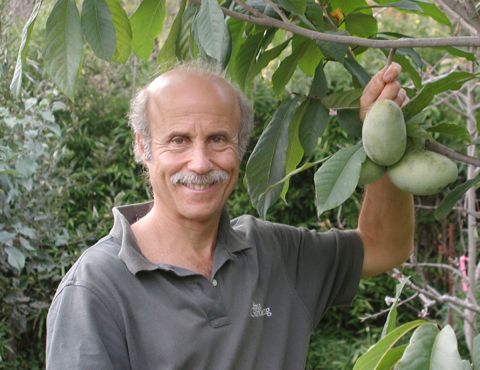 Backyard Fruit Growing, Simplified
a slide lecture by Lee Reich
Want to grow delicious, healthy fruit without chemical sprays, "organic" sprays, or other intensive, complicated management strategies? Learn a number of approaches that make fruit growing easy: fruit and varietal choice, creating a biologically active soil, site selection, and natural pest management. We'll examine the pest triangle, showing what causes pest problems and strategies for avoiding or controlling them. The result: Simple, straightforward production of luscious, nutritious, organic fruits right in your backyard. A book sale and signing will follow immediately. (This lecture is part of a whole day of garden events; see below.) 
about Lee Reich
Lee Reich, PhD, has been called "the pied piper of fruit" by famed gardener Barbara Damrosch. Lee calls himself an avid "farm-dener" (more than a garden, less than a farm) from the New Paltz area who turned from plant and soil research with the USDA and Cornell University to writing, lecturing, and consulting.
His books include A NORTHEAST GARDENER'S YEAR, THE PRUNING BOOK,WEEDLESS GARDENING, UNCOMMON FRUITS FOR EVERY GARDEN, LANDSCAPING WITH FRUIT, and GROW FRUIT NATURALLY. He writes regularly for publications such as FINE GARDENING and HORTICULTURE. His garden has been featured in such publications as the NEW YORK TIMES and MARTHA STEWART LIVING; Lee has won awards from NATIONAL GARDENING and ORGANIC GARDENING magazines, and has been included in "Open Days" tours of the Garden Conservancy. Lee's website.
a day of garden events
grafting workshop: A grafting workshop (separate ticket fee) will be held at 2 PM the same day; go home with your own grafted pear tree. Details on that here. 
Margaret Roach's garden, a 10-minute walk or 2-minute drive down the road, will be open from 10 AM to 4 PM the same day (no tickets required; $5 donation to the Garden Conservancy suggested). Broken Arrow Nursery will host a plant sale at Margaret's all day as well. Margaret's events page.
When & Where

Church of St. John in the Wilderness
261 Route 344
Copake Falls, NY 12517


Saturday, May 11, 2013 from 11:00 AM to 12:00 PM (EDT)
Add to my calendar
Organizer
Friends of Taconic State Park was established in 2008 to support cultural, recreational and educational activities within the park. The group offers outdoor events throughout the year, as well as educational programs on a variety of subjects including the history of the Copake Iron Works, a historic site within the park, and natural-history walks and talks.
Among other projects, the Friends recently completed the stabilization and preservation of the site's historic blast furnace. Unique for its intact state, the furnace offers a rare and illuminating glimpse into 19th century iron making.