Backyard Beekeeping Basics I & II

Tuesday, April 7, 2015 at 6:30 PM

-

Tuesday, April 14, 2015 at 8:30 PM (PDT)
Event Details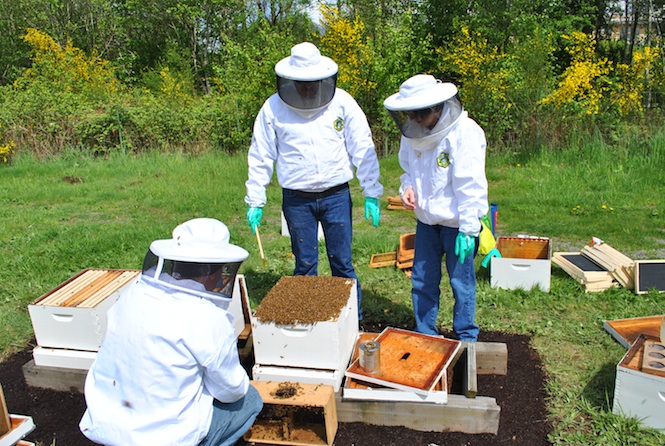 Class 1: Tues., April 7, 6:30 — 8:30 pm
Class 2: Tues., April 14, 6:30 — 8:30 pm
Beekeeping is a most rewarding hobby. Working a beehive is similar to fishing or digging in the garden: you never know what you will experience and you always learn something new.  If you are invigorated when you work outside and you enjoy observing plant and animal activity in a natural setting, your chance of enjoying bees is greatly enhanced.
Just like gardening, beekeeping is a seasonal activity. It starts in the spring as the bee colonies rebuild and ends in the fall when the pollen and nectar sources all but disappear for the winter. This class will introduce you to the necessary equipment as well as help you learn the skills you'll need to use the equipment. You will learn about the colony, its organization, how to start your colony, and the importance of colony management.
In the first class, You will become familiar with hive bodies, safe hive placement, installing your first packages of bees, and generally how to get your bees hives started. You'll also learn some bee biology, too. If time permits, we'll assemble the different parts of the hive, too. 
The second class introduces you to general maintenance techniques, troubleshooting in the hive, diseases and treatments, and tips to prevent swarming. Weather permitting, both classes will examine working hives, so protective equipment is recommended. 21 Acres has a few mosquito netting headsets, but does not provide protective jackets or veils. 
Presenters: Kurt Sahl, 21 Acres Staff; Matt Barclay, Woodinville Beekeeper
As a struggling entomologist, Kurt discovered that his college degree worked best when it was applied to a hobby. His accidental apiary affiliation at 21 Acres occurred three years ago with the help of two very special Snohomish County beekeepers, Gary Gibbons and Clare McQueen. Since then, Kurt has completed the Apprentice Master Beekeeper Program and is a member of the Northwest District Beekeepers Association. In addition to the traditional Langstroth system, Kurt intends to start top bar hives this year as a way to better demonstrate live bee activity to the public.
Matt Barclay is an Apprentice Master Beekeeper working towards his Journeyman certification. In his second year of beekeeping, he watches over three backyard hives. During the week, Matt is a software engineer for Boeing. He has a Master's degree in Computer Science, but began his education in Archaeology. He is president of the Pacific Northwest Archaeological Society. Before his career in software engineering, Matt was a Commercial Pilot and Certified Flight Instructor at Bremerton Airport. Matt lives in Woodinville with his wife, daughter and son.
Learn more about 21 Acres' cancellation and refund policy.

When & Where

21 Acres
13701 Northeast 171st Street
Woodinville, WA 98072


Tuesday, April 7, 2015 at 6:30 PM

-

Tuesday, April 14, 2015 at 8:30 PM (PDT)
Add to my calendar
Organizer
The 21 Acres Center for Local Food and Sustainable Living is a nonprofit sustainable agriculture learning center and inspires action to solve climate challenges by learning as a community to grow, eat and live sustainably.
Contact information: generalinfo@21acres.org  |  425-481-1500