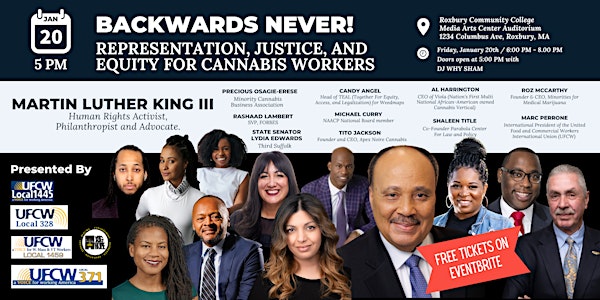 Backwards Never: Representation, Justice, and Equity for Cannabis Workers
Representation, Justice, and Equity for Cannabis Workers in Today's Cannabis Industry: A Town Hall Conversation and Call To Action
When and where
Location
The Media Arts Center at Roxbury Community College 1234 Columbus Avenue Boston, MA 02120
About this event
According to the Leafly Jobs Report, 428,059 full-time equivalent jobs supported the legal cannabis market as of January 2022. Last year, the cannabis industry created an average of 280 new jobs per day. That's a 33% increase in jobs in a single year. And it marks the fifth year in a row of annual jobs growth greater than 27%. Those 428,059 jobs include direct cannabis jobs like cultivation and retail sales—what are often called "plant-touching jobs" as well as indirect ancillary jobs that serve licensed companies or depend on legal cannabis sales. Ancillary jobs include work in accounting, human resources, legal affairs, regulatory compliance, security, maintenance, and construction. That number has most likely grown since this report.
Massachusetts continues to operate a robust and well-regulated cannabis industry, with $1.65 billion in total 2021 sales supporting 27,212 jobs. That $1.65 billion revenue figure represents an 81% increase over 2020 sales. Massachusetts continues to bring more licensed retail stores online, with 387 retail licenses approved as of early 2022, up from around 270 in late 2020. The state's moderate expansion has allowed Massachusetts to continue migrating consumers away from the illicit market and has added to the state's job count in the legal regulated industry. Those numbers are expected to have grown and will continue to grow.
We have little trouble remembering the Rev. Martin Luther King Jr. as a civil rights icon. But we rarely do the harder work of remembering the full King, reconstructing the many complicated and controversial parts of what he did and said. We particularly fail to remember his call for Americans to do something hard but necessary: redistribute wealth. That failure occurs, in large part, because one of those stories fits neatly into a narrative Americans find comforting, and the other does not. King's civil rights story has a clear beginning — the Montgomery bus boycott — and an apparently triumphant ending — the Civil Rights Act of 1964 and the Voting Rights Act of 1965. King's dream of economic equality has been harder to achieve. Why? For one, he demanded that Americans restructure capitalism, both at home and abroad. But he also challenged a core part of the American Dream: the false assumption that those who work hard can move upward. King rejected the bootstrap myth, because he understood that many people, notably those of color, didn't even have boots.
During this sacred week of Service we will call to conscience the equity and economic equality of today's workers in the fast emerging cannabis industry. While the buzzword "Social Equity" has dominated the conscious conversation around owners of color we will have a conversation that includes workers in that regard. If the United States were to live it's true creed, which it had yet to do in King's estimation, economic redistribution of wealth and refrained use of military force was the only way forward. By not remembering the entirety of his message, we have misunderstood his dream for the nation. His commitment to economic justice both at home and abroad should be his lasting legacy, because it is still the challenge we face today.
SPEAKERS
Martin Luther King III: Human Rights Activist, Philanthropist and Advocate. The oldest son of civil rights leaders Martin Luther King Jr. and Coretta Scott King
Shaleen Title: Co-Founder Parabola Center For Law and Policy, former Commissioner of the Massachusetts Cannabis Control Commission
Al Harrington: CEO of Viola (Nation's First Multi National African-American owned Cannabis Vertical)
Candy Angel: Head of TEAL (Together For Equity, Access, and Legalization) for Weedmaps. She is National Director for all things Social Justice, Social Impact, and Corporate Responsibility for WeedMaps
Marc Perrone: International President of the United Food and Commercial Workers International Union (UFCW)
Michael Curry: NAACP National Board Member, NAACP New England Area Conferences Regional Administrator
Roz McCarthy: CEO and Founder, Minorites For Medical Marijuana
Tito Jackson: CEO, Apex Noire Cannabis
Moderator(s): Lydia Edwards, State Senator Third Suffolk, Rashaad Lambert, SVP Forbes , Co-Founder, For(bes) The Culture, Jeneé Osterheldt, Culture Columnist- Boston Globe
Master of Ceremonies: Precious Osagie-Erese, Communications Director Minority Cannabis Business Association (MCBA)