Description
Backstrap Weaving Workshop
with
Laverne Waddington is now FULL. You may register for the wait list.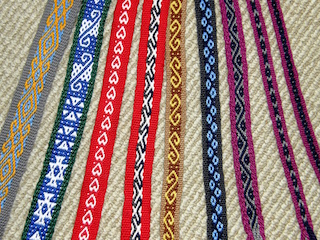 Friday, October 7 9am - 4pm
Saturday, October 8 9am - 4pm
Sunday, October 9 9am - 4pm


Cost:

$220 for WGGC members; $245 for non-members
Materials Fee: $10/person, which includes all yarn and most equipment used in class
Students need to bring: scissors, two (2) 3" metal screw-down type "C" clamps, a pencil (not pen) for charting, an eraser, note-taking materials, and a personal copy of the handout that will be emailed in pdf format a few days before class.
Skill Level: Beginner, having never used a backstrap loom, but some general weaving experience. Students will sit in chairs at tables, not on the floor.
Workshop Limit: 8
Chair: Janie Yates
Andean Pebble Weave, perhaps the most easily recognized of the many pick-up weaving techniques practiced in Peru and Bolivia, is not only beautiful to behold but also a pleasure to weave. Indigenous weavers use geometric, animal, plant and human figures posed on the dotted or "pebbled" background characteristic of this weave to decorate carrying cloths, ponchos, coca leaf bags, belts, and sashes.
Being partly loom-controlled, it is one of the faster pick-up weaving techniques to execute. Students will first learn, on narrow body-tensioned warps, how to create sheds by hand in order to weave plain pebble weave as well as the basic shapes that are the building blocks of all pebble weave motifs. They will then work on developing the ability to combine these basic shapes in different ways to create more complex patterns using a faster partly-loom controlled method.
After studying different systems for charting these shapes, they will practice charting patterns directly from cloth and be given the tools to design their own motifs.
Questions about the workshop? Contact the chair, Janie Yates, at janie.yates67@gmail.com.
Laverne Waddington has been learning to weave on simple looms with indigenous teachers in South America since 1996. In her home in Santa Cruz, Bolivia, she draws on ethnic design influences from around the world to create pieces on a backstrap loom using the various techniques and structures she has studied in South America.
In 2010, she published her first book on one of her favorite warp-faced patterning techniques, Andean Pebble Weave, which was followed by More Adventures in Warp-faced Pick-up Patterns in 2012. Her articles on backstrap weaving and indigenous textiles have appeared in Handwoven and Shuttle, Spindle & Dyepot.
Laverne has shared her skills and experiences with many visitors to Bolivia over the years and now reaches a global audience with her weaving tutorials and travel tales on her blog. She provides online advice and support to weavers through forums such as Ravelry and teaches and speaks at guilds and textile conferences around the world.
Find her at https://backstrapweaving.wordpress.com