Description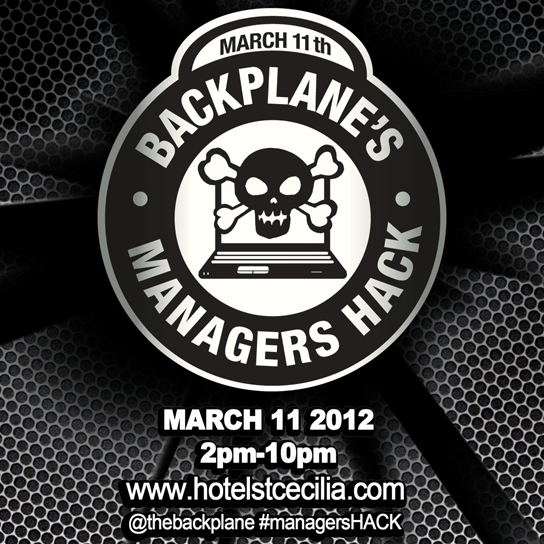 WHAT: Backplane and Spotify present the Managers Hack, a global hackathon dedicated to building the future of digital music distribution.
WHERE: St. Cecilia Hotel in Austin, Texas
WHEN: March 11, 2012 from 2:00 p.m. to 10:00 p.m. (rain or shine)
WHO: Platforms, apps and technologies emerging from the Managers Hack will be presented to a group of the top managers in the music industry including:
Troy Carter

Scooter Braun

Jay Brown

Additional participation from technology and music industry leadership to be announced
HOW: If you're in Austin, sign up to attend via this Eventbrite page. Details about global participation, interactive and live event streaming will be provided on Twitter @thebackplane.
BROADCAST: Live web cast produced by R to Z Studios; featuring play-by-play commentary from Randi Zuckerberg and the R to Z Studios
Schedule
Hackathon – 2:30 p.m. to 8:00 p.m.
Presentations – 8:00 p.m. to 9:30 p.m.
Awards – 9:30 p.m. to 10:00 p.m.
Food and beverage service throughout via Austin's best food trucks.
Coverage about the event
TechCrunch: http://techcrunch.com/2012/02/06/backplane-to-hold-music-hackathon-at-sxsw-with-top-industry-managers-as-judges/