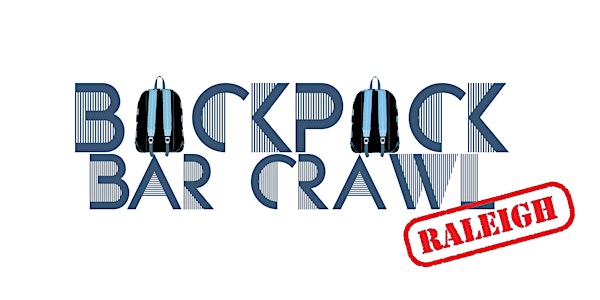 Backpack Bar Crawl
When and where
Location
The Anchor Bar 207 Fayetteville Street Raleigh, NC 27601
Refund Policy
Contact the organizer to request a refund.
Description
The Backpack Bar Crawl is in its first year raising funds to provide school supplies to assist elementary school children in South Raleigh. To date, we have raised nearly $5,000 worth of school supplies and funds.

THE CRAWL
Literally, a bar crawl is the act of a plethora of people drinking in multiple establishments on a single day, normally travelling afoot.

This Crawl will allow participants to go to any location on the map after registration that they choose, in whatever order they would like. Your Back Pack Bar Crawl wrist band will allow you access to drink and food special available this day only.


REGISTRATION & PARTICIPATION
Bar Crawls Are More Fun in teams! Teams should have 2 to 4 people, including a team captain. Team captain will be responsible for submitting entries as you enjoy The Back Pack Bar Crawl.

You must register as a team. Register online by clicking the Eventbrite link, or at our starting bar The Anchor Bar, between 2pm and 6pm.
*Registration will continue the day of at the door of The Anchor Bar. day of registration will require a $2 donation along with your 10 approved school supplies (detailed in fanny pack level) You may also bring CASH in the amount of the any of the packages availiable. ($15+).

GRAND PRIZE COMPETITION:
Each location will have a series of questions and tasks to be completed. The correct completion of each question and the documented (photo) successful attempt of each task will result in one entry (per team) for the Back Pack Bar Crawl Grand Prize (TBA).

TEAM SPIRIT COMPETITION:
Each team will be respoinsible for coming up with a team name and theme to follow for the bar crawl. each team will be judged on originality and execution. the winner will receive a prize (TBA)

SNATCH AND GRAB COMPETITION:
Find any other team on the crawl being naughty (by doing or saying something on our Backpack Bar Crawl Timeout list), put them in TIMEOUT by confiscating their BPBC Timeout card! The team with the most BPBC Timeout cards at the end of the crawl will receive a prize (TBA).


LOCATIONS
The Backpack Bar Crawl will start at The Anchor Bar and end at Milk Bar.

Current Participating establishments include:m
The Anchor Bar
Clouds Brewing Raleigh
Raleigh Beer Garden
Milk Bar

For an up-to-date listing of bars, copy and past this link into your browser search bar:
http://www.zeemaps.com/view?group=2033751&x=-78.643135&y=35.782484&z=2.


ADDITIONAL INFORMATION:
If you would like forgo the crawl and still like to support, a "Donate" section is available on the Backpack Bar Crawl Eventbrite.