Backcountry.com TROMP @ backcountry.com Decker Lake Campus

Daily Event: 10:00 AM to 3:00 PM (MDT)
Event Details
*** No need to RSVP for this event ***
TROMP is returning to backcountry.com. TROMP is specifically intended for employees at backcountry.
This year, TROMP is a two day event featuring footwear on Day 1 (Thursday, Oct 9) and Outerwear and Accessories on Day 2 (Friday, Oct 10).
Day 1 Features GORE-TEX® Products from Adidas, Asolo, La Sportiva, Lowa, Mammut, Salewa, Salomon, Smartwool, Superfeet, The North Face, and Vasque.
Day 2 features GORE-TEX® Products from: Arcteryx, Black Diamond, Gore Bikewear, Marmot, Nikwax, Petzl, and POW Gloves.
For a complete list of products click here.
TROMP FAQs
What is TROMP?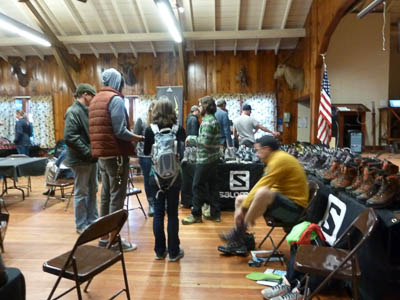 TROMP is a different way to learn about the gear you sell. Rather than being lectured at, you get to create the knowledge of what each piece is for, who to sell it to, and how to sell it. You can compare dozens of different styles in a short amount of time so that when a customer asks you if you have tried it, you can say yes.
What is there to do at TROMP?
That's a big question. You can:
Try on shoes, jackets and gloves from 15 different brands
Aactually use the gear to get a feel for how it works.
Browse the GORE-TEX® Technology Labs and play with a series of experiments to learn about the GORE-TEX® Technology.
Test out the gear in our simulated environments: rain room, wind room, and river ramp.
Geek out with the reps of each brand.
Stuff your face with yummy food.
Hang out with your co-workers outside of work.
How long should I plan to stay at TROMP?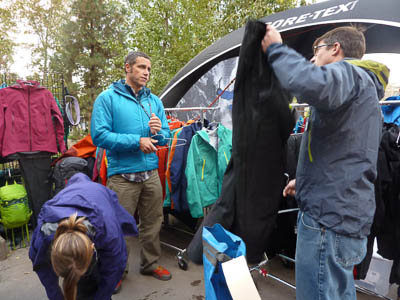 If you are in the call center, you will most likely be scheduled for a 1 hour tour through TROMP. However, there is more to see than can be experienced in an hour. Please come before you shift, during your break, or after your shift too.
What brands are going to be at TROMP?
See above.
I've gone before, why would I go again?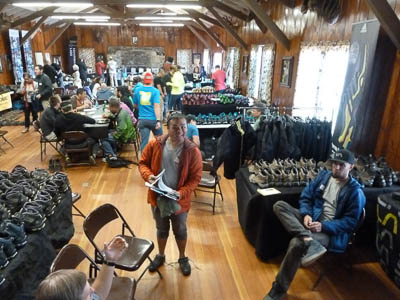 Here are the top reasons to come again:
New Brands: Mammut, Salewa, Pow.
New Fringe Products from the brands: We've asked our partners to bring a bunch of fun styles that our TROMP community has never had before and they are delivering.
New mainstream products: assortments have changed and what we have at TROMP reflects that.
Black Diamond Clothing
New simulated environments.
Get a sneak peek at a new Gore footwear technology.
You probably have a bunch of new questions about product you may have seen last year.
We feed you.
We will miss you if you don't come.
I can't make it to TROMP but want to learn about the gear anyway. What should I do?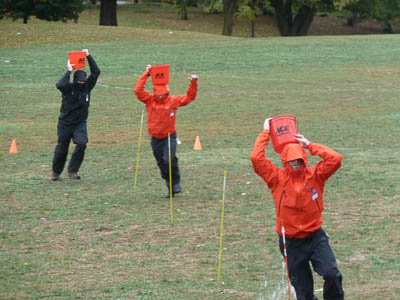 Glad you asked. We started a closed Facebook group specifically for TROMP. We will be updating this group with TROMP relevant information like Seller Reviews, Brand Webinars, Event Photos, Event interviews, New Product sneak peeks and information, and anything else you want us to put on there.
Will I be walking home with armloads of schwag?
We have giveaways but not a whole ton worth. We want TROMP to be about learning about the gear and not necessarily a schwag fest. That said, we recognize that you like some cool stuff so we have some.
Logisitcs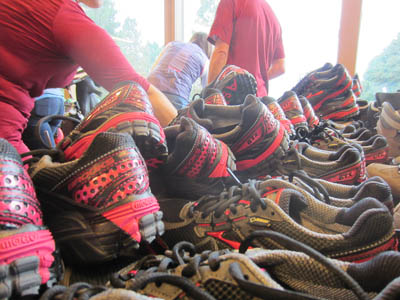 What are the hours of the event?
10-3 each day
Do I have to RSVP?
We are not asking for RSVP's for this particular TROMP.
What happens if it rains?
This event is put on by GORE-TEX® Products. Do you think we care if it rains?
Is there food? I love food! I only eat certain kinds of food.
We are going to have a taco cart at TROMP and will cover as many tacos as you can put into your mouth. The catch? You will need to come on your own time to eat... not during your scheduled tour.
History
Who puts on TROMP?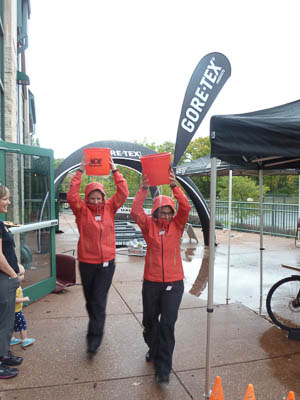 TROMP is put on by WL Gore and Associates in cooperation with the brands that participate.
Who is TROMP for?
TROMP is designed to be relevant for retail shop employees. We work to have experiences that are specific to helping people who are selling the gear.
When did TROMP start?
TROMP began in its current form in 2007 in Seattle. We wanted to figure out a better way to bring you product knowledge than the traditional clinic. Knowing that you learn best from experience we came up with the idea to minimize talking and maximize the touching and feeling. In it's first year, TROMP was only footwear focussed and had just 5 brands. It was cute.
What does TROMP stand for?
TROMP stands for Try On My Products. The word TROMP means 'to walk heavily as if on an excursion.' The idea is to learn about the gear by trying it on and condensing a full day's experience into a series of short TROMPs.
Where

backcountry.com Patrick Henry Building
2607 Decker Lake Blvd
Salt Lake City, UT 84119


Daily Event: 10:00 AM to 3:00 PM (MDT)
Add to my calendar
Organizer
TROMP by GORE-TEX®️ Products
GORE-TEX® Products brings North America a series of TROMPs. TROMP is specifically designed for retail employees in the Outdoor and Running Industry to get them into the products they sell for a series of experiences in real and simulated environments.
Backcountry.com TROMP @ backcountry.com Decker Lake Campus