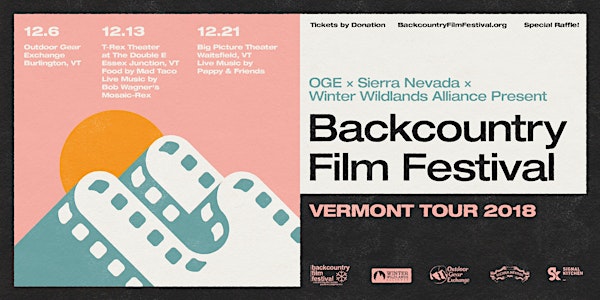 Backcountry Film Festival Vermont Tour 2018
ALL AGES
Sierra Nevada x Outdoor Gear Exchange x Winter Wildlands Alliance Present
Backcountry Film Festival Vermont Tour 2018
When and where
Location
Big Picture Theater 48 Carroll Rd Waitsfield, VT 05673
About this event
+ Live music by Pappy & Friends!
SCHEDULE
Doors: 6:30pm
Screening (Part 1): 7-7:45pm
Pappy (1st Set): 7:45-8:15pm
Screening (Part 2): 8:15-9:00pm
Pappy's (2nd Set): 9:00-10:00pm
TICKETS & RAFFLE
Tickets are by donation (min. $1). All donations benefit the Winter Wildlands Alliance & the Vermont Backcountry Alliance (some built-in Eventbrite fees may apply).
AND! We'll have a raffle at the event ($5 donation entries on-site) for Praxis skis from Sierra Nevada, Mountain House meals from Vermont Ski + Ride Magazine, and more from Outdoor Gear Exchange!
THE BCFF
Calling all "go big or go home" winter enthusiasts! Get ready to get goosebumps while you "Ooh!" and "Ahh!" at the impact and importance of our winter wildlands through this collection of short films. Produced each year as a celebratory, backcountry community event by the Winter Wildlands Alliance, the 14th Annual Backcountry Film Festival film line-up is full of snowy, cinematic adventure sure to inspire both the local backcountry and general communities.
Winter Wildlands Alliance is a national nonprofit organization dedicated to promoting and preserving winter wildlands and a quality human-powered snow sports experience on public lands. All funds raised directly benefit local projects and programs that perpetuate access and stewardship of public lands.
Adventure, environment and climate, youth outdoors, ski culture — you'll find it all in this award winning lineup. Films in this year's program include:
Ode to Muir (Festival cut), Teton Gravity Research
Ski the Wild West, Thomas Woodson and Drew Petersen
The Abbey, DPS Cinematic
The Backcountry Snowsports Initiative: Human-Powered, Wool Hat Creative Productions
Abandoned (Festival cut), The Road West Traveled
Blue, Aly Nicklas
I Am Here, David Hanson and Michael Hanson
Surfer Dan, Camp4 Collective
Searching for Christmas Tree, Lie Feng
Westward: Brennan Lagasse, KGB Productions
Winter Wildlands Alliance (WWA) is a national nonprofit organization dedicated to promoting and preserving winter wildlands and a quality human-powered snowsports experience on public lands through education, outreach and advocacy. WWA is an alliance of over 100 grassroots environmental organizations and backcountry partners. The SnowSchool program engages over 33,000 kids in science-based field trips and education across 60 sites nationwide. The Backcountry Film Festival, premiering every November in Boise, Idaho, tours over 100 locations worldwide and raises over $180,000 for local mountain communities. Learn more at https://winterwildlands.org/
The Vermont Backcountry Alliance (VTBC) seeks to protect, advance and advocate for human-powered backcountry skiing and snowboarding in Vermont. The VTBC facilitates public access to backcountry terrain while promoting the conservation and responsible management of our mountain environment. The primary objectives of VTBC are conservation, outreach, education, and terrain management. Learn more at http://catamounttrail.org/programs/vtbc/about/
PAPPY
Pappy evokes images of preachers, ramblin' gamblers and whiskey stills draped over Appalachian Mountains acoustic guitar and fiddles. His vocals are the perfect vessel for the storytelling-style of songwriting he is known for. Banjo figures largely into the music, and his picking prowess will come as no surprise to fans of Cabinet, the bluegrass/jam outfit he has helped propel to acclaim via lively and well-received shows on the touring and festival circuit. But Pappy is not all bluegrass. Not entirely. Drawing from the well of earthy rock, country, folk and gospel artists that have come before, like The Band, Grateful Dead, John Prine, his performances are low-key and understated, but the musicianship — not surprisingly — is of the highest order. Pappy is carrying on a tradition as old as the hills but, as new as each coming morning.