Description
Back To Your Roots 2018 is pleased to bring you three internationally renowned Masters in their fields, Dr. Chuck Fluharty, President & CEO, Rural Policy Research Institute, Jean-Martin Fortier, Farmer & Author, The Market Gardener, and Joel Salatin, Third Generation Farmer & Author: You Can Farm, Salad Bar Beef, Pastured Poultry Profits and Many More.
THE NEED: REBUILD OUR LOCAL FOOD SYSTEM, THE BACKBONE OF RURAL ECONOMIES
Families would become self-sufficient, communities would thrive and the earth would be more wholesome.
THE FACTS: PERSISTENT POVERTY IS STIFLING OUR RURAL COMMUNITIES
The median household income in Louisiana is $12,471 less than the U.S. median household income.

Over 20 percent of the population lives in poverty

Farmers are aging and small family farms are dying off because of the notion that you cannot make a living farming.
THE ANSWER: EMPOWER A NEW GENERATION OF FARMERS WITH MODELS THAT ARE FINANCIALLY LUCRATIVE, REPLICABLE AND SCALABLE TO INFUSE INNOVATION AND SUSTAINABLE ENTREPRENEURSHIP
The goals of the conference are:
Advance sustainable agriculture as a tool for community revitalization in parishes facing persistent poverty by rebuilding the local food system and supporting other creative placemaking initiatives.

Educate the public on the environmental benefits of organic production and the mutually beneficial programs provided by USDA Natural Resources Conservation Service.

Inspire a new generation of farmers and dispel the myth that you cannot make money farming!
Visit Our Website: Campti Field of Dreams, Inc.
Conference Schedule: Thursday and Friday, Saturday
Sponsorship Package: Sponsorship Invitation, Sponsorship Levels, Back To Your Roots 2018 Poster.
For More Information About Natchitoches (Hotels, Restaurants, Attractions, etc.): Natchitoches.Com
Conference Poster: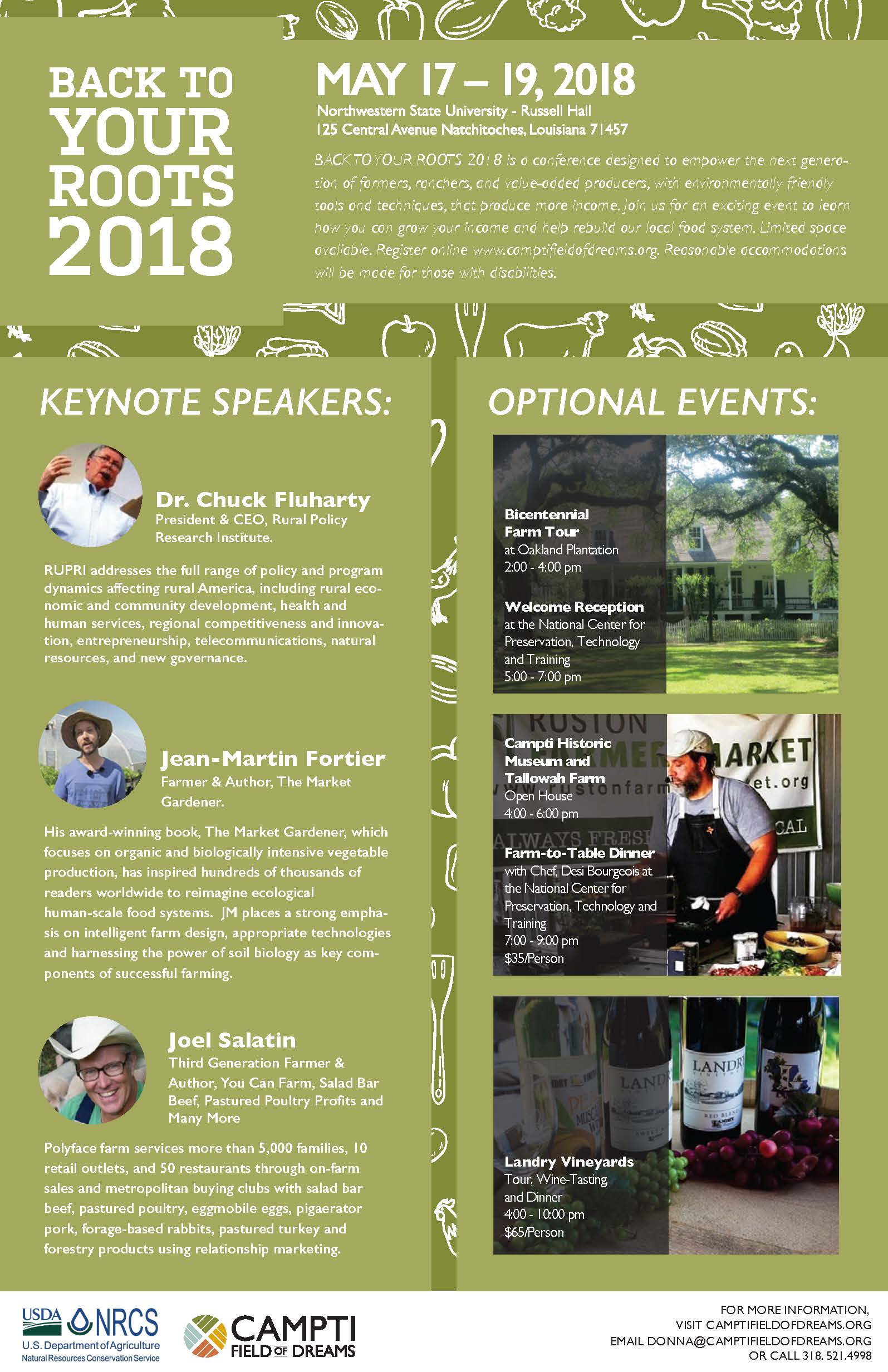 Organizer of Back To Your Roots 2018: A Sustainable Agriculture Conference
Campti Field of Dreams, Inc. in partnership with USDA Natural Resources Conservation Service, the Ross Lynn Charitable Foundation and other local, state and federal organizations is proud to bring you the third annual Back To Your Roots conference with the goal of rebuilding the local food system in Louisiana. This years program will focus on the importance of soil health to both human health and community wellbeing. The bare shelves in supermarkets due to COVID-19 shows us how important growing food locally is to our community. Join us to learn how you can do your part to ensure food security in your community.