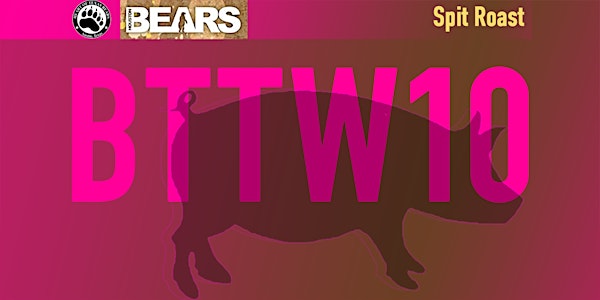 Back to the Woods 10
When and where
Location
Texas Conference of Clubs 228 C R Cameron, TX 76520
Description
We are back!
The Heart of Texas Bears and Houston Bears invite you to join us for 3 days and 2 nights on a secluded campground as we go BACK TO THE WOODS.
Co-Hosted by the HOT Bears and Houston Bears, Back to the Woods 10 is a semi-annual, three day campout held at Texas Conference of Clubs near Cameron Texas and is convenient to Austin, San Antonio, Dallas, and Houston. Facilities include showers, toilets, walk in cooler, ice machine, kitchen, and a pole barn. All facilities, and many campsites, are handicap accessible.
Held for gay men to get back to the woods and enjoy great food, play games, attend and give cocktail parties, and enjoy the camaraderie of others under the stars. The base fee includes campsite, 5 meals, and beverages. No tent? No problem. A limited number of indoor accommodations as well as RV spaces are available for an extra fee.
The theme is "Spit Roast" because we are spit roasting a 100 pound pig for the Saturday night feast! After the feast, we put on a live show in the Pole Barn. Bring your talent with you!
To insure all have a great time, we are limiting the number of attendees to 115.
Please read all of these FAQs before you register:
What is included?
Base fee includes a campsite, five meals, games, and entertainment. One base fee per person- even when sharing a tent. Additional fee for indoor accommodations (limited spots available) or RV sites (limited space available, one fee per vehicle). Electricity is included but is available on a 1st come first serve basis and not guaranteed. Bring an outdoor extension cord at least 25 feet in length. A power strip might also be helpful.
Who is this event geared too?
Humans who identify as Gay Men. All ages and physical types are welcome. TCC is a private campground and clothing optional. Men who are uncomfortable seeing other men in underwear, skimpy clothing, or no clothing should not attend. If you are uncomfortable seeing public displays of affection, you should not attend.
I or my group wants to hold a cocktail party. Where do I sign up?
We welcome you or your group to hold a cocktail party- one of the grand traditions at TCC events! Groups get very creative and there is a prize for the best cocktail party of the weekend. We will supply the ice, you supply the cups and ingredients. NOTE: Please, no jello shots unless you commit to picking up every tiny cup discarded on the ground. Sign up for a time slot at registration.
I want to be in the show. What do I do?
Bring your music, instrument, and/or talent and sign up at check in. Short skits, lip sync, and musical numbers work well on our stage. Humor over serious drama is always apreciated.
Whats the deal with photography?
We have official photographers to record the event. If you would like to be one of them, please contact the organizer who can go over details with you. We respect the confidentiality of all participants and will not publish or post your image unless we have permission.
What do I need to bring?
Things to consider: Sturdy shoes or boots to wear at night, towels, sunscreen, medications, flashlight, umbrella, bedding, personal items. Expect to spend much of your time outdoors. Dress for the weather.
Are there showers and toilets?
Yes. Hot showers and real toilets are located in 2 places on the campground. There is also a clean out station. Bring your own nozzle.
Is there an age limit to enter the event?
We request that you are 21 years of age or older.
What are my parking options at the event?
Parking is provided. We do not encourage you to drive on and off the property during the three days you are here. Everything for your comfort is available on site. We run regular errands into town so if you need anything, just ask.
Is there WiFi? Phone service?
WiFi is very limited and cell phone is spotty. Do not expect to watch streaming movies or be on social media.
What can/can't I bring to the event?
No pets of any kind. If you bring a pet, you will be asked to leave. No drugs. No guns. No air conditioners, swamp coolers, noisy generators, gas stoves, or heaters for tent campers.
Is there a fee if I arrive on Thursday?
Registration starts at Noon on Friday. Food service begins at 5pm. If you arrive on Thursday, a small fee of $10 is to be paid directly to TCC in the form of cash. Do not plan to arrive before Friday unless you have cleared it with the organiser.
I have dietary requirements. Can you accommodate me?
We will do our best to accommodate vegetarian, religious, and any allergy related dietary restriction. Please conact the organiser with your needs. If you have major concerns, please bring what you need. We can help with refrigeration but cannot allow you to use our kitchen to cook. Please email us with any specific questions you may have.
What are your medical facilities?
We will have an onsite assistance for minor injuries. In case of serious medical emergencies, there is a hospital 14 min away. We have refrigeration for medications should you need it.
I sleep with a C-Pap. Can you accommodate me?
Yes. Bring a long, outdoor extension cord and power strip in you are tent camping. Bunkhouse and RV accommodations have outlets.
Is my registration fee refundable or transferrable? Can I pay by check or cash?
Event is on rain or shine. No refunds. Fees are transferable with via a written or email request to the organiser. As a general rule, we do not accept advance sales with cash or check. If you absolutly cannot purchase using this online service, please conact the organiser.
Where can I contact the organizer with any questions?
Before you register, email Peter here: Backtothewoods10@gmail.com or post your question to our Facebook page. After your paid registration is received, you will receive an email with a phone number to use for additional questions.