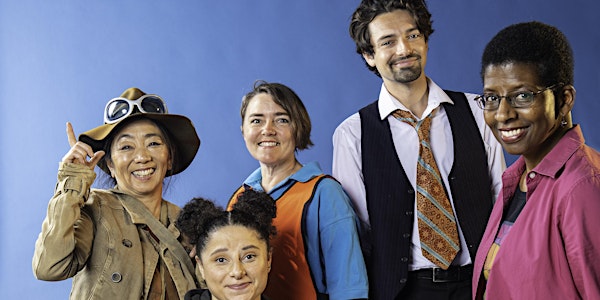 Back To The Way Things Were
Nostalgia Ain't What It Used To Be. Join the SF Mime Troupe once again for an in person great performance!
When and where
Location
SF Mime Troupe - Back Lawn 855 Treat Avenue San Francisco, CA 94110
About this event
RSVP to join the San Francisco Mime for this performance of Back To The Way Things Were!
The mission of the San Francisco Mime Troupe is to create and produce theater that presents a working-class analysis of the events that shape our society, that exposes social and economic injustice, that demands revolutionary change on behalf of working people, and to present this analysis before the broadest possible audience with artistry and humor.
Back To The Way Things Were - A New Musical is written by: Michael Gene Sullivan with Marie Cartier. Music & Lyrics by Daniel Savio. Directed by Velina Brown and Musical Direction by Daniel Savio.
Features a five person cast that includes veteran SF Mime Troupe collective members: Keiko Shimosato Carreiro (Book); who is joined by Andre Amarotico (Milies); Lizzie Calogero (Alice); Norman Gee (Ralph); and Alicia M. P. Nelson (Zoe). And SFMT Band: Will Durkee (Winds); Daniel Savio (Keys); and Jason Young (Drums).
In a country where we can finally stop wearing masks to get pizza and go to the movies, and where we again have a president who isn't dumb as a two dollar ham, hard-working, middle-aged liberals Ralph and Alice wistfully yearn for The before Times, when things seemed normal. But for Zoe - their twenty-something daughter who grew up in a world of climate change, housing crashes, student debt, the rise of dictatorships and the fall of democracies - there is no "better" to go back to. For her the purgatory of the last two years was just a pause from life in Hell. So what's the point? Isn't it easier to just give up?
The Mime Troupe band will play for 30min prior the play starting.
Masks are recommended. But COVID protocol info will be update closer to performance date.
A suggested donation of $20 will be requested upon entering.
This performance will be outdoors on the back lawn, dress accordingly.