Description
Back to the Garden - FOUR DAY trans-dimensional weekend immersion retreat for couples
with Dale Allen Hoffman and Loretta Hoffman
* healing sexual addiction * ancient insights into authentic relationship * The Sacred expression of authentic sexuality * Removing shame from the Human Energy Body * helping each other process even our most intense relationship issues and suffering *
Our Only Couples Retreat in 2017!
Friday, July 14th - Monday, July 17th
Retreat Location:
Mountain Light Sanctuary - Barnardsville, NC http://www.mountainlightsanctuary.com/

Near Asheville - The Appalachian City of Light

$833/Couple [$416.50 ea] Early Bird Discount Expires Wednesday, May 31st at 11:59pm EST
$888/Couple [$444 ea] Thereafter
FULL RETREAT INFO:
https://www.daleallenhoffman.com/july-2017-asheville-retreat.html

Your Retreat Co-Hosts: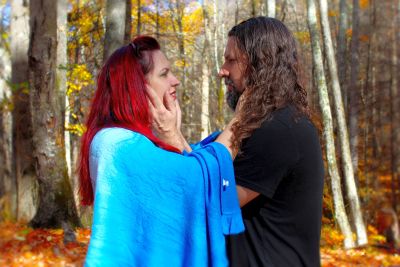 Ancient Language, Culture and Philosophy Mystic Dale Allen Hoffman
And Magdalene Priestess and Sacred Sensuality Model/Performance Artist Loretta Hoffman
WHAT YOU WILL EXPERIENCE:
Create life-long, lasting friendships to support you in living the profound, loving and ecstatic life that you were meant to live!
Relax in our natural swimming holes, waterfalls and water slides!
Leisurely Saturday morning national forest walk to local family farm breakfast
Criollo ceremonial cacao circle with indigenous trance toning
Raw chocolate aphrodisiac Five Rhythms Ecstatic Dance party!
PYRADYM Crystal Particle Fountain Energy Body Opening, Chakra Balancing and Vibrational Healing Circle
Embracing Deep Intimacy, Empathy and Vulnerability in All of Our Sacred Relationships
Group visit to the world-renowned downtown Asheville Drum Circle!
Stepping Beyond Sexual Shaming and Abuse
Picnic Lunch in Pisgah National Forest
Where do we go from here?
Pure, Ecstatic Love and Bliss
Evening Bonfires and Mountain Stargazing
RETREAT FEE INCLUDES:
All Support Materials, Cacao and most meals
Vegan, Vegetarian and Gluten-Free options available
[Does not include Saturday morning local farm breakfast or Saturday evening group dinner in Weaverville]
Freshly ground and brewed, locally-roasted gourmet coffees, teas and hot spring water available throughout the retreat
Retreat Fee Does Not Include Accommodations
*Mountain Light Sanctuary Accommodations range from only $20-$60 per person per night*
Retreat Schedule:
Friday, July 14th - 7 to 9pm
Saturday, July 15th - 9am to 6pm
Sunday, July 16th - 9am to 1pm
Monday, July 17th - 9am to 3pm
$833/Couple [$416.50 ea] Early Bird Discount Expires Wednesday, May 31st at 11:59pm EST
$888/Couple [$444 ea] Thereafter
FULL RETREAT INFO:
https://www.daleallenhoffman.com/july-2017-asheville-retreat.html
FACEBOOK EVENT PAGE: