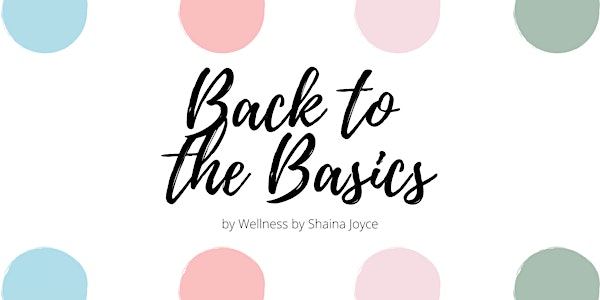 Back to the Basics: October Cohort
A 30-day home cooking challenge that will help you jumpstart your health journey!
Refund Policy
Contact the organizer to request a refund.
Eventbrite's fee is nonrefundable.
About this event
What is it?
Back to the Basics is a 30-day home cooking challenge designed to help you jumpstart your healthy journey! If you are looking for new healthy recipes, wanting to start your fitness journey, learn how your body reacts to different foods, or even want to challenge yourself - this is the challenge for you!
Back to the Basics focuses on showing you what is in your foods! It's all about going back to the basics of nutrition and focusing on foods that make our bodies feel good! We focus on cutting back on gluten, corn, soy, and dairy. We will also be focusing on cutting back on the amounts of sugar and processed foods that we eat.
What's included:
4 weeks of curated recipe plans and grocery lists (+ options for eating out)
2 group coaching calls with a certified health coach
Exclusive coaching and accountability cohort
Understanding your body and food sensitivities
What will it be like?
The challenge will start with a group coaching call where I will give you all the tips for beginning! The first group coaching call will be on Wednesday, September 29th (it will be recorded as well). The week before starting, the first two weeks of recipes will be sent to you so that you can prep and get all the ingredients.
You will receive support from me and your cohort as you go through the challenge! This will take place on our own private Facebook group. That way we can cheer each other on as we make positive changes.
We will finish up the challenge with another group call to teach you how to stay consistent as well as tips for ending the challenge.
Tell me more:
You will receive 2 lunch recipes and 4 dinner recipes and a grocery list that go along with each week of the challenge. You will also receive breakfast and snack ideas as well as recipes for dessert! (Gotta have some sweet treats!) You'll also have ideas for eating out if you don't feel like cooking.
Testimonials:
"By the end of Back to the Basics, I had lost 5 pounds! I learned to read the labels of my food and care about what things I put into my body. Shaina was very knowledgeable, caring, and organized. I would recommend her to anyone!" Lela, 2020 cohort
"I loved the ease of the grocery shopping lists! I was surprised by the fact that I didn't feel deprived, but the food was so delicious that I didn't notice I had eliminated certain ingredients. My biggest tip for those starting is to prep - be sure to check your labels. You'll be surprised by what's in your food." Laura, 2020 cohort
***
I can't wait to meet you and help you as you continue your health and fitness journey! Let's connect: @ms.shainajoyce, wellnessbyshainajoyce.com