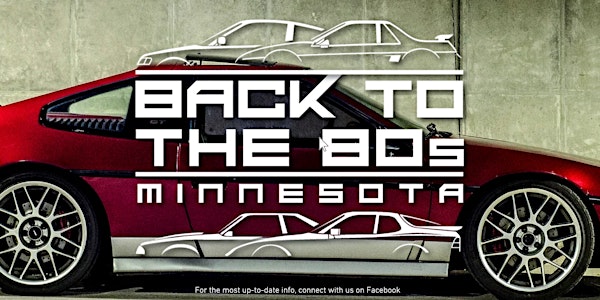 Back to the 80's Sponsorship
When and where
Location
National Sports Center 1700 105th Ave NE Blaine, MN 55449
Description
**ATTENTION SPONSORS**
Our Initial Sponsorship Period has Expired [5/14/17]. Additional Sponsors are still invited & welcome, however we are unable to add your sponsorship logo to the event shirts & signage at this time.
Thank you for your interest in supporting the Inaugural Back to the 80s Minnesota car show, to be held on June 17th, 2017 at the National Sports Center in Blaine, MN.
Sponsorship Tiers:
---
Bronze Supporter - $100
Your name (Company or personal, your choice) will appear on our event banners located at the National Sports Center on the day of the event. Your name will also appear on the event T-Shirts commemorating the Inaugural Back to the 80s Minnesota event. You will have the option of setting up a booth at the show field at no additional cost.*
---
Silver Supporter - $200
All of the Bronze Supporter rewards, as well as the following:
Your name and logo, if provided to us, will also appear on our website, listed on our Sponsors page. Your name or logo (your choice) will be printed on the event T-Shirts and appear on the banners at the show field.
As a Silver Supporter, you will also receive one of the event T-Shirts in the size of your choice.
---
Gold Supporter - $300
All of the Bronze and Silver Supporter rewards, as well as the following:
The choice of your business or personal name appearing directly on the trophies that will be awarded to show participants.
---


Important Information
Please note that due to the nature of the printing industry with regards to signs/banners/T-Shirts and trophies, the cutoff date for all rewards will be May 1st so that our printers can work. Sponsorships after this date will still be welcome. UPDATE: We have extended the cut-off for sponsorship logos to May 14th at 5PM. We need your logos in a Vector image by then!
Goodie Bags!
We will giving out a limited amount of goodie bags for our show participants on a first-come-first-serve basis. If you would like to include item samples, business cards, or other information to share with the participants, we would be happy to include these items for all levels of sponsorship.]
Vendor/Booths!
Space is limited to a 10x10 or 12x12 canopy anchored to the ground with weights. Ground penetrating stakes are expressly forbidden by the National Sports Center rules. Booth spaces will be on a level grass surface. There are limited booth spaces available. If you are interested in this option, please contact our club treasurer to reserve a space. No fees will be assessed by Back to 80's MN or the National Sports Center for any sales during the show.
---
FAQ
How can I contact the organizer with any questions?
Please contact our club treasurer, Peg Jarzynski by email at pegj1999@gmail.com or by phone at 612-242-2195 with any questions you may have or to include items in the goodie bags with your sponsorship.
What is the refund policy?
Sponsorship donations are non-refundable. The money raised will be used toward the purchase of the event awards, banner printing and the various costs incurred with running a larger car show.
What happens in the event of inclement weather?
The show must go on! This will be a rain or shine event. We are committed to the event date, event location and event participants.
I'm interested in sponsoring your show, how do I do so?
Please select a donation level from the purchasing page, fill in the appropriate information and submit payment.
If you intend to include items for the goodie bags, please see FAQ Item #1.
Who are you?
Who are we? We are Minnesota Fieros Forever - one of the oldest Fiero clubs in existence. We support local and regional Pontiac Fiero owners with cruises, car shows, and other events - as well as community driven technical support and parts.
​Why "Back To The 80's"?
We've hosted a small, local Fiero show annually for as long as anyone can recall. And we've been brainstorming for years about creating a fun, new event to expand our horizons and fill a void for a new generation of car collectors & enthusiasts! So let's unite once a year and let our segregated car model / brand /genre car clubs blend into a fun, all 80s event!