Description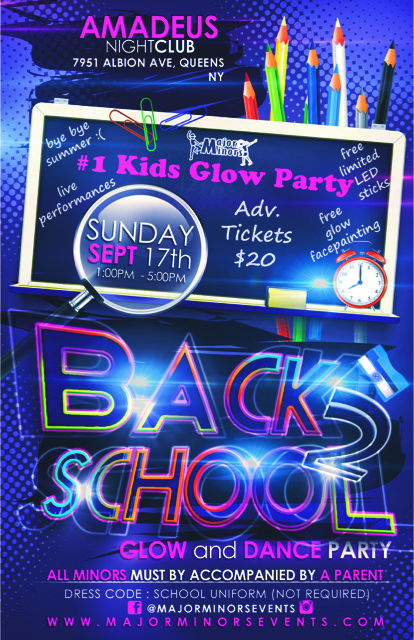 BACK TO SCHOOL GLOW AND DANCE KIDS PARTY

SCHOOL UNIFORM is the recommended attire but it isn't required. (Parents are also welcome to participate by wearing anything school uniform related)


Sunday, September 17th 1pm-5pm
Amadeus Nightclub
7951 Albion Ave
Queens, NY 11373

The Major Minors Experience

Nightclub Lights & Sound
Live Performances
Dance & DJ Lessons
Free LIMITED Led Sticks & Face Paint For The Kids
FOOD & SNACKS AVAILABLE For Purchase
Glow in the dark accessories
Main Floor Cash bar (Soft drinks only)
Upstairs Cash bar (Adults only) id required
Parking available
Major Minors specializes in transforming exclusive night clubs into a party space for the kids to enjoy during the day. This gives them and their families an opportunity to enjoy the nightclub experience in a safe and controlled setting during the day. They are treated to great DJ music and live performances for an exceptional experience. Our main target audiences are kids between the ages of 5 and 13 but all kids are welcome as long as they are accompanied by an adult.
We expose the kids to a world of talent and a stimulating environment where they get the chance to practice their unique dance moves, get to interact with other kids and have a great time in general. We are especially devoted to encouraging young kids and educating them to follow up on their creative endeavors.
Picture having a brilliant time on the dance floor, where you are the person of the moment and you feel like you are a rock star, you are dancing to your favorite tunes played by the versatile DJ, the dance floor is full and you are right there with your friends and family who are sharing in this great time with you. This is exactly the experience that we seek to treat the young kids to. The events we organize allow parents to socialize while their kids mingle, perform and dance. It is not only the best way for them to enjoy the thrill of live entertainment but also to stay fit and boost their self-confidence.

****Everyone Must Purchase A Ticket****