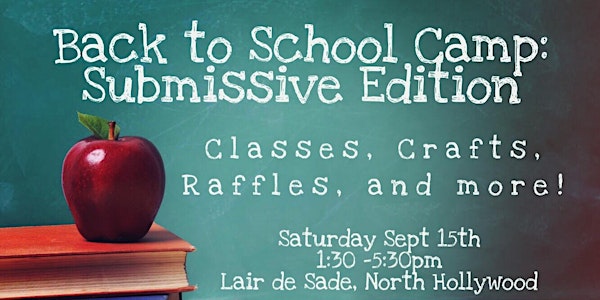 Back to School Camp: Submissive Edition
When and where
Location
Lair De Sade 6628 Lankershim Boulevard Los Angeles, CA 91606
Description
It's that time of year! Sharpen your pencils, prep your binders, and join us for a day of fun as we go BACK TO SCHOOL!

We're excited to offer an educational event geared towards anyone in the community who identifies with submissive/s-type roles or is curious to learn more about what that side of the power exchange slash experiences.

We'll be offering 6 classes, 2 crafts, 3 custom baskets, munchies to keep you going, and more!
Join us for the FIRST of a recurring series of education events organized and offered by the dynamic trio: Jenn, Slave Bunny, and Birdy. Our Back to School camp encourages attendees to explore submission and s-type roles through gratitude, service, and self-care.
COST:
Early Bird Tix: $20 (now through Sun Aug 5th, 11pm PST)
Pre-sale: $25 (starts Sun 8/5 11:30pm, ends Sun 8/26 11:30pm PST)
At The Door: $30
Pre-order your tickets here: https://BackToSchoolSUB.eventbrite.com
WHAT TO EXPECT:
We'll have 6 classes, in three 1-hour increments (so, 2 classes per hour). We'll have a craft table where you can make two crafts to compliment your submissive/s-type path. We'll have a spread of munchies throughout the day, water, and 3 AMAZING raffle baskets each with their own theme - filled with swag, donated items, party passes, and more!
PARKING:
There is ample parking on the street AND in the near by residential neighborhood. Please don't park at the Carl's or 7-11 parking lot.
CLASSES:
"Submissive Empowerment"
This class will talk about s-types having a voice, setting boundaries, and being OK with standing up for oneself regardless of D/s identity.
"Vetting & Support Network"
This class will go over tips on how to vet new play partners as well as going over the importance of building your support network in the BDSM community.
Presented by: Jenn Masri

"Service and Presentation"
This class focuses on how service and presentation are interconnected and why they are essential for any submissive


"Submission and Anxiety"
This class will touch on where anxiety comes from and discuss practical methods and protocols to help calm anxiety for s-types in a power exchange dynamic

Presented by: Slave Bunny

"Top Aftercare and Body Worship"
Tops need aftercare, too! Explore the many ways bottoms and s-types can negotiate and engage with their Tops/D-types through aftercare and body worship.

"Who Am I?"
This class will explore the foundation of how we identify in this lifestyle and community both personally and inter-personally with a focus on knowing who you are and being empowered by that knowledge.

Presented by: Birdy
PRESENTER BIOS:Jennifer Masri
is a Licensed Marriage and Family Therapist. She teaches the BDSM 101 class series every Monday night at Sanctuary LAX, followed by a weekly munch. She also co-leads monthly Poly Support Groups, s-type and kink support groups and hosts Club Awakening, the Kinky Karaoke Play Party and a bi-annual Pet Play Party! Her website:
www.akinkshrink.com
Slave Bunny
is the Creative Director of Kink Weekly (
http://www.kinkweekly.com/
) and a kink educator. Through teaching and mentoring, she hopes to help everyone in the Kink Community as much as she can.
Birdy is a musician, lifestyle educator, and performance bottom. She teaches the Embracing Submission Education Series at Sanctuary LAX and is founder and co-leader of the SoCal Poly Support Group, the SoCal Kink Awareness & Support Group, and the Embracing Submission Support Group.