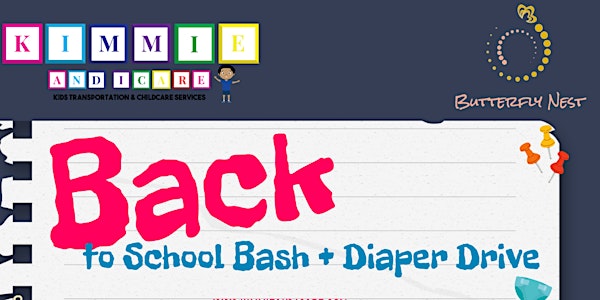 Back To School Bash + Diaper Drive
Location
Freedom Park
1908 East Boulevard
Charlotte, NC 28203
Kimmieandicare x Butterfly Nest Presents: Back To School Bash + Diaper Drive! Help us collect supplies for the 2022-2023 school year.
About this event
We are so excited to help those in need and can not wait to have fun with all of our attendees. Join us Saturday, August 13th from 12:00pm-4:00pm at Freedom Park (Shelter #2) where we will have light bites, treats, games and more for you and your family to enjoy! In exchange for donations each ateendee will receive special incentives from Kimmieandicare, Butterfly Nest and more. Learn more about the Butterfly Nest, a 501(c)(3) Non-profit organzation aimed at helping teen moms transition into motherhood and get to know the owners/caregivers of Kimmieandicare, a Kids Transportation ``& Childcare service based here in Charlotte,NC. Come out ready to meet new friends, play fun games and enjoy great snacks with your little ones.
We will see you soon!
We will be accepting school supplies for all grade levels.
We will be accepting all donations for infants & toddlers.
We will be accepting all donations in form of via Cashapp, Zelle, Paypal.
For Kimmieandicare donations:
Cashapp: $kimmieandicare
Zelle: (704) 287-8704
For Butterfly Nest donations:
Paypal: Paypal Butterfly Nest