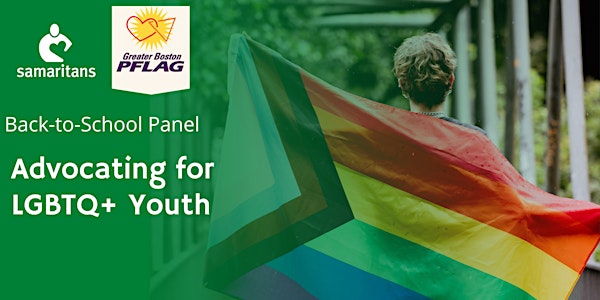 Back to School: Advocating for LGBTQ+ Young People
Support LGBTQ+ youth as they head back to school
About this event
Samaritans, Inc. & Greater Boston PFLAG Present:
Join parents, teachers, and adult allies of LGBTQ+ youth as we discuss how to support LGBTQ+ young people as they go back to school. Panelists include parents, LGBTQ+ young people, and advocates for youth mental health. We will discuss advocating for gender neutral bathrooms, advocating for correct name and pronoun usage, and building relationships with trusted adult allies within the school system to get youth needs met, as well as distribute resources and templates.
This is a virtual Zoom event. Please share your questions and topic ideas on your registration form, and we will work hard to address your needs.
If you have any questions about registering or technical needs, please reach out to Greater Boston PFLAG Program Manager, Kavi Kaushik (they/them) at kavi@gbpflag.org
Greater Boston PFLAG is a group of parents, families, friends, and lesbian, gay, bisexual, transgender, and queer people. We help change attitudes and create an environment of understanding so that our LGBTQ+ family members and friends can live in a world that is safe and inclusive. We accomplish this through support, education, and advocacy. https://gbpflag.org
Samaritans works to prevent suicide and support those who have lost someone to suicide through our volunteer helpline and textline, education and grief support services. https://samaritanshope.org