Description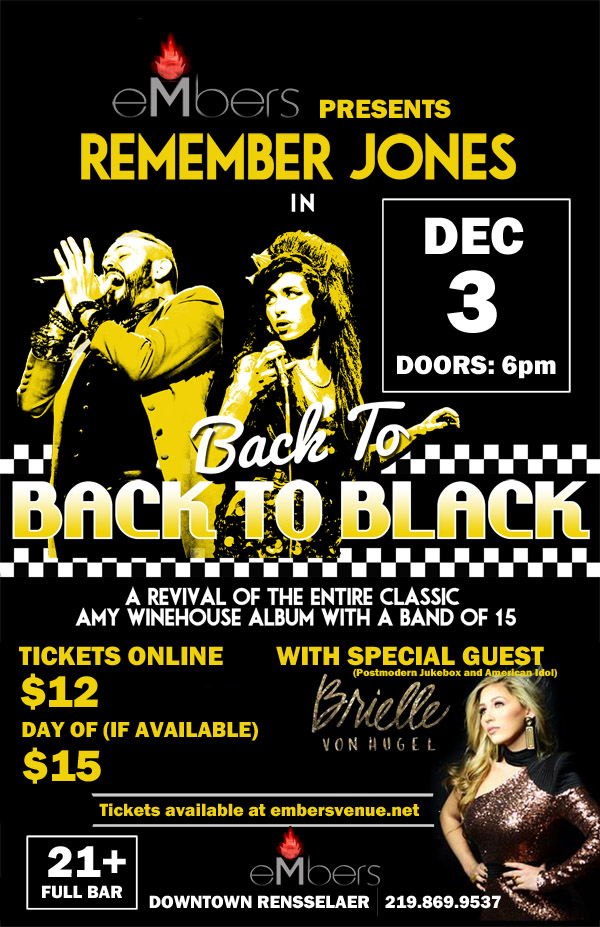 15 piece band/orchestra from New Jersey REMEMBER JONES comes to eMbers in Rensselaer for a night celebrating the 10 year anniversary of Amy Winehouse's BACK TO BLACK album. On December 3rd, experience the multi-platinum album reimagined by REMEMBER JONES.
Opening act, Brielle Von Hugel's latest single "Stronger" guest features artist B.O.B. and her resume includes lead vocals with the genre defying Postmodern Jukebox and AMERICAN IDOL.
This show is a 21+ full bar show. For additional information, contact us at 219.869.9537 or visit embersvenue.net
back to BACK TO BLACK
- a 10th Anniversary celebration and revival of the entire AMY WINEHOUSE album starring soul sensation
Remember Jones + 15-piece orchestra
"Fiercely passionate frontman... one for the ages... holds the audience in the palm of his hand..." - Live For Live Music
"...remarkable vocalist... uncanny magic... Remember Jones is heading for big things." - Popdose
"...truly captivates audiences every time he performs..." -
BroadwayWorld.com
In honor of it's 10th Anniversary, soul sensation Remember Jones brings a 15-piece orchestra to recreate the entire 2006 Grammy-award winning AMY WINEHOUSE album BACK TO BLACK, including a horn section, backing vocals, auxiliary instruments, and other special guests. Fronted by "one of the most enthusiastic, fiercely passionate powerhouses in the game" (Live for Live Music), Remember Jones will lead the ensemble through 17 songs, including the hit singles "Rehab," "Tears Dry On Their Own," "You Know I'm No Good," "Love is a Losing Game," and the title track, "Back to Black." This show has sold-out most previous engagements.
BRIELLE VON HUGEL (American Idol, Postmodern Jukebox) will open with a set of her pop originals. Brielle's YouTube videos have amassed over 2 million views, reinforcing her popularity and mounting fan base. These videos, which showcase her myriad of talents, received spotlight attention from
Billboard.com
, Mashable,
RyanSeacrest.com
, Hollywood Gossip, Philip Phillips, and Haley Williams of Paramore. Her recent collaboration with Scott Bradlee's Postmodern Jukebox has further gained her recognition and kudos from fans across the globe.
"She has a rare gift as a vocalist to combine old and new and still connect with the audience."
-Scott Bradlee