BACK IN THE GAME - Suit+Tech Event

Friday, November 9, 2012 from 6:00 PM to 9:00 PM (PST)
Event Details
FRIDAY, November 9th, 6p-9p
Craig P Kenny and Associates Downtown Headquarters
501 S. 8th Street, Las Vegas, NV 89101
ENTRY is FREE - Just bring any item of employment clothing or educational technology - and your heroic selves - and YOU'RE IN THE GAME!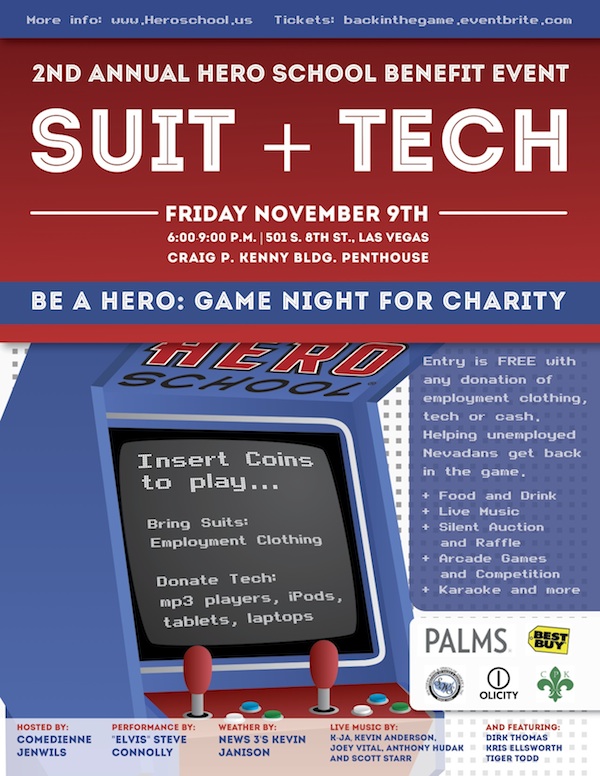 SPONSORS INCLUDE:
Palms Casino Resort  • John Varvatos • Best Buy • Coach• Victoria's Secret • U-Swirl Frozen Yogurt • Brenden Theaters  • Those Guys Pies • Craig P. Kenny & Assoc • Olicity Advertising • Southern Wine & Spirits • Monster Framing • Victoria's Secret • Trader Joe's • MDL Group Real Estate • Diamond Wealth Management • Fair Anderson Langerman • Sterling $1.75 Cleaners • Dragonfly Portrait Studio • Spanish Trail Golf Club • Olicity Advertising • Red Square Technologies • Tiger Technologies • Hottcakez of Las Vegas • TheOfficeSquad.com • Greenspun Media • RSVP Party Rentals • Primo Painting • Dress For Success Southern NV • WRRP • Starbucks • Bonjour Deli & Bakery • GameStop • Blue Man Group
• Las Vegas Mannequins• Coach USA • Henderson Harley Davidson • T-Bird Lounge & Restaurant
• Williams Sonoma • Star Costume • Spread The Word Nevada • Trader Joe's • Brio Tuscan Grill 
LAS VEGAS -- On November 9th, 2012 from 6PM - 9PM, Hero School will host its Second Annual Suit + Tech Drive & Kickoff Event.
YOU bring any donation of gently used and cleaned business suits, ties, belts, slacks, dress pants, shoes, heels, clutches, jewlery or gently-used MP3 players, tablets or laptops.
WE will re-clothe and re-equip homeless, hopeless or unemployed youth and adults by teaching them how to get BACK IN THE GAME!
LAST YEAR's successful Event helped Hero School create and Employment "SUIT CENTER" stocked with professional clothing and educational resources that have already helped over 250 struggling men and women find meaningful work and another 2200 students move up to their next level of education, self-reliance and community contribution. 
SO bring some clothes, bring some tech or just INSERT COINS*, CELEBRATE, fellow community leaders and professionals we will be kicking-off our celeberation in order to continue aiding unemployed Nevadans get BACK IN THE GAME.
*Financial donations fund Hero School Initiatives Employment Academies, Youth Entrepreneur Development and Neighborhood Change Interventions and are 100% Tax-Deductible (501C3 #88-0388656)

Join host and comedienne extraordinaire Jennifer Wilson and special guests Kevin Janison (TV personality and children's book author) and  and Steve Connolly (Top Elvis performer and local artist) and myriad other community leaders and Action Heroes - and a couple of villains - at the Super Cool home (and Game Center) of Craig P. Kenny and Associates for an evening of live music, movies and karaoke, complimentary wine, beer, Chrome™ Soda, hors d'oeuvres, ribs and elegant pastries, all donated by local businesses and Hero School sponsors including Starbucks, HottCakez of Las Vegas, Palms Hotel, Southern Wine & Spirits, U-Swirl Frozen Yogurt, T-Bird Restaurants, Las Vegas Mini Gran Prix - and more!
This is a business casual event (unless you're wearing a Superhero or Villain costume) to celebrate and equipment those working everyday to heroically build and rebuild our community.

Together we will bring Hero School to even more blighted neighborhoods while also helping suit and equip the newly re-engaged, re-motivated, re-educated, re-directed and re-employed for self-sufficiency and community contribution.
DETAILS
HERO SCHOOL ACCELERATES NEVADANS' RETURN TO WORKFORCE WITH ANNUAL EMPLOYMENT SUIT + TECH DRIVE & FUNDRAISER, NOVEMBER 9TH, 2012, 6P - 9P
The Get Back in the Game event celebrates Hero School's success helping laid-off workers, college students and impoverished families become engaged & employed community members.
THIS UNIQUE EVENT and it's "Wreck-it Ralph" Pixar movie, video-game and villain-turned-hero theme will comprise three hourly segments featuring host Kevin Janison with music by Steve Connolly and other remarkable talents. The competitive Video Game Room, game machines, movie theater, live music, karaoke and much more will be complemented by fabulous hors d'oeuvres end entrees, premium selected wines and imported beer, elegant pastries, sweets and HERO-cupcakes by Hottcakez of Las Vegas. This business-casual, mix-mingle-and-play environment is perfect for networking with diverse community professionals. Local business and non-profit sponsors include R&RPartners, U-Swirl, SouthernWine & Spirits, Sterling Cleaners, MDL Group, TheOfficeSquad.com, Monster Framing and YOU. A raffle and silent auction, as well as guest celebrity appearances, will make it an evening and cause to remember.
BACKGROUND: Four years since the economic downturn, the nation's unemployment has begun to climb again. Furthermore, the April 2012 Labor Department indicated that unemployed Americans were out of work on average for 39.1 weeks, leading over 522,000 people to give up the job search. In spite of the best efforts of myriad businesses and heroic individuals, more can be done to get the unemployed re-engaged and contributing again. After empowering tens of thousands of adults and teens to become engaged and contributing employees and community members, HeroSchool began implementing single-day Community Initiatives that immediately spark engagement and produce employment in days and weeks. Hero School® Initiatives have benefited many organizations, including The Shade Tree, CC of SN, CSN, SNRHA & CCSD.
Heroic Sponsors include:
Olicity Advertising
T-Bird Restaurant and Lounge
Sterling Dry Cleaners
Spanish Trail Golf Club
Spread The Word Nevada
Star Costume
Starbucks Coffee Shop
Williams & Sonoma
The Las Vegas Faith Center
Red Square Technologies
E-Fact Suppplements
Bell Transportation
RAFI Nevada
Sacon Construction 
Primo Painting
Lubritz and Nasri
Monster Framing
ITS Electric
TheOfficeSquad.com
MDL Group
Fair Anderson Langerman
U-Swirl Frozen Yogurt
Super Cleaners
Tiger Technologies
Hottcakez of Las Vegas
Las Vegas Mini Gran Prix
 JOIN OUR SPONSORS HERE!
DONATE HERE!
Raffle Sponsors include:
Spanish Trail Golf
ITS Electric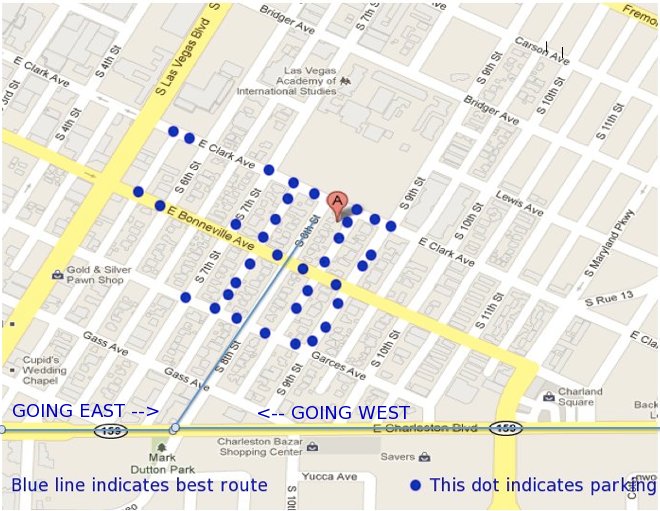 THE EVENT VENUE: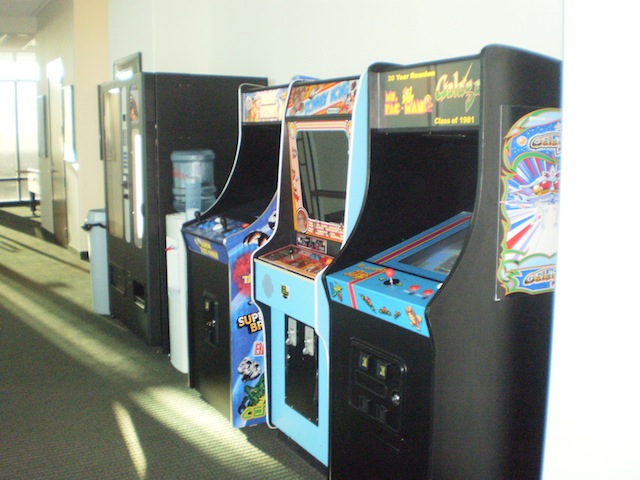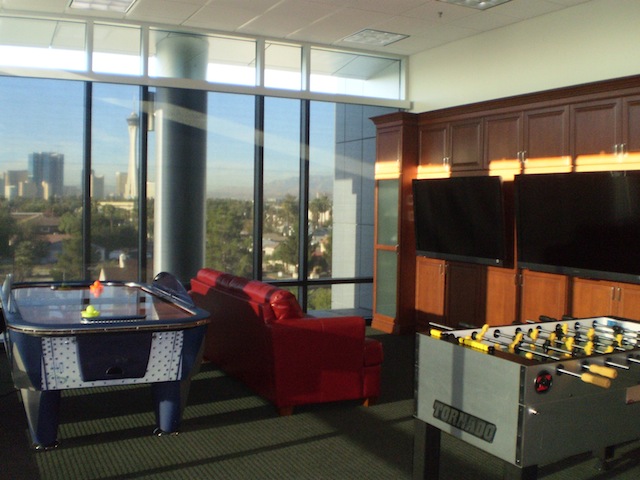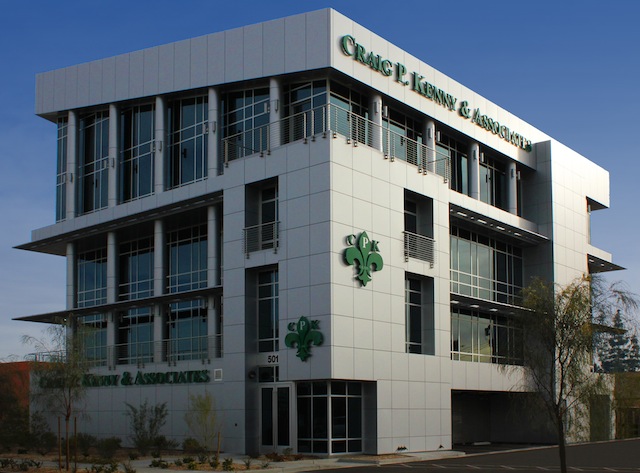 FOR MORE INFORMATION, contact Hero School Initiatives at 702.795.7000 or click "NEWS" at www.HeroSchool.us. *LVFC dba Hero School Initiatives, a non-profit, 501(c)(3) charitable FOR PURPOSE organization, since 1995.
When & Where

Craig P. Kenny Building Top Floor
501 S. 8th Street
Las Vegas, NV 89101


Friday, November 9, 2012 from 6:00 PM to 9:00 PM (PST)
Add to my calendar
Organizer
Heroes for Hero School
Hero School is a cutting-edge educational model, engagement curriculum and motivational delivery system that uses entreprenurial strategies, movies and mathematical formulas to produce rapid and lasting Character Change® for students, educators and leaders. 
As a 501C3 organization, Hero School Initiatives combines the model and curriculum with leading entrepreneurs and strategic resource partners to ignite passion, purpose and prosperity for hundreds of thousands of students in Southern Nevada.

Helping people become free to live the lives they were meant for since 1995, more than 40,000 youth and adults have broken free from cycles of homelessness and dependency in Southern Nevada alone.
Hero School®: Real. Life. Change. At the Speed of Movies.™ www.HeroSchool.us
BACK IN THE GAME - Suit+Tech Event