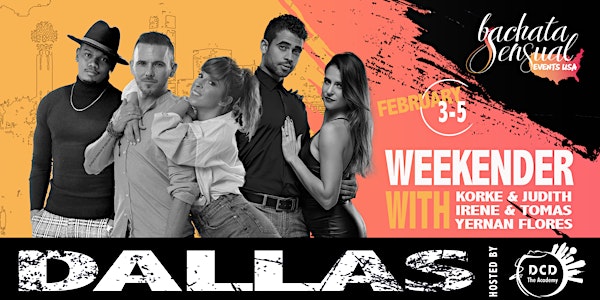 Bachata Sensual Weekender Dallas 2023
Join us for the first Bachata Sensual Weekender in Dallas featuring from Spain the bachata sensual creators Korke & Judith and Irene & Tomas
When and where
Location
DCD Dance Studio 2650 Midway Rd #130 Carrollton, TX 75006
About this event
1 day 20 hours

Mobile eTicket
Join us for the first Official Bachata Sensual Weekender in Dallas, Texas Featuring the Creators of the Bachata Sensual style Korke & Judith from Spain, Irene & Tomas from Spain, Yernan Flores from Dominican Republic, and DJ The Don from Houston!!! Brought to you by Bachata Sensual Events USA, The MOB, and DCD Academy.
**********************
WHAT TO EXPECT?
2 Full Nights of Dancing Until 4AM
3 Days of Workshops Featuring the Creators of Bachata Sensual Korke & Judith
An European Experience bringing you top Artists and International DJs
**********************
WEEKENDER PASSES
Full Passes Sales Will Be Limited to 50 Leads and 50 Follows to ensure the highest quality of instruction.
Last Day for Any Pass Transfers is January 6, 2023. NO REFUNDS ALLOWED.
Prices:
Full Pass: Include All Weekender workshops for the selected track and friday and saturday parties.
Full Pass Apprentice Track: Designed for people that have been dancing bachata sensual for less than 1 year. Price: $99 if purchased in advance, $130 at the door (subject to availability.
Full Pass Intermediate Track: Designed for people that have been dancing bachata sensual for more than 1 year. Price: $149 if purchased in advance, $180 at the door (subject to availability)
Full Pass Apprentice + Intermediate Track: Designed for people that have been dancing bachata sensual for more than 1 year. Includes access to ALL Workshops. Price: $199 if purchased in advance, $230 at the door (subject to availability)
Party Pass: $30 if purchase in advance (Friday and Saturday night parties only)
Individual Night Pass: $20 /Night – Purchase at the Door Only
**********************
WHEN & WHERE
Date: Feb 3-5, 2023
Location: DCD Dance Studio
Address: 2650 Midway Rd #130, Carrollton, TX, 75006
**********************
FEATURED ARTISTS*
Korke & Judith (Spain)
Irene & Tomas (Spain)
Yernan Flores (Dominican Republic)
Damian & Valeriia (Puerto Rico / Ukraine)
Elisa & Sebastian (Dallas)
**********************
FEATURED DJs
DJ The Don - Houston
**********************
WEEKENDER SCHEDULE
----------------------
Friday Feb 3
9pm-10pm – Bachata Sensual Workshop by Irene & Tomas
10pm-4am - Social Dancing
----------------------
Saturday Feb 4
12pm-1pm - Korke & Judith (Apprentice Track Only)
1pm-2pm – Irene & Tomas (Apprentice Track Only)
2pm-3pm - Bachata Sensual Introduction Course Lecture by Korke & Judith (Open to All Full Passes)
3pm-4pm - Korke & Judith (Intermediate Track Only)
4pm-5pm – Irene & Tomas (Intermediate Track Only)
9pm-10pm – Workshop by Elisa & Sebastian
10pm-4am - Social Dancing
----------------------
Sunday Feb 5
12pm-1pm - Yernan Flores (Apprentice Track Only)
1pm-2pm – Korke & Judith (Apprentice Track Only)
2pm-3pm– Ladies Styling by Judith (Open to All Full Passes)
3pm-4pm - Ladies Styling Workshop by Judith
3pm-4pm– Korke & Judith (Intermediate Track Only)
4pm-5pm – Yernan Flores – Dominican Swag(Intermediate Track Only)
*ARTIST LINE-UP & WORKSHOPS SCHEDULE SUBJECT TO CHANGE. LATEST INFORMATION WILL BE AVAILABLE AT https://www.bachatasensualeventsusa.com