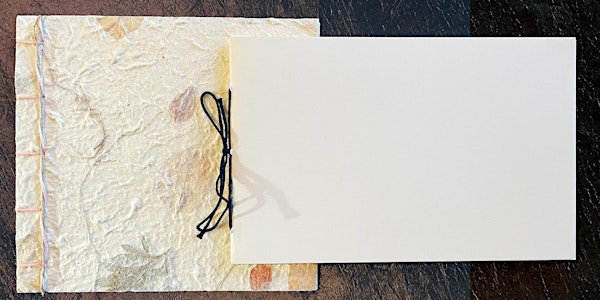 BAC: "Small Artist Books" with Aviva Weiner Fontes (1 Day)
Make your own books under the pine trees at Barnsdall Art Park!
When and where
Location
Barnsdall Art Center 4814 Hollywood Blvd Los Angeles, CA 90027
About this event
Books come in a variety of shapes sizes - from accordion booklets to hardcover novels. Come and learn how you can start your journey into the world of bookmaking!
Students will learn various forms of stitch and non-stitch binding techniques in order to construct then adorn their very own books.
Date & Time: Thursday, August 11, 2022 - 10 AM to 1 PM
Barnsdall Art Center Student Advisory Committee (BACSAC) is a non-profit organization that provides supplemental arts education support to the Department of Cultural Affairs' Barnsdall Art Center and Junior Arts Center. BACSAC achieves this through your program based donations.
Barnsdall Art Center (BAC) Classes are for students 18+.
For kids & teens classes, please visit Barnsdall Junior Arts Center (BJAC).

Please read these BAC policies carefully; you will need to acknowledge and sign each section during registration for all BAC classes.
Barnsdall Art Center Policies
Registration Policies
Only students enrolled in the workshop are allowed to participate. People NOT enrolled in the class will be asked to leave the workshop area.
Students are responsible for purchasing tools and art supplies unless otherwise noted.
Due to our limited programming, please refrain from signing up for multiple classes during this registration period.
Due to limited class offerings, students who do not show up to class without prior communication with the BJAC office, will be unable to enroll for the following session.
Waitlists will start once the workshop becomes full. As spots become available, waitlisted students will receive an email through Eventbrite informing them they have 48 hours to register.
Cancellation Policies
All classes are at risk of cancellation if at least 50% of the class slots are not filled. In case of a cancellation due to the low enrollment, students will be notified 24 hours in advance of the class date.
BACSAC Workshops: All donations are non-refundable unless the class is canceled due to low enrollment.
BAC notices (class cancellations, schedule changes, etc.) are sent via email. Emergency notifications are done by telephone.
Standard Appearance Release
I understand that the City of Los Angeles Department of Cultural Affairs (DCA) is dedicated to providing educational programs and arts training to young people and adults through its community arts and cultural facilities. To describe and promote its efforts, the City of Los Angeles Department of Cultural Affairs will produce audio, video, photographs, and printed materials. I authorize the City of Los Angeles Department of Cultural Affairs, in collaboration with the participants in such programs and arts training, to record, edit, change, modify, display, present, reproduce, distribute the name, image, voice, likeness, artwork, interview, and/or performance of me and combine any or all of the same with the names, images, voices, likenesses, artwork, interviews, and performances of other participants in the above-named programs and training. All videotape, audiotape, printed materials, and photographs shall be owned by and are the property of the City of Los Angeles Department of Cultural Affairs.
Accessibility
It is the policy of the City of Los Angeles to provide access to its programs and services for persons with disabilities in accordance with Title II of the Americans with Disabilities Act (ADA) of 1990, as amended. As a covered entity under Title II of the Americans with Disabilities Act, the City of Los Angeles does not discriminate on the basis of disability and, upon request, will provide reasonable accommodation to ensure equal access to its programs, services, and activities.
Indemnification
Except for the active negligence or willful misconduct of the CITY, or any of its Boards, Officers, Agents, Employees, Assigns and Successors in interest, Student undertakes and agrees to defend, indemnify and hold harmless the CITY and any of its Boards, Officers, Agents, Employees, Assigns, and Successors in interest from and against all suits and causes of action, claims, losses, demands and expenses, including, but not limited to, attorney's fees (both in house and outside counsel) and costs of litigation (including all actual litigation costs incurred by the CITY, including but not limited to, costs of experts and consultants), damages or liability of any nature whatsoever, for death or injury to any person, including Student employees and agents, or damage or destruction of any property of either party hereto or of third parties, arising in any manner by reason of the negligent acts, errors, omissions or willful misconduct incident to the performance of this Agreement by Student or for any reason giving six (6) months written notice to the other party.
Off Site Class Sessions
From time to time class sessions for certain courses offered by the City of Los Angeles Department of Cultural Affairs in the Barnsdall Art Center and Barnsdall Junior Arts Center will be held off site or in another location within the Park. It is the policy of the City of Los Angeles that students enrolled in these courses must indemnify the City of Los Angeles, its departments, divisions, elected officials, executives, managers, employees, and agents of all liability for damages or personal injury resulting from their enrolling and participation in the off-site activities of these courses.