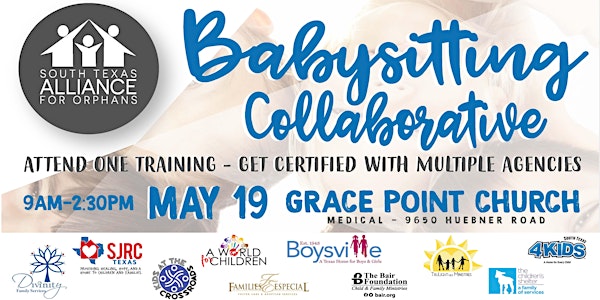 Babysitting Collaborative May 19, 2018
When and where
Location
Grace Point Church (Student Building) 9650 Huebner Rd San Antonio, TX 78240
Description
Did you know that 50% of foster families quit after just one year? One of the top reasons they stop is that they just don't get a break when they need it. The strict state requirements for providing babysitting for a foster child has made the task of finding childcare nearly impossible for many foster families.
The South Texas Alliance for Orphans is determined to change this!
At this event, we have collaborated with several local foster agencies to combine the multiple training steps and simplify the paperwork process. Verification that used to take weeks can now be completed in just one day! We have even partnered with local companies for free and discounted services.
Register today – spots are limited and we will likely sell out!
* You must be 18 years of age to complete this training.
* Total out-of-pocket costs for certification will be approx. $90 ($45 FBI fingerprinting, $30 CPR, and $15 event registration).
You can be an integral part of keeping children in foster care in a secure and loving home. By giving their foster parents the breaks they need, they'll be able to refresh, refocus, and re-enter the mission field of loving our city's most vulnerable kids.
Participating agencies: 4KIDS of South Texas, A World for Children, Bair Foundation, Boysville, Children's Shelter, Divinity, Families Especial, Kids at the Crossroads, St. Jude's Ranch for Children, and TruLight127 Ministries.