Description
Join us for the 6th Londroid of 2017!
This month we will be at the babylon offices.
---
Schedule
6:30 - Registration open
6:50 - Welcome to Londroid
7:00 - Talk One: Supercharge your CI with pipelines
7:30 - Talk Two: What's new with Android Things, Google's IoT platform, and the Google Assistant
8:15 - Social
---
Talk One:
Supercharge your CI with pipelines - from the babylon Team

We'll show you what pipelines are and give you a glimpse of how useful they might be to your project. There are a few pipeline-based CI/CD systems out there but we'll focus mostly on Jenkins as this is what we use here at Babylon.
Speaker: Mikolaj Leszczynski - Android Software Architect at Babylon.
Spent the last 5 years working on big Android projects, most recently at Just Eat, which he left a year ago after deciding that helping patients beats helping deliver kebabs. Familiar with Android processes and development end-to-end from the UI down to plumbing, tooling and CI. Spends his time at Babylon aligning the team's architectural solutions and making sure they're documented, easy to use, robust and scalable. Will work for pizza.
Twitter: @MikLeszcz
---
Talk Two: What's new with Android Things, Google's IoT platform, and the Google Assistant

Google has a wide range of new platforms and tools to support the vision of ubiquitous computing, so users can interact with services wherever and whenever it makes sense for them. Learn how Android Things can be used to simplify the development and production of IoT devices. Hear how the Google Assistant enables users to have conversations with your own Assistant apps. See how Android phones, Android Wear, and Android Auto allow users to interact with your service anytime and anywhere. Come and learn about the exciting new opportunities for developers to create compelling experiences for users beyond mobile.

Speaker: Wayne Piekarski, Developer Advocate at Google

Wayne Piekarski is a Developer Advocate at Google, focusing on the Internet of Things and the Google Assistant. He has worked for 15 years in academia and industry in the areas of wearable computing, outdoor augmented reality, 3D user interfaces, and mobile devices. He works to get developers excited about new technologies, and to advocate for developers within Google, ensuring developers have the right tools and information to support their work.
G+: https://google.com/+WaynePiekarski
Twitter: https://twitter.com/waynepiekarski
---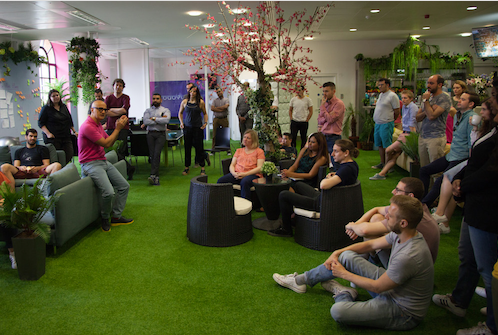 Our hosts & sponsor
babylon is the UK's leading digital healthcare service. Its purpose is to democratise healthcare by putting an accessible and affordable health service into the hands of every person on earth. To achieve this, babylon has brought together one of the largest teams of scientists, clinicians, mathematicians, and engineers to focus on combining the ever-growing computing power of machines, with the best medical expertise of humans, to create a comprehensive, immediate and personalised health service and make it universally available.
Directions: Nearest tube station is South Kensington (Piccadilly, District and Circle lines). Once you go out of the station, turn left onto Pelham Street and keep walking straight. At the end of Pelham Street, you need to cross Brompton Road and get on to Sloane Avenue. Keep walking for about 150m and the Babylon office will be on your left.