Live Music & Benefit for Baby John Griffing. Hosted by Aaron Coker
About this event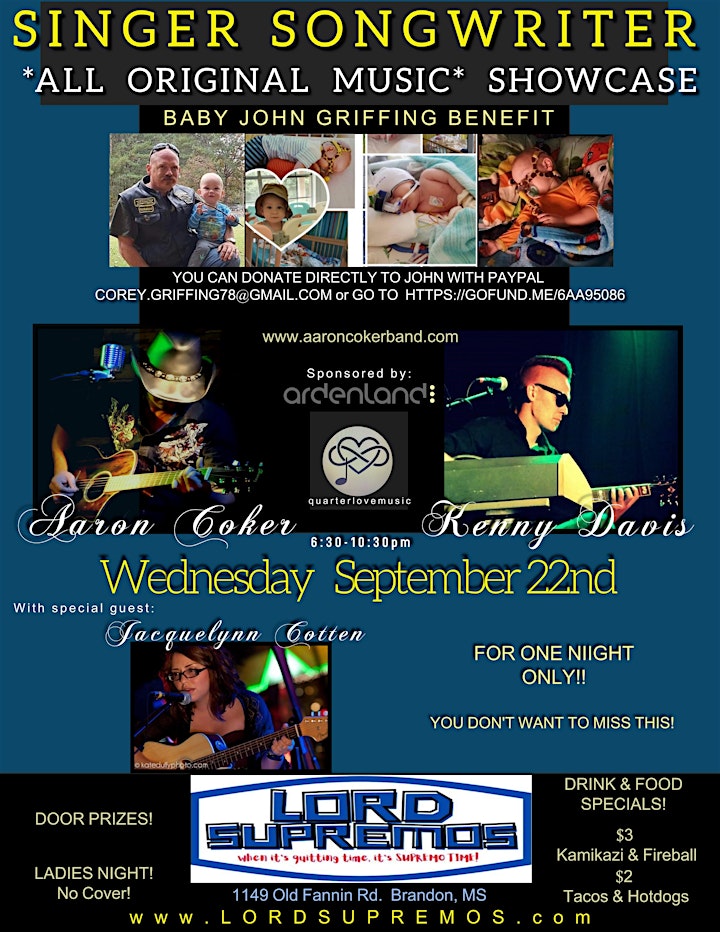 Lord Supremos has graciously offered to host the first of 3 live music events and raffles for a special night of original music by Aaron Coker and Kenny Davis with special guest Jacquellyn Cotten. They will be performing previously released and unreleased music! Sponsored by Ardenland!
There will be door prizes for upcoming Ardenland concerts and more! You must be present to win!
This event is to benefit 2 1/2 year old John Griffing. Baby John has a very rare disease that affects his breathing called CCHS causing him to require a ventilator while he sleeps. Congenital Central Hypoventilation Syndrome is a rare, lifelong and life-threatening condition that affects the central and autonomic nervous systems that controls automatic functions in the body. There is no cure for CCHS.John is in desperate need of a new ventilator and it's accessories. John's case is unique where health insurance is concerned and he has become a victim of red tape.John's dad is an American veteran and his mother is German. John was born in Germany and moving here to be with his Dad caused him to lose his coverage and his dad's insurance won't be effective until paperwork is completed to get him a social security number. They are currently working on John's and his mom's citizenship but due to Corona, USCIS is behind on their work. Johns citizenship will be automatic and his insurance attainable once they are able to file the necessary papers, but it is a costly process and time is of the essence. The ventilator that John is currently using is a backup and only has about 3 months left of its life span. Senator Cindy Hide Smith's office has stepped in to expedite the paperwork but the process will still take too long to get John the new ventilator his life will depend on in time.
Organizer of BABY JOHN GRIFFING BENEFIT Hosted by Aaron Coker & Lord Supremos!