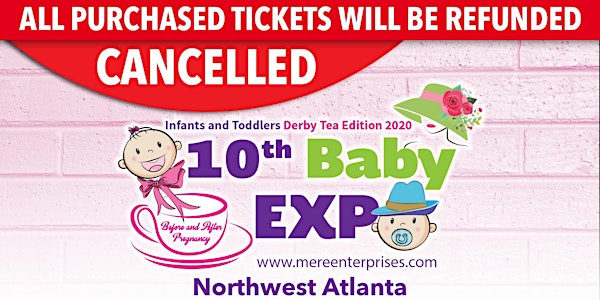 Baby Expo Infants and Toddlers Derby Tea Edition 2020
Location
Cobb Galleria Centre
2 Galleria Parkway Southeast
Atlanta, GA 30339
Refund policy
Contact the organizer to request a refund.
Eventbrite's fee is nonrefundable.
This baby expo is the premier educational infants, toddlers, MOMS and parents-to-be event in Atlanta on its 10th year
About this event
-------------- THE EVENT HAS BEEN CANCELLED ---------------
NOTE: ALL REFUNDS WILL BE MADE AND/OR ARE IN THE PROCESS.
Partners, sponsors and friends will be bringing the 10th Baby Expo Infants and Toddlers Derby Tea Edition in the Summer of 2020.
Produced by Mere Enterprises a marketing boutique specializing in children and motherhood events with an emphasis in before and after pregnancy. "What make us different is the attention to detail and our personalized interaction with our customers and event attendees".
Fun educational baby expo for all parents-to-be, expecting moms and couples with infants and toddlers up to 4 years old; this program promotes parentage values, all in a family-oriented environment.
Lots of exhibitors, fabulous giveaways, including a handcrafted Baby Crib, amazing free raffles, contests, guest's speakers and exclusive mommy good bags. Our expos are full of activities, games and endless door prizes.
"We love what we do and are committed that our event attendees have a wonderful time".
Expecting MOMS will have the opportunity to WIN huge baskets with 40+ items and will enjoy our Mommy Lounge and Ladies Pampering sections.
The public will enjoy this year's contests "Most Original Hat Design" see all details, rules and deadlines in our Facebook invitation.
ADMISSION:
Admission is only $15 - Kids under 12 free - Your admission ticket is your raffle ticket
Your admission ticket is your raffle ticket for the general public raffles ♥
Additional General Raffle Tickets
One (1) additional general raffle ticket will be provided after you visit all the exhibitors and get checked marks on their logos on the event map. Once you have visited all the pavilions and exhibitors, stop by MERE guests' services - information area to obtain your extra (1) general raffle ticket.
*The event map is on the event magazine that all guests will be greeted at the event entrance
Some of our door prizes: General Raffles
Breastfeeding Set of 4 Pieces, $100 VISA gift card, Travel System, Double Breastfeeding Pumps, Pack N Play, Car Seats, Nursing Pillows, Baby Tub, $250 Walmart gift card and lots more.
Extra opportunities to WIN door prizes! ♥
Tickets for some door prizes will be provided at the sponsors exhibit area at the event.
-Mommy Spa Pamper Day and more to come.
Raffles of our famous HUGE baskets
Expecting MOMS will have TWO opportunities to WIN one of our famous HUGE baskets.
Pre-register for our Mommy Goody Bags and you will be entered to participate on the annuals Boy or Girl and MOM Neutral Baskets.
With your admission ticket you will also enjoy complimentary:
-(1) FREE Rose to each lady *while supplies last
-Face painting Summer inspired
-Characters AppearancesFor the Girls: Ice Queen and Ice Princess For the Boys: Darth Villain
-Kid's Mini Goody Bags – featuring fun mini toys for boys or girls, coloring pamphlet and Crayola. *Up to 5 years old and while supplies last
-Mommy Goody Bag *Must pre-register and while supplies last
Pre-Registering for Mommy Goody Bags instructions:
Receive (1) complimentary goody bag with valuable information, samples and coupons
NOTE: Must pre-register to receive one.
How to pre-register:Go to our website www.mereenterprises.com → go to Contacts US → scroll down and see Pre-Register for Mommy Goody Bags.
What's Next:
Once we get your information, you will receive an email confirming that we have your info and we will add you to our MOMMY Goody Bags list.
You will be also entered to participate on the annuals Boy or Girl and MOM Neutral Baskets *must be present to receive bag and to win.
Raffles times will be announced on the event agenda as we get closer to the baby expo on our Facebook page.
This year contest themes is:
"Most Original Hat Design"
VISA gift of $150 first place
VISA gift of $1o0 second place
VISA gift of $50 third place
in addition to a gracious basket with tea-time related gourmet products to each.
How to participate on the contest:
Participation is based on first comes, first served. *There are 12 SPOTS available to participate.
Deadline to participate is: Friday June 5, 2020
Contest RULES:
-Send us two pictures: ONE with all the elements to decorate your hat BEFORE you start decorating it and ANOTHER picture with your HAT all decorated.
to info@mereenterprises.com
Note: As we get your pictures, we will publish the one with the hat decorated in our Facebook page, until we get 12 participants.
-Must showcase flowers, feeders, ribbons in a pallet of spring colors
-Must be at least medium size hat
-Formal or casual wear, must be afternoon spring oriented and follow the official themes of the contest
-If your picture is chosen, you will get an email from MERE Enterprises confirming that you have been entered on the contest as well as any further instructions.
Add these details on your email:
-Name
-City
-Cellphone or best number to contact you
-Name of your hat design
**One participant per family please.
Winner
-Winners of the most original hat design will be chosen at the event
-All confirmed participants must bring their hats and wear them at the event
-Time of contest will be announce on event agenda
-Winner will be announced during the event and must be present to win.
Extra Activities On-Site
Silent auction will be held benefiting CHOA.
Donate an item (s) and your logo will be featured on banner at this exhibit area and in addition, we will also provide a link on our website. *items must be family oriented
On-Site Opportunities
Guests Speakers - Mini -Seminars - Demos - Sales *see our sponsorship packages
Participation Benefits
Engage and interact with potential consumers on the general and multiculturals markets
Brand Exposure -Sampling - Launching New Products or Services - Prospecting
Coupons Distribution - Product Demo - Promotions - Networking - Brand Activation
Event Categories
Baby Registry - Nursery Furniture - Handcrafted Baby Items - Couture Baby Clothing- Pregnancy Fashion - Dream Décor for Social Events Catering and Munchies - Ultrasounds Studios Costume Cakes -Baby Shower Ideas - OB/GYN Selection - Pediatrics Dentists - Podiatric - -Hospital Selection - Insurance - Pampering Areas for MOM - Innovative Health Related Services and Programs - Fitness
Daddy's Den
Automotive - Insurance: Life & Home - Real Estate Investments & Financing
Golf Start-UP- Men Cave Furniture
Grand Parents Corner ♥
Baby on Board (Traveling Systems) - Healthy Grandma & Grandpa - Car Seat DEMO Installation on-site
Finance (Investments, grandkids fund)
Event Pictures and Past Sponsors
See lots of events pictures and more details in our Facebook page: AYC Events Atlanta and Mere Enterprises.
www.mereenterprises.com