About this Event
NOTE: Pre-registration is now closed. Day of register will be available at the event location. We look forward to seeing you Saturday!
On Saturday, February 15th, Baby Day will host specialized activities that promote bonding and delight and foster early brain development at locations across the state of Texas for families and caretakers with very young children
Baby Day activities are tailored for infants and toddlers from ages 0-3 and range from infant yoga to music classes to dancing, curated art, story time and more.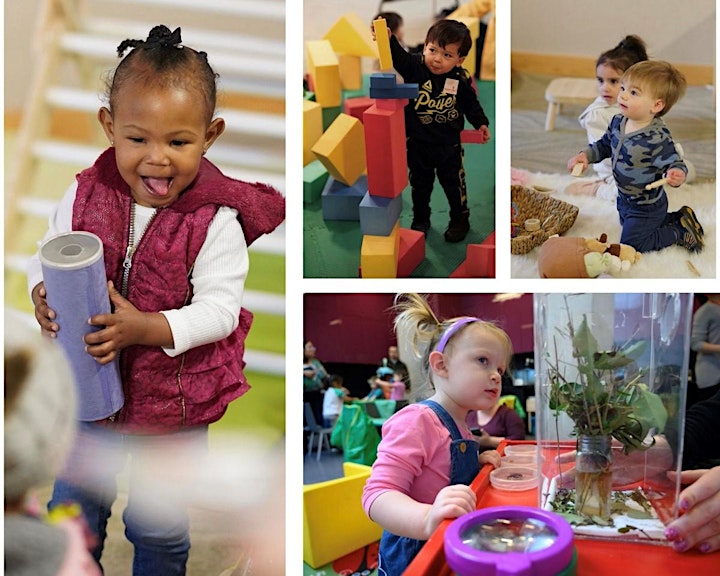 Event Schedule
9:00 AM | Central Library Opens | Baby Day begins!
9:00 AM – 12:00 PM | Literacy Caravan: Visit this mobile classroom with older siblings; Outside
9:00 AM – 2:30 PM | Sound and Sand Garden Play Space Open ♥; Outside
9:00 AM – 3:00 PM | Quiet Nursing Room available; Second Floor
9:00 AM – 10:00 AM | Ask an Expert about Immunizations – San Antonio Metropolitan Health District; Second Floor
9:05 AM – 9:25 AM | Bilingual Story Time for Toddlers / Hora de cuentos bilingüe para niños pequeños; Third Floor
9:30 AM – 9:50 AM | Toddler Yoga Class with Yoga Day Nonprofit; First Floor in Auditorium* Feel free to bring your own yoga mat. Some mats will be available.
9:30 AM – 10:15 AM | Activity Area Open: Butter Making & Tasting with COSA Early Head Start; First Floor in Gallery
9:30 AM – 2:30 PM | Shadow and Shine Play Space Open ♥; First Floor in Latino Collection and Resource Center
9:30 AM – 9:50 AM | Baby Sign Class with Brighton Center; Second Floor
9:35 AM – 9:55 AM | Baby Time – a song and story time for babies 0-18 months; Third Floor
10:00 AM – 10:20 AM | Performance: Babywearing Dancers of San Antonio; First Floor
10:00 AM – 10:45 AM | Infant Massage Class (0-24 months) with Brighton; First Floor in LCRC Round Room *Please bring a blanket to make your child comfortable.
10:00 AM – 10:50 AM | Reading Village Open ♥ ; Second Floor
10:00 AM – 11:00 AM | Ask an Expert about Supporting Communication – Brighton Center; Second Floor
10:05 AM – 10:25 AM | Toddler Time – a song and story time for toddlers 18 – 36 months; Third Floor
10:30 AM – 10:50 AM | Recipe Demonstration and Tasting with the San Antonio Food Bank; First Floor in Gallery
10:35 AM – 10:55 AM | Baby Time – a song and story time for babies 0-18 months; Third Floor
10:45 AM – 12:45 PM | Balls and Big Blue Blocks Play Space Open ♥ ; First Floor in Auditorium
11:00 AM – 12:00 PM | Activity Area Open: Butter Making & Tasting with COSA Early Head Start; First Floor in Gallery
11:00 AM – 11:20 AM | Baby Sign Class with Brighton Center; Second Floor
11:05 AM – 11:25 AM | Bilingual Story Time for Toddlers / Hora de cuentos bilingüe para niños pequeños; Third Floor
11:30 AM – 12:30 PM | Ask an Expert about Nutrition – San Antonio Food Bank; Second Floor
11:30 AM – 12:50 PM | Reading Village Open ♥; Second Floor
11:35 AM – 11:55 AM | Baby Time – a song and story time for babies 0-18 months; Third Floor
12:15 PM – 12:45 AM | Older Toddlers Massage Class (2-5 year olds) with Brighton; Third Floor
12:30 AM – 1:30 PM | Ask an Expert about Infant and Toddler Development – Brighton Center; Second Floor
1:00 PM – 3:00 PM | Dance Party with DJ Despeinada ♥; First Floor in Auditorium
1:00 PM – 1:20 PM | Baby Sign Class with Brighton Center; Second Floor
1:00 PM – 1:20 PM | San Antonio Symphony mini-performance by a musician; Third Floor
1:30 PM – 2:15 PM | Infant Massage Class (0-24 months) with Brighton; First Floor in LCRC Round Room *Please bring a blanket to make your child comfortable
1:30 PM – 2:30 PM | Reading Village Open ♥; Second Floor
2:00 PM – 2:20 PM | San Antonio Symphony mini-performance by a musician; Third Floor
3:00 PM | Baby Day concludes | Library remains open until 5:00 PM
Thank you to our community partners:
• Babywearing Dance Group
• Brackenridge High School National Honor Society
• Brighton Center
• Catholic Charities Archdiocese of San Antonio: Nurse-Family Partnership & Family Connects
• City of San Antonio Early Head Start – Child Care Partnership
• DJ Despeinada
• Family Service
• Hemisfair
• San Antonio Botanical Garden
• San Antonio Food Bank
• San Antonio Metropolitan Health District
• San Antonio Public Library Foundation
• San Antonio Symphony
• Sugar Rush Baking Club
• The DoSeum
• Yoga Day Nonprofit