Event Information
Refund Policy
Contact the organizer to request a refund.
Eventbrite's fee is nonrefundable.
Was Du als (neue) Mutter in den USA wissen solltest!
About this Event
Es ist schon eine Herausforderung, im gewohnten Umfeld ein Baby zu bekommen – dies aber in einem fremden Land zu meistern und dann noch während einer Pandemie, ist alles andere als ein Spaziergang!
Unser Summit wird Dir helfen, viele Deiner Fragen zu beantworten und mit mehr Sicherheit und jeder Menge Wissen in diese neue Zeit zu starten!
Experten Talks & Interviews
Wir haben ein Team von Experten zusammengestellt, die ihr Fachwissen teilen und deine Fragen zur Schwangerschaft, Geburt und dem ersten Jahr mit deinem Baby beantworten.
Live Workshops
Es liegt viel Kraft im Hier und Jetzt und gerade heute zutage ist es wichtig sich zumindest in Echtzeit auszutauschen, wenn es schon nicht in Person geht. Deshalb werden wir einige unserer Workshops als Live-Veranstaltung anbieten. Du kannst den Inhalt verfolgen, während er präsentiert wird und Fragen stellen! Schau dir das Programm an um nichts zu verpassen! 
Bequem von zu Hause aus!
Immer noch im Schlafanzug und die Haare wollen heute auch nicht so richtig? Kein Problem! Du kannst dich jederzeit einwaehlen und zuhören, wann immer es dir passt! Bitte das Programm beachten, was an welchem Tag stattfindet. Und wenn du was verpasst kannst Du upgraden und hast 12 Monate lang Zugang zu allen Sessions.
Werde Teil unserer CityKinder Community
It takes a village to raise a child, so they say... - und nur weil wir uns momentan nicht in Person mit vielen Menschen treffen können, macht diese Weisheit nicht weniger Sinn. Also müssen wir uns anderswo nach Gemeinschaft umsehen. Citykinder bietet deutschsprachigen Eltern genau dies - einen Ort, um Gedanken, Ideen, Gefühle und Ängste auszutauschen. Ihr seid herzlich eingeladen unserer Community beizutreten!
Preis und Ablauf:
Für nur $27 kannst Du den ganzen Tag die Experten-Videos abrufen und an den Live-Workshops teilnehmen.
Bei unseren Premium-Levels bekommst Du noch super Bonusse mit dazu. Don't miss out!
Freitag, 4. Dezember - All Day Access
Geburt unter COVID-19
Sleep Training – muss das sein? So unterstützt du den Schlaf deines Babys
Stillen ja, aber wie?!
Resilient Kids – Grundsteine erfolgreicher Erziehung
Baby Blues oder Postpartum Depression: Wie erkenne ich den Unterschied?
Mami Burnout – wie du trotz Pandemie und fern der Heimat den Kopf über Wasser behältst!
Die Großeltern mit Tonies virtuell ins Kinderzimmer holen!
Live Workshops
10:00 AM – Willkommen beim Summit mit Gabi und Kim - Networking: Tausche Dich mit anderen Moms aus
11:00 AM – Baby Time! Kinderlieder und erste Bewegungsspiele
12:00 PM – How to love the Personality of your Child: Alle Menschen sind gleich, nur anders
Samstag, 5. Dezember - All Day Access
Dein Pandemie-Geburtsteam: Wen du unbedingt brauchst und warum
Akupunktur in der Schwangerschaft
Richtige Ernährung in der Stillzeit für Mutter und Baby
Rückbildungsgymnastik – Wo finde ich das in den USA?
Kinderbetreuung in den USA: Nannies, Babysitters & Au Pairs
Baby Talk? Grundsteine für eine bilinguale Erziehung legen
Fliegen mit Baby – Was muss ich wissen?
Was muss ich bei der DayCare (Kita) Auswahl beachten?
Live Workshops
10:00 AM – Saturday Morning Coffee Talk mit Gabi & Kim:
Wie finde ich eine Community während der Corona-Krise?
11:00 AM – Wie durch Achtsamkeit das Eltern-Sein noch erfüllender sein kann
1:00 PM – Cord Blood Banking: Protect your Baby's Future
Win one of our Raffle prizes!
Cybex - 2 Bouncey Chairs
Tyed with Love - Baby Set
Kinderbooks - 3 months free membership
CityKinder - Online Baby Gruppe
White Leaf Provisions - Organic Baby Food
Brandt - 3 cartons (10 packs each) of your favorite childhood snack
Just join our live sessions on Friday and/or Saturday to be entered to win!
BASIC $27
Live-Zugang zu allen Vorträgen und Workshops
Begriffe
PREMIUM $47
Life-Time-Zugang zu allen Vorträgen
E-Book: Schwanger in den USA ($27)
2 Monate KinderBooks ($25)
SUPER PREMIUM $97
Life-Time-Zugang zu allen Vorträgen
E-Book: Schwanger in den USA ($27)
2 Monate KinderBooks ($25)
6 Wochen Online-Babygruppe ($75)
Muss ich den ganzen Tag am Computer sitzen um teilzunehmen? 
Nein - ausser den Live Sessions sind alle Interviews und Präsentationen vorher aufgenommen, damit Du diese dann ansehen kannst, wann es Dir am besten passt. 
Kann mein Partner/In teilnehmen?
Aber klar! Ein Zugang pro Familie reicht vollkommen. 
Wie bekomme ich die Bonus Angebote? 
Einfach nur Dein Ticket upgraden um unsere coolen Boni und Discounts zu bekommen. Du bekommst auf jede Fall um einiges mehr an Wert als es kostet 😊
Fachbegriffe zur Schwangerschaft: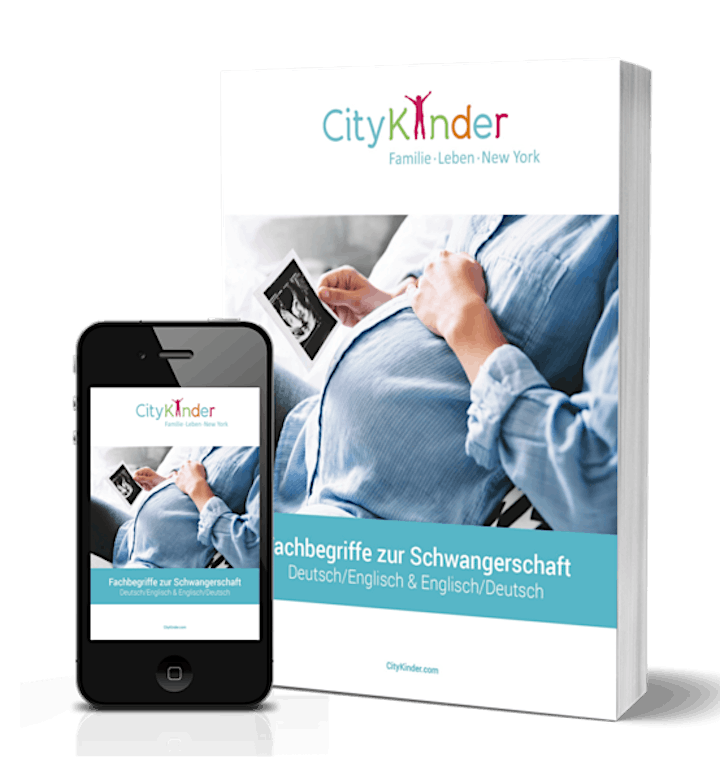 Who is behind the Summit?
Gabi Hegan started CityKinder.com, the web portal for German families in the US a decade ago and has helped thousands of Expat Parents to navigate their way through the differences and roadblocks that arise once you move to the US since. The "BABY abroad Summit" is the logical next step to bundle all the knowledge our experts and partners bring to the table. Especially during this pandemic we want to keep our families informed and up to speed with all the things to know around building a family in the US. 
I am honored to be partner with my co-host Kim Lenar on this once again on this!   

Date and Time
Location
Refund Policy
Contact the organizer to request a refund.
Eventbrite's fee is nonrefundable.