About this Event
Babies, Business + Breakfast 👶🏻📈☕️
February 2020 Pop-Up Event
We believe parenthood and professional development don't have to be mutually exclusive.
People have families and they want to invest in themselves. We're creating a community that welcomes primary caregivers AND their children to talk about business in a safe and welcoming space (coffee and croissants included!)
Join us on Friday, February 14th, 2020
10 a.m. to 12:30 p.m.
The event will be held at Bayview Yards, the home of Invest Ottawa, (Level 2, L204 Training Room). There is a paid parking lot on site, two-hour free street parking, access to public transit, the venue has baby change facilities and we'll set up a children's play area.
Tickets are limited!
RSVP to reserve your space.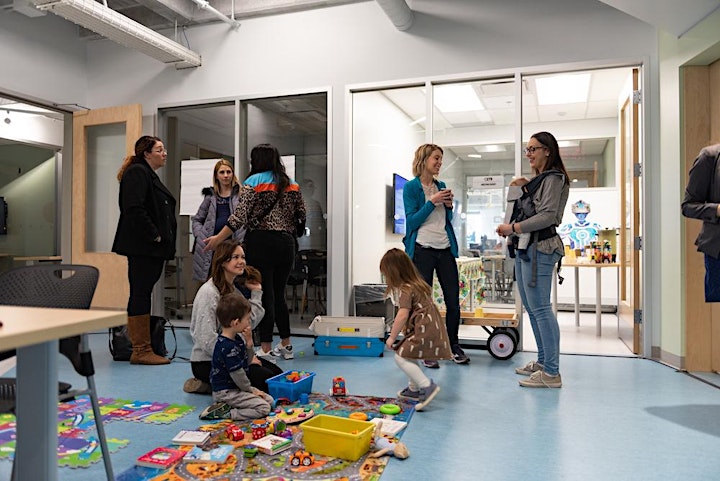 TALK + GUEST SPEAKERS:
Protecting Your Ideas
Natalie Raffoul, Managing Attorney at Brion Raffoul. Natalie has world-renowned expertise in the patenting of software, business methods, AI and machine learning, and the legal issues surrounding such subject matter. That recognition includes being ranked among the world's leading patent practitioners in the IAM Patent 1000 publication annually since 2014, and in 2017, shortlisted as one of seven most Highly Recommended patent prosecutors in Canada, and once again shortlisted in 2019.
Natalie is married to a supportive husband, Mark Hubert, and together they are two busy parents of three super kids between the ages of 7 to 11 years old.
Julia Elvidge, Tech Business Leader, Advisor, Mentor, Investor and Board Member. Julia is a business leader with 13 years experience as President of a high tech company. Now semi-retired, travelling the world when can, she is a Board Member, Investor and Advisor to CYBERNETIC, an Invest Ottawa Advisor to entrepreneurs and a SheEO Activator, where she invests in women-led ventures. In 2007, CATA Women in Technology recognized her work with a Sara Kirke award for women entrepreneurship and in 2008, Canadian Women in Communications recognized Julia's contributions with a Trailblazer of the Year Award.
Julia is a mother and has four young'uns now. Two by birth and two by marriage. Not kids anymore, they range in age from 26 to 29 years old.
AGENDA: Friday, February 14th, 2020
10:00 a.m. - Doors Open and Registration: Grab a coffee, some food and explore the play area!
10:45 a.m. - Guest Speakers + Interactive Discussion about Protecting Your Ideas
11:15 a.m. - Q&A: In between feeding your kid(s) or while building towers, all questions welcome
11:45 a.m. - Open Networking: Grab some more coffee, food, mix and mingle with other parents and their kids
12:30 p.m. - Event Close
WHO IS THIS EVENT FOR?
Founders, freelancers, remote workers and potential career changers who are also parents (moms AND dads, parents-to-be welcome too!) who want to learn how to mix business and babies.
Whether you are setting out to build a startup, launch a small business, start freelancing or are simply looking to invest in yourself alongside your little ones, we are here to help you fuel up on fresh business inspiration, strong coffee and get connected to other like-minded parents.
WHAT DOES THE TICKET INCLUDE?
This ticket entitles one adult and their children to attend the event, which will feature coffee, tea, light refreshments and a continental style breakfast, as well as a children's play area.
LOCATION
Bayview Yards (Level 2, L204 Training Room):
7 Bayview Station Rd
Ottawa, ON K1Y 2C5
RSVP to reserve your space and we'll be in touch early the week of the event to confirm detailed parking, public transit and room location instructions for the venue.
DRESS CODE: 'BABY CASUAL'
Come as you are, no business attire required. Shoes (yes please), if you're a kid you may be able to get away with socks!
We'll provide the:
• conversation + community
• coffee + continental breakfast spread
• children's play area + change tables
Please bring your:
• parenting supplies (diapers, wipes, snacks, stroller, baby carrier)
• questions + best small talk / baby babble skills
OTHER INFO + Q's?
Contact us via our Eventbrite Organizer profile or via our online contact form: https://amymaureenlynch.com/contact/
We're looking forward to seeing you at the next event!
Amy Lynch (+ family)
Founder of Babies, Business + Breakfast
ABOUT BABIES, BUSINESS + BREAKFAST
We believe parenthood and professional development don't have to be mutually exclusive. Fuel up on fresh business inspiration, strong coffee and get connected to other like-minded parents. We are focused on growing our community, hosting parent-friendly professional development events and publishing a regular newsletter, alongside advising organizations and event planners on how to make their spaces more inclusive.
Can't make it but still want to stay in the loop!?!
We get it, life happens. Connect with us for more parent-friendly business events, experiences, inspiration and resources here: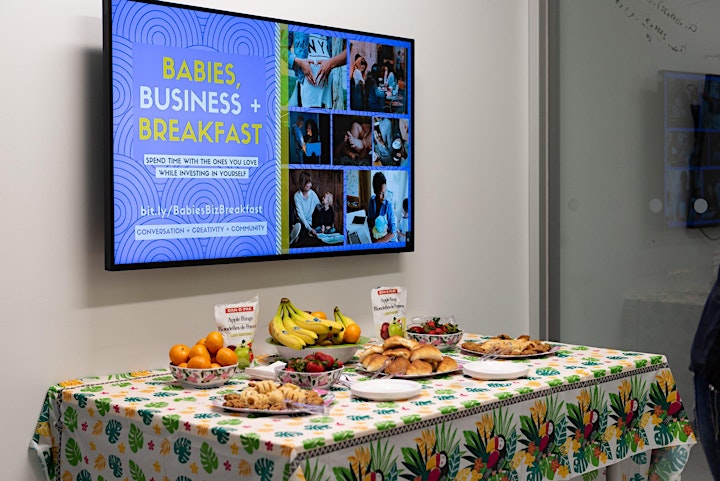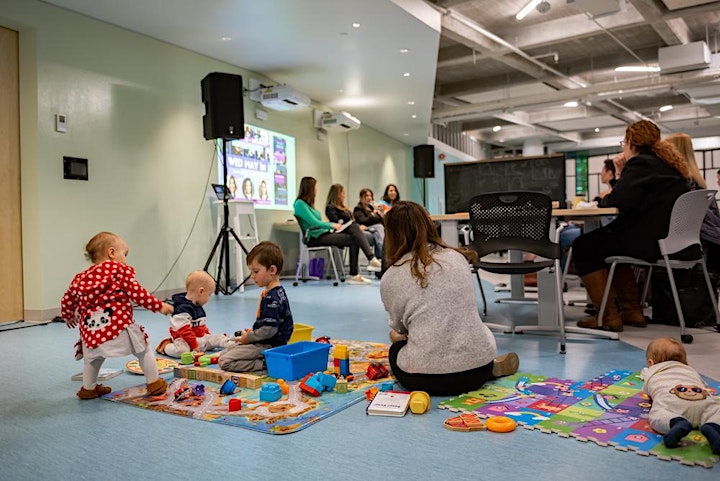 ABOUT BAYVIEW YARDS
Bayview Yards is a dynamic and energized hub that serves as basecamp for some of our greatest homegrown technology talent, capabilities and companies. For more information, visit: bayviewyards.org.