About this Event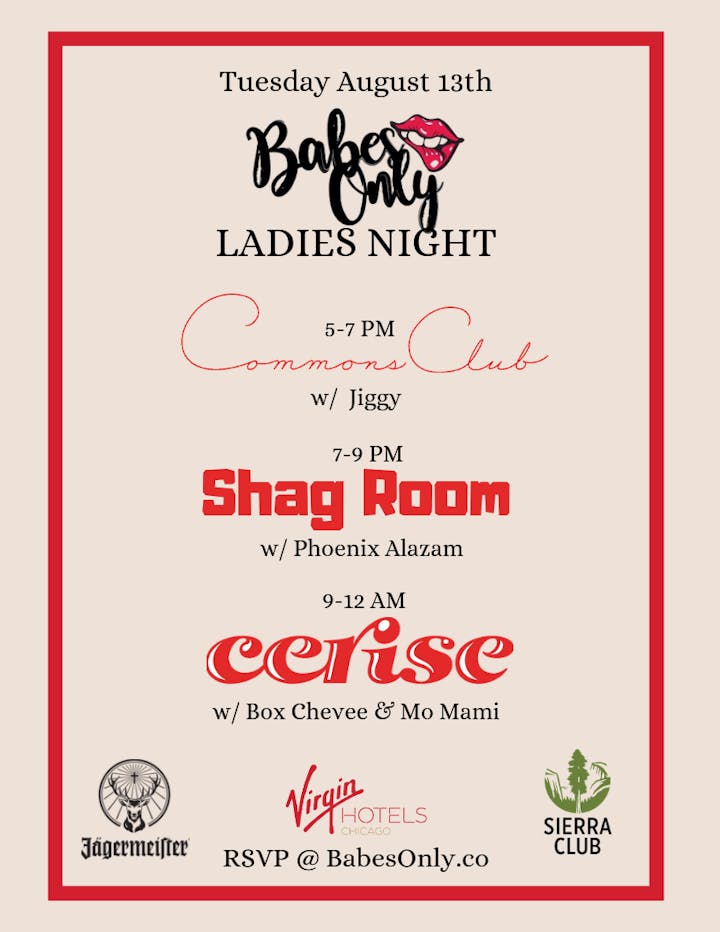 Babes Only is so happy about our Summer Partnership with the Virgin Hotel. Every Tuesday from June through August will be LADIES NIGHT and we will be curating the feminine energy with 3 different events. Men are always welcome to join the fun. This week we are rasining donatations for Sierra Club, an organization dedicated to fighting for enviromental justice.
5-7 pm in the Commons Club there will be a Happy Hour DJ providing good vibes to go with the good deals on food and drinks. This week we have Jiggy curating the sounds.
7-9 pm we are in the beautiful Shag Room on the 2nd Floor for intimate talks with different creatives and organizations. We will be enjoying a talk with Phoenix Alazam.
9-12 am join our rooftop celebration at Cerise on the 26th Floor. Not only will there be 2 great DJs setting the mood but two different pop ups by women with small businesses. (21+) Box Chevee & Mo Mami will be providing the sounds and The Therapy Collection & Magic of Mehendi will have pop ups.
There is no cover for any of the events but we do encourage people to RSVP. Every Tuesday you can enter the Virgin Hotel raffle for a bottle of champagne, a Norstroms giftcard, and $600 towards round trip tickets to anywhere of your choice. We are also taking this opportunity to try and give back to organizations that give so much, in the RSVP link guests will have the option of donating to which ever org we are supporting that month. We appreciate any support and hope to see you there.