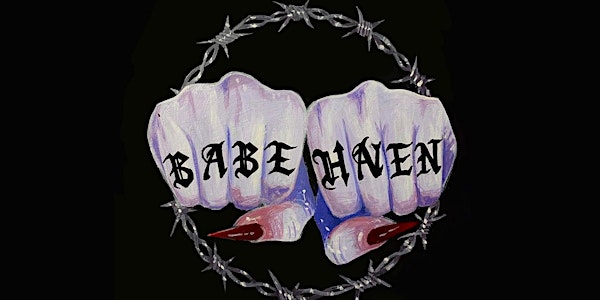 Babe Haven w/ Ergo, Bria + Fortezza
The Pour House Music Hall & Record Shop
Location
The Pour House Music Hall & Record Shop
224 S Blount St
Raleigh, NC 27601
About this event
Babe Haven is an all queer girl band from Boone, NC. They take inspiration from the iconic riot grrrl era and grunge to create their unique twist of punk filled with angst and freedom of expression. Babe Haven's self titled EP "Babe Haven" has a pop punk rock flow to it and was released only months after the band assembled. However, their upcoming album and singles are said to be more reminded of early 90s garage rock / grunge punk fuzzy undertones with some modern twists.
Ergo, Bria also known as Bria McCollum is a singer/songwriter, multi-instrumentalist, session musician, and producer from Atlanta, Georgia. She is now currently based in Nashville, Tennessee where she attends Belmont University as a songwriting major. Bria strives to break the typical barriers of an artist because of her unique voice and style choices. With her passion for genre-bending, she uses her background as a classical pianist, violist, and violinist to create a completely different arena of music. Much of her work contains deep, yet very literal lyrics about, mental health, heartbreak, love, and society. Bria has started gaining traction since her release in 2020, with "Comfort Zone". Bria has played numerous live shows at venues in major cities like Brooklyn, New York, Manhattan, New York, Atlanta, Georgia, and Nashville, Tennessee. She was chosen to play the POP/ROCK showcase performed at the Curb Event Center with top-ranked sponsors including Lighting 100 (Independent Radio Station). Since then she has been mentioned and featured in several magazines, zines, and articles including: "NASHVILLE SCENE MAGAZINE", "ALT PRESS MAGAZINE", "FT PUNKS", "PUNKAGANDA PRESS", "Tear It Down Zine", "UCLA's Cultural Affairs", "JUKEBOX TIMES", and "MUNDANE MAGAZINE". With dedication and determination, she continues to produce, promote, write songs, and book shows in order to live out her passion for music
Fortezza:
Making their way to Asheville by way of Winston-Salem, NC, Fortezza combines influences ranging from garage punk to avant-garde jazz into a sound that is as eclectic as it is loud.
Fortezza released their debut album, Fiend, in December 2018, followed by an EP, Boys, Boys, Boys, in 2019. After a brief hiatus the following year, Fortezza returned louder, faster, and angrier than ever with Windmill in 2021.
While the material on their records certainly speaks volumes for itself, Fortezza is a live band at its core - most at home on a stage, bringing their ear-splitting, bombastic shows to unsuspecting audiences everywhere.