On Bi Visibility Day, Babbel Perspectives presents: A conversation about Bisexuality with Musa Okwonga (he/him)
About this event
On Bi Visibility Day, Babbel Perspectives presents: A conversation about Bisexuality with Musa Okwonga (he/him).
September 23rd is Bi Visibility Day and as part of Babbel Perspectives we are celebrating by inviting author, poet, journalist and musician, Musa Okwonga to our talk series.
Join us for this very special evening where Musa will provide a structured conversation about bisexuality, both as it is represented in the public sphere and the realities of navigating everyday life as a bisexual person. The conversation will be based upon questions submitted in advance by Babbel, and will be concluded with further questions and a series of practical steps.
About Babbel Perspectives
Open your mind with Babbel Perspectives. All through the month of September, Babbel will be running an internal and external talk series featuring a collection of online presentations and workshops, curated by Babbelonians for Babbelonians and our learners, that will explore a diverse range of topics such as migration, disability, sexuality and gender identities, activism, and more.
About Musa Okwonga
Musa Okwonga is an author, poet, journalist and musician. The co-host of the Stadio football podcast, his first book - A Cultured Left Foot - was nominated for the 2008 William Hill Sports Book of the Year Award, and he has contributed to, among others, ESPN, The Economist, The Guardian and The New York Times. Most recently he has written In The End, It Was All About Love, a novel based in Berlin and Uganda; One of Them, a memoir about his years at boarding school; and Striking Out, a children's novel about an aspiring young footballer which he co-authored with Ian Wright. He lives in Berlin.
About Babbel
Babbel is driven by a purpose: Creating mutual understanding through language. This means building an ecosystem of language learning offerings that helps people connect across cultures. Babbel, Babbel Live and Babbel for Business provide users with the most effective solution to be able to communicate with real people, in real situations. The key is a blend of humanity and technology. More than 60,000 lessons across 14 languages are hand-crafted by 150+ linguists, with user behaviors continuously analyzed to shape and tweak the learner experience. And it works: Studies with Yale University, City University of New York and Michigan State University prove its effectiveness. From headquarters in Berlin and New York, 750 people from more than 65 nationalities represent all the differences that make humans unique. Babbel is the most profitable language learning app worldwide, with more than 10 million subscriptions sold. For more information, visit www.babbel.com or download the apps in the App Store or Play Store.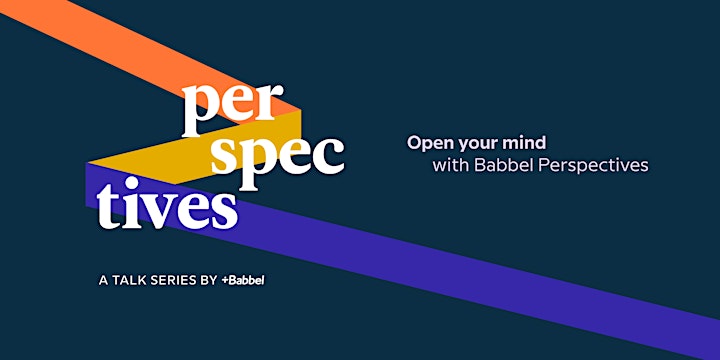 Organizer of Babbel Perspectives: A conversation about bisexuality with Musa Okwonga
Babbel is a world leader in online language learning, named the most innovative company in education by Fast Company magazine. With an expert team of linguists and language-learning experts, Babbel's courses — available in 14 languages — focus on practical topics to help learners start having real-life conversations. Based in Berlin, Babbel helps millions of active subscribers around the world communicate in a new language.
Psst...we're hiring! Check out the job openings here: https://jobs.babbel.com/en/