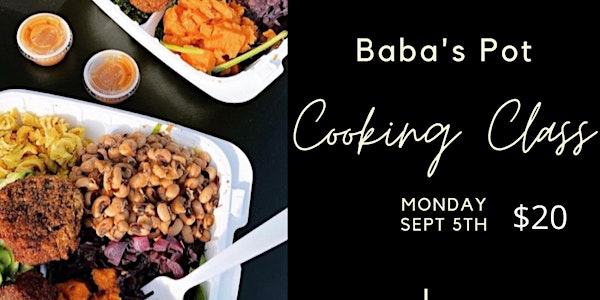 BabasPot Pop-Up Cooking Class
Great for couples night out or if you want to learn some food tips. Confidence in eating your fruits and vegetables is healthy living.
When and where
Location
Baba's Vegan Cafe 6619 S Western Ave, Los Angeles, CA 90047 Los Angeles, CA 90047
About this event
Great for couples night out or if you want to learn some food tips.
To know eating your fruits and vegetables is healthy, I notice people don't do their research to see how exactly that is true. Fruits and vegetables encourage a healthy immune system and living a maximum quality of life. Most people suffer their last years of life with disease and illness and it is mainly for the reasons of living their early years with a bad diet. Today the standard American diet consists of GMO products (genetically modified food), refined sugar, preservatives, and top of the list meat. ... Participants receive knowledge and tips on vegan meals and a small package. Program $15/ Session- Meal/ Smoothie/ Discussion Wo'se Kofi (Coordinator) (Food for the Soul Program) Please contact for more information. 323-VEGAN 93 (83426) or email wosesgourmet@gmail.com I like to focus on the diet and eating healthy balanced meals. • ¼ Whole Grain (Wheat) • ¼ Beans (legumes and protein/soy) • ½ Vegetables Dessert • Fruits, Nuts and Seeds (Sorbet)
Introduction 10mins /Handouts/ Video Clips Menu Spaghetti, chilly, tacos, veggie burgers(opt)- (Things that you can cook without using meat and replacing with maybe a soy protein substitute.) Sides- (corn, broccoli, ...) Salad / Fruit Salad – (Eat veggies with every meal about half a plate of veggies.)
Blended Smoothie- (In the morning it's good to break the fast with fruit.)
Beginning /Middle/ End
Group Discussion/ Cooking Session/ Live performance
SUPPORT OUR VEGAN POP-UP COOKING CLASS !!
South Los Angeles is a food desert, and we are launching a health and food revolution to turn this situation around, starting with BabasPot Pop-Up Cooking Class.
Your donations will go toward buying locally sourced food, decorations, and bringing people in the community together for good food and progressive conversation. Follow our progress on Facebook and our website by clicking ---> Baba's Vegan Cafe!! We are also securing funds to film our web series highlighting healthy living to expand the community's knowledge base and awareness of what they eat, and how it impacts their health and the environments around them.
Our goal is to raise $2000. Donations will contribute to food supplies, decorations, advertising and entertainment expenses. We envision a night of good food, community building and great music.
By using locally and organically grown and pesticide-free produce, we aim to promote healthier eating and cooperative economics. We hope to demonstrate that veganism is about improving our health, increasing our health awareness and thinking progressively about how we spend our dollars.
Wo'se Kofi (Afi-Shabaka) is a Los Angeles native and community activist with a passion for inspiring others to aspire to healthier living. Using his artistic prowess as an emcee as a vehicle for promoting positivity and social awareness, Wo'se uses his music and natural charisma to fuel progressive change, purposeful solidarity and positive intercultural exchanges in Los Angeles. Wo'se Kofi has been instrumental in the conceptual development and establishment of the Leimert Park Art Walk, a community-driven monthly event featuring local artists and their artwork, allowing local (and non-local) community members to connect around art, music and cooperative economics. He has established a successful vegan catering company now cafe, Baba's Vegan Cafe.
Check out my website: http://www.babasvegancafe.com
Your financial support is critical to the success of this mission to educate the community around healthy eating, and presents and opportunity to ensure that healthy food options are available to people, especially children, in areas where there are virtually none. I thank you in advance for your support and look forward to seeing you at BABASPOT!!!