Ba Gua Zhang 2 Day Seminar - Walking the Circle, Hsing I Nei Kung, Chi Kung
Sifu Ben Hill Bey will be demonstrating and teaching the foundation fundamental exercises of Ba Gua Zhang, Hsing Yi Chuan & Chi/Nei Kung!
About this Event
Please join us for a very special event Taught by Sifu Ben Hill Bey as he demonstrates old school training methods from Ba Gua Hsing I and other Sacred Martial Traditions. He will touch on Chi Kung, Nei Kung, Taoist Yoga and so much more. Bring your friends family to a 2 day event that will surely raise your vibration.
Class will start promply at 10am lunch is from 12-12:45pm and class resumes promply at 1:00pm on Saturday and Sunday
Everyone is invited to Have Dinner with Sifu at a designated location to be announced during the seminar to conclude both training days.
Seminars, Workshops and Zoom/Skype Lessons available for Group and Private Classes on Ba Gua Zhang/Shing Yi, and Qi Gong. For Info: 404-838-1726
Also,the link for my New Book: "Ba Gua Zhang: A Historical Analysis" : http://www.lulu.com/spotlight/Maoshan
https://sites.google.com/site/baguashingyichuancom/home?fbclid=IwAR0vHfMkPpJCOzN8kaWJfMuTtNQq4JfnOWkxX7BVLT5c4v878boeM6tRTnQ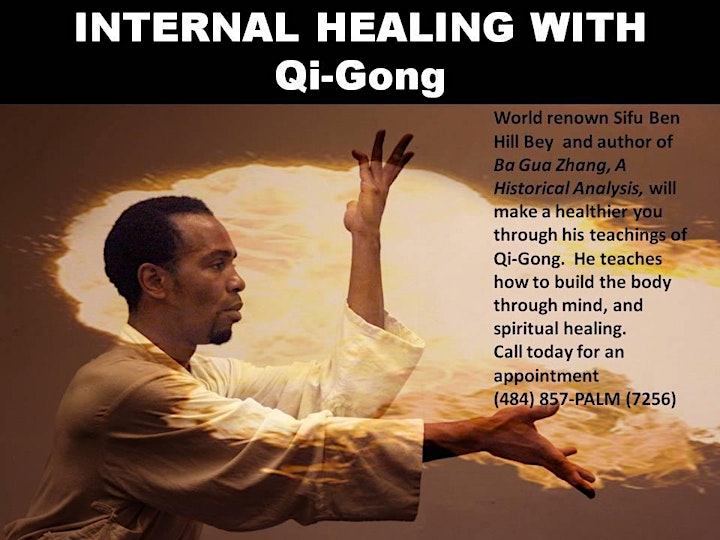 The Bagua or Pa Kua or Palgwae (in Korean) are eight symbols used in Taoist cosmology to represent the fundamental principles of reality, seen as a range of eight interrelated concepts. Each consists of three lines, each line either "broken" or "unbroken", respectively representing yin or yang, 0 or 1 forming binary numbers 000-111 (0 to 7). Due to their tripartite structure, they are often referred to as Eight Trigrams in English.
The trigrams are related to Taiji or Taegeuk (in Korean) philosophy, Taijiquan and the Wu Xing, or "five elements". The relationships between the trigrams are represented in two arrangements, the Primordial (先天八卦), "Earlier Heaven" or "Fu Xi" bagua (伏羲八卦), and the Manifested (後天八卦), "Later Heaven," or "King Wen" bagua. The trigrams have correspondences in astronomy, astrology, geography, geomancy, anatomy, the family, and elsewhere.
The ancient Chinese classic, I Ching (Pinyin: Yi Jing), consists of the 64 pairwise permutations of trigrams, referred to as "hexagrams", along with commentary on each one.