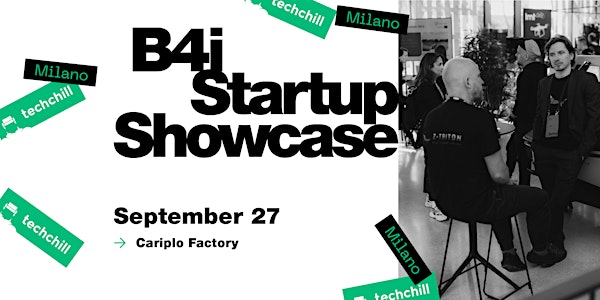 B4i Startup Showcase
B4i Startup Showcase
When and where
Location
Cariplo Factory Via Bergognone, 34 – angolo via Tortona 20144 Milano Italy
About this event
🎉 Join the official side-event of TechChill Milano
B4i selects the most innovative ideas and the startups with the greatest potential to help them grow and succeed by investing the experience, knowledge, time, and resources of the wider Bocconi community.
Meet the new stars of B4i startups - quickfire presentations, networking with investors, and mingling with the greatest tech people.
🤔 Which startups will you meet?
Cargoful platform leverages technology to improve working and economic conditions of logistics operators, disrupting the now paper- and phone-based world of logistics. It leverages the network effect to offer small trucking companies the same offers as those available to large ones.
Digitazon is the first Tech School in Italy that trains new generations of tech professionals.
Mapo Tapo designs and organizes off-the-beaten-track group trips for rock climbers, fueling sustainable growth in remote locations.
Mine Crime is software that, thanks to a proprietary algorithm, collects, geo-codes, and systematizes crime data (by accessing big data online) within the first south-EU thematic database accessible to corporates. Furthermore, it produces multi-composite risk indicators for supporting the deployment of corporates' risk management procedures.
MyPad is a mobile platform giving gamers a way to monetize their game time. Gamers join different esports competitions and events hosted on MyPad and in exchange they receive Golden Points: a token they can redeem on a variety of goods and services for free on the platform.
Fantacycling is the first fantasy game cycling app, our mission is to bring together all the fans of one of the most popular sports in the world! A simple app easy to use. A user can create a team for the Championship or challenge their friends in a league (public or private).
ReLearn is a startup that has two goals: to improve the quality of recycling and reduce the amount of waste produced. To do this, we developed a smart bin called Nando and an associated service called Reset. Both these products are based on artificial intelligence and data analysis.
FreedHome (www.FreedHome.co) is the first instant renting platform that connects Owners to Property Managers and, thanks to its artificial intelligence, allows you to rent your property at the best offer and in the shortest possible time.
Heloola is the innovative startup born from the community of Le Ragazzi Book Club and aims to celebrate reading as a form of pop entertainment.
Empethy is a digital platform that connects people looking for a dog/cat to adopt with rescues, kennels, and volunteers taking care of abandoned animals. So Empathy is the solution to make pet adoption easier and faster by allowing future adopters to easily find the pet that best suits their needs in their own area, and directly apply for the adoption through the website.
👏 Free to attend by registering on Eventbrite 👏
TechChill Milano is an international event focused on the startup ecosystem and entrepreneurship, September 27 - 29.
📗 Learn more and get your pass https://www.techchillmilano.co