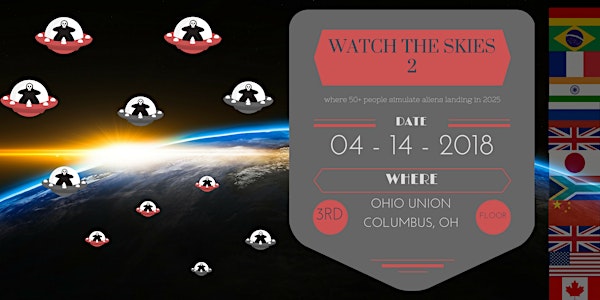 B2D's: Watch the Skies 2
When and where
Location
Ohio Union Columbus, OH 43210
Refund Policy
Refunds up to 7 days before event
Description
WE'RE BACK FOR MORE! Welcome old and new players to the registration for our 2nd Annual Watch the Skies game hosted by Ohio State's own Board to Death, the premiere Board Game Club! Everything will be different this time around too... new rules... new world crises... and of course brand new aliens... So pelase, come join us again or for the first time and Watch the Skies!
Playbooks and Rules will be released closer to the event with the email that you provide us! There will be a break for dinner during the event.
For those who may not know...
Watch the Skies is a Megagame originally created by The Megagame Makers based in the UK in which 30+ people are all playing one game at the same time. The premise places us in the year 2025, as the Human World Govements deal with an increasing alien presence on earth. The intelligence communities have known of aliens since the 50's while the public remains in the dark. What do they want? Will their presence become public knowledge? How will the world grapple with this brave new reality?
Playing as members of the Human countries and Alien teams alongside the Control running the game, we will answer all of these questions. We filled up on a lot of our main countries so we have released Germany, Canada and South Africa too!
Attendees are encoruaged to dress the part of either World Leaders or Aliens, but this is not required.
You can register by yourself or in a group of up to 4 people! Please don't feel discouraged if you are solo, we will connect you with your team mates via email after your team fills up!
If you want to see the game played before, please watch Shut Up & Sit Down's game here:
https://www.youtube.com/watch?v=hN71v9H_gg8
*Please note that we have modified the game slightly and ours will run a bit differently with different aliens then those shown above.